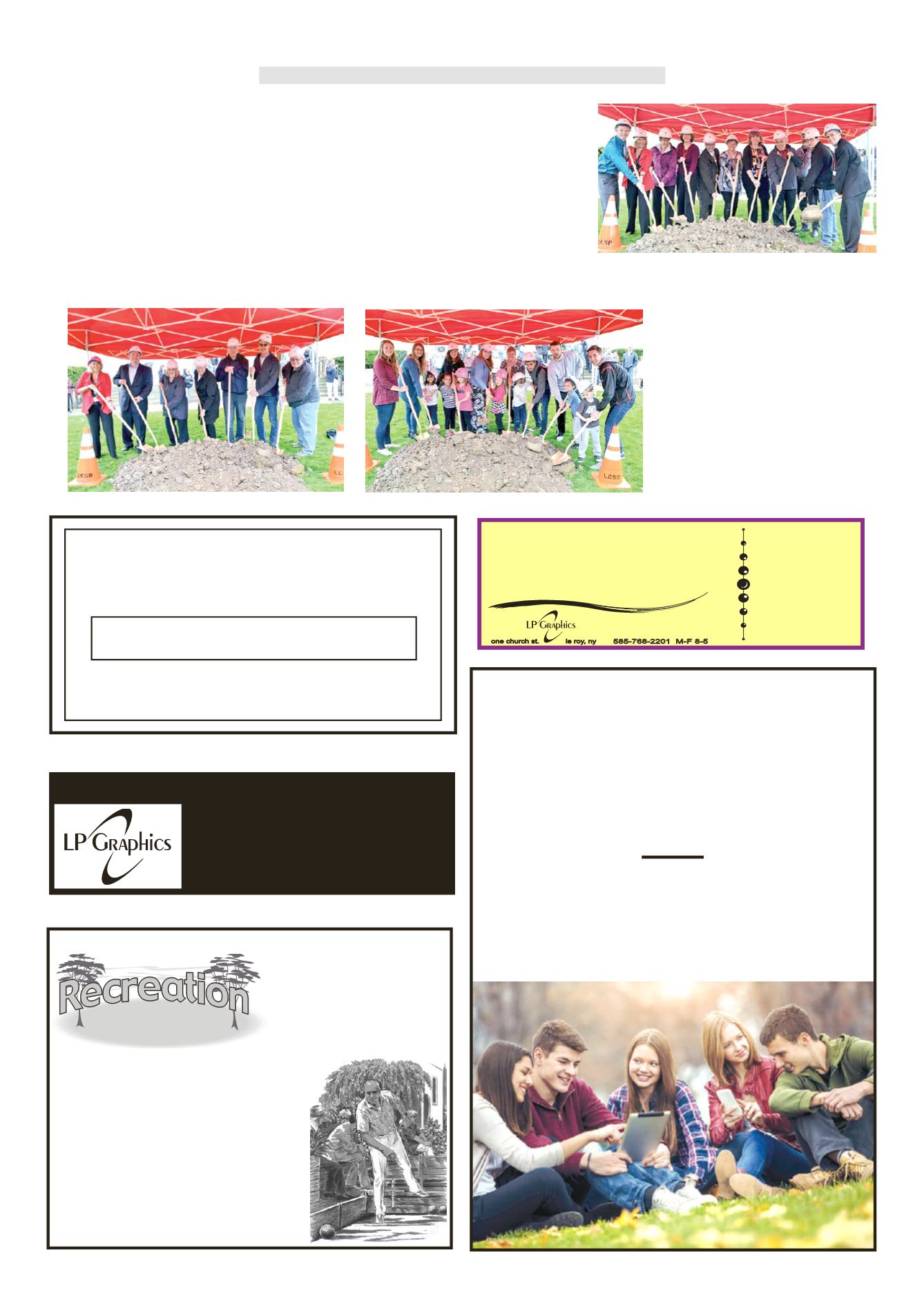 LEROYPENNYSAVER&NEWS -MAY 8, 2016
Plumbing • Heating
Installation&Repair Service
For All Residential &Commercial Work
AttentionHighSchoolSeniors
that live in theLeRoy SchoolDistrict.
A reminder that applications for the
R.E.A.MilneScholarships
aredueby
May 21st
.
The application can be found atwww.leroyrotary.org.
Also, students that attend any other school
(NotreDame,McQuaid, etc), but reside in the
LeRoySchoolDistrict are eligible.
Please contact SamVagg at
with anyquestions.
byKimM. Cox
Superintendent of Schools
On May 2, 2016, the Le Roy
Central SchoolDistrict officially
brokegroundon the2014R.I.T.E.
Capital ImprovementProject.The
program began with a welcome
fromLeRoyBoardofEducation
Vice President Jackie Whiting.
Trustees Rich Lawrence, Lloyd
Miller,DeniseDuthe,TomDam-
bra, andLarryBonacquisti were
SuperintendentCox recognized
Campus Construction andClark
PattersonLee for their efforts in
designingandscheduling the12.7
million dollar project that is im-
provingseveral areas throughout
thedistrict.AssemblymanSteven
Hawley was on hand to present
an Official Citation recognizing
LeRoyCentral SchoolDistrict.
T. Bell Construction Corp. were
alsoacknowledged for their con-
tributions to the project.
The projectwas declaredopen
after a "GoldenShovel Ceremo-
ny", which featured several stu-
dents, administration, andboard
membersassisting in thisspecial
Thank you to the entire com-
munity of Le Roy for all your
Town of
LEROY
2016
Organizationalmeeting
will be held at
TownHall,
48MainSt.
Thursday,May 12
10:00 am
Anyone interested in playing
should attend thismeeting.
1ChurchSt., LeRoy, NY14482
585-768-2201
FAX 585-768-6334
WeDo
one church st. le roy, ny
one church st. le roy, ny