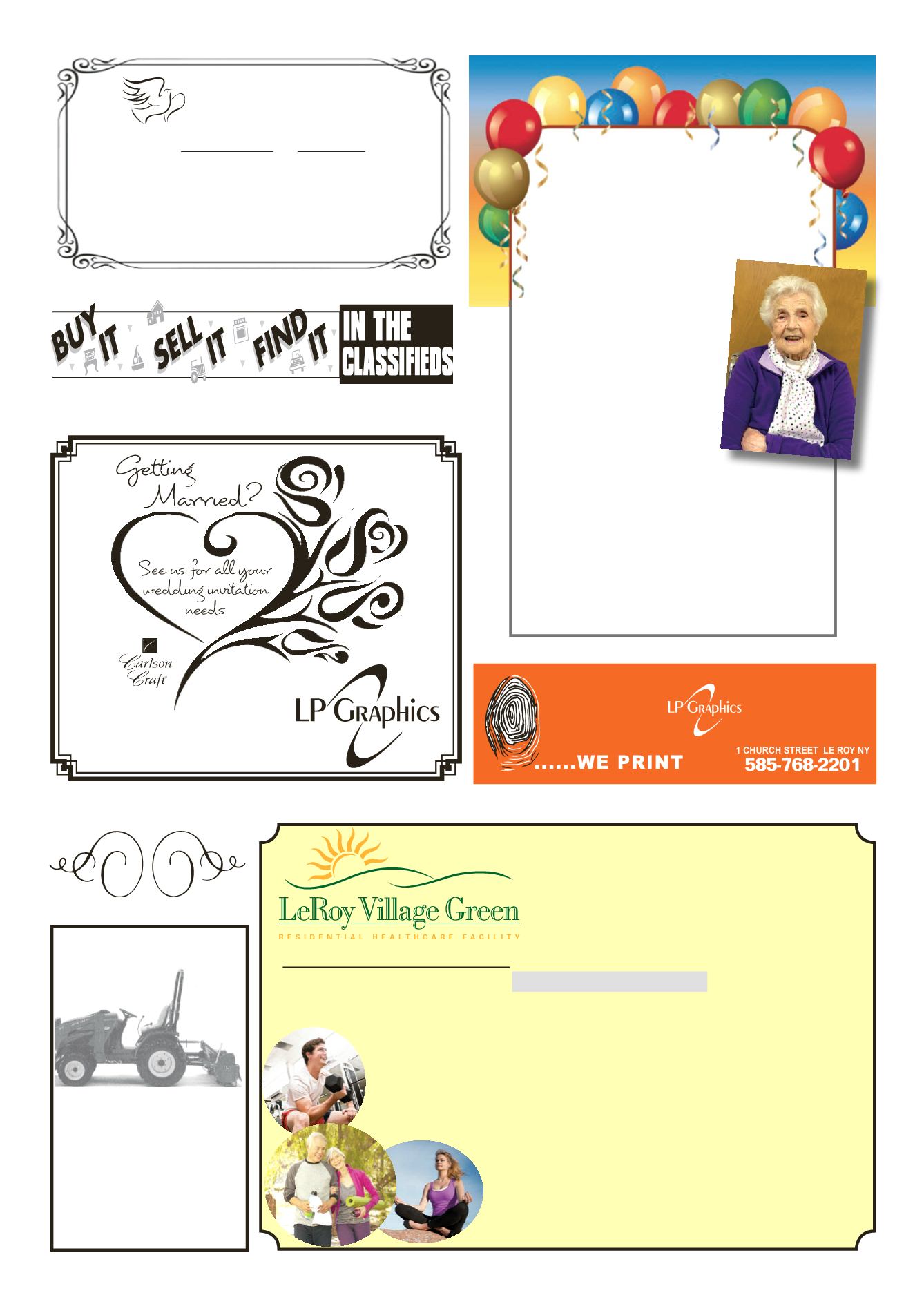 LEROYPENNYSAVER&NEWS -MAY 8, 2016
Director /Owner
FuneralDirector
F
ALCONE
F
AMILY
Funeral&Cremation Service, Inc.
Director/Owner
"ALOCALFAMILY
CARINGFORLOCALFAMILIES"
Andy
Frank
May 12th
OPENHOUSE
towishAndy aHappyBirthday
Saturday,May 14th
from 1:00 to 4:00pm
AmericanLegion
NoTexting
Either newor
existing gardens
rototilled.
48" rototiller.
Call Don
At 356-4089
ROYPENNYSAVER -OCTOBER 24, 2005
lpgraphics.net
LeRoyVillageGreenResidentialHealthcareFacility
TheGreens of LeRoy, Senior Independent Community
LeRoyPhysical Therapy&VillageFitness
LeRoyAthleticClub/Kettle'sGym
Alzheimer'sAssociation ofWesternNewYork
UnitedMemorialMedical Center
Wellness Fair
May 12th, 2016
LeRoyVillageGreen, RHCF
10MunsonStreet, LeRoy, NY 14482
2pm-5pm
Open&Free to Community
Activities:
LiveHealthyCookingDemonstrations • Fitness&Wellness Exhibitions
Prizes:
Over $1000.00 in free raffle prizes for attendees,
including afit bit, golf packages, gift certificates&more.
Free private consult/care planmanagement withAlzheimer'sAssociation
VENDORS