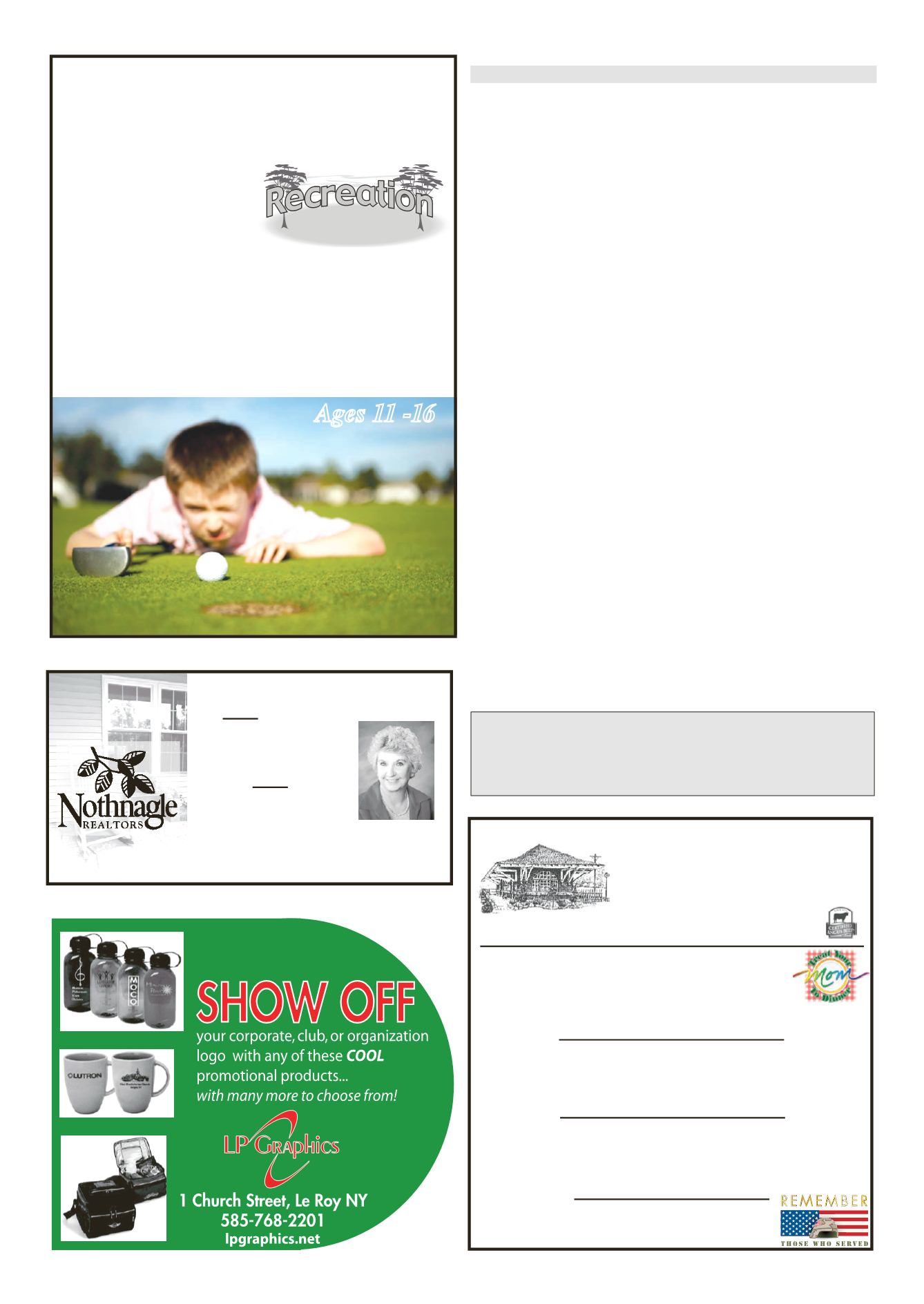 LEROYPENNYSAVER&NEWS -MAY 8, 2016
Batavia
585-343-6750
NOW is theBEST time
toBUYwith the interest rates
at their lowest!
Don't wait
toBUY -
call
LindaBeaumont
for all your real
estateneeds.
LindaBeaumont
Home (585) 768-6315
LicensedReal Estate
Salesperson
Multi-MillionDollar Producer
AROUNDTOWN
byStephenR. Barbeau
Supervisor, Town ofLeRoy
(585)768-6910 x 231
Aswarmer weather approach-
es, just a reminder to check our
web site about reservations to
Bunnell Park. Also, the Transfer
Stationwill be openonWednes-
in addition to the normal Satur-
Soon,youwillbe readingmore
about our summer recreation
program. It is an outstanding
program,well-runwithgreat ac-
tivities. It isalsovery sensitive to
stateminimumwage regulations.
We employ about three dozen
seasonal park and pool staff,
most ofwhom receiveminimum
wage, or slightly above due to
experience factors. When the
wage increases, our rec budget
is greatly impacted.When I took
office four years ago, minimum
wagewas $7.25.Now it is $9.00,
nearlya25% increase.RecDirec-
tor JackieWhiting and theTown
Board have done a great job in
planningfor these increaseswhile
minimizing the impact on both
services and the tax rate.
With new increases set to be
implemented over the next few
years, we will have to either
reduce services, increase user
fees, or increase the tax rate
(or a combination of these) to
accommodate the impact on the
minimum wage increases. One
indirect casualty for this year-
Genesee Parkwill be closed as a
staffedparksite.Tobesure, this is
primarily the result of decreased
attendance at this park (it had
previouslybeen reduced from full
time to part time status). How-
ever, I would be less than honest
in saying the financial impact of
an increase in personnel costs of
nearly25%hadno relevance.The
budget has not been decreased.
Wearemerely shifting resources
towhere the kids are going. De-
cisions will need to bemade for
Justanoteonwhat Iconsider to
beoneof themost importanthol-
idaysof theyear-HappyMother's
Day to allmoms, grandmothers,
step-mothers,and foster-mothers,
AroundTown
LakeSt. (Rt. 19), LeRoy• 768-6270
... AGreatAmericanBrasserie
OpenForBreakfast, Lunch&Dinner
Sun.-Thurs. 7-7, Fri. &Sat. 7-9
&
MOTHER'SDAYdinner
Reservations strongly suggested.
Servinga slightly limiteddinnermenu andwe have Senior
portions and children's portions available. Here at theDepot we do not
raise prices forMother'sDay&we strive to seat reservations on time.
SUNDAY,MAY 15thdinner special -
DEPOTSHOREDINNER
Including homemade seafood bisque, lobster tail, crab cakes,
broccoli salad, andLILACPIE for dessert - $23.99
SUNDAY,MAY 22nddinner special -
HomemadeGLOMKIS andPIEROGIES
Servedwith chicken kluskie noodle soup
and for dessert a baked applewith icecream - $17.99
TheDepot is openMemorial Dayweekend regularhours
7 am - 9pm, Saturday, Sunday, andMonday
SUPPORTYOUR LOCALADVERTISERS!
They help sponsor the local news section of the Le Roy Pennysaver.
THANKS FORYOUR SUPPORT!
LeRoyCountryClub
Mondays - 6pm
May 16th – June 20th
$50 for the 6week session
Registration forms available at theTownHall
Registration form and fee (payable toTown of LeRoy)
due prior to start of play
Town of
LEROY
2016
YOUTH
GOLFLEAGUE
Sponsored by ...
Ages 11 -16