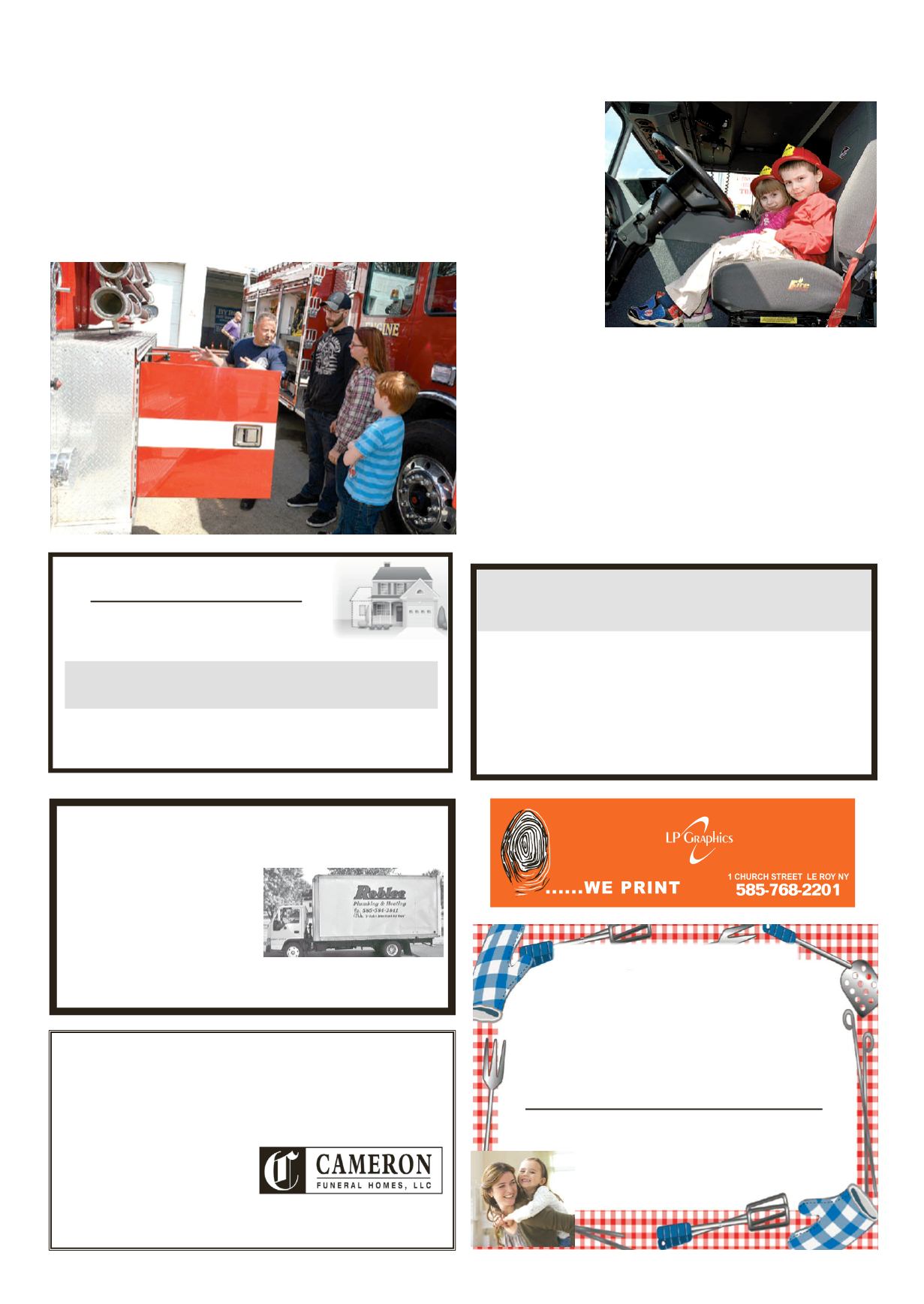 LEROYPENNYSAVER&NEWS -MAY 8, 2016
HelpingFamiliesCelebrateaLifeLived
"Our FamilyServingYours Since 1907"
Trusted•Honest •Proven
Cameron, Brady&Steuber
FuneralHome
111Wolcott Street
LeRoy,NY14482
(585) 768-6800 •
Likeus onFacebook
"CompleteCarpentry Service"
M
ILLER
B
ROTHERS
B
UILDERS
CustomHomes •Remodeling•Additions
Roofing• Siding
DANIEL
MICHAEL
ALLWORKMANSHIP GUARANTEED • INSURED
297-9097 • 768-7737
• InteriorPainting
• Plaster/LathRestoration
•Drywall&Drywall Repair
•TextureRemoval
• Floors Stripped
&Refinished
•OldCeilings&Walls
MadeLikeNew!
MikeDarby'sPatch&Paint
ROBLEE
Plumbing&Heating, LLC
10991LakeRd., Pavilion • (585) 584-3841
Full Insured
LUXAIRE
GOULD
NYSCertifiedBackflowTester
Water&Sewer Lines •Water Treatment&ConditioningSystems
On Sunday, April 24th the
Byron Fire Department held an
'Open House' and welcomed
community members to come
and check them out! Volunteer
fire fighters, EMTs, and ladies'
auxiliarymemberswereonhand
to greet the public and show off
their equipment andhall. Adults
and familieswithyoungchildren
were welcomed, and each child
was given a junior fire fighter's
hat and a toy fire truck. Those
lucky children were encouraged
to explore the equipment, they
climbed into the fire trucks and
ambulance. Firefightersboosted
thechildren into thedriver's seat
ByronFireDept.HoldsOpenHouse
well-equipped ambulance and
even let thekids get comfy lying
Inside the hall the EMTs did
bloodpressures checks andgave
out somehealth infoand tips.Fire
fighters were available to hand
out some in-homefireprevention
informationandsmokedetectors.
The ladies' auxiliary, who have
hostedGeneseeCounty'sDances
for Adults with Developmental
Disabilities for thepast 12years.
were onhand toprovide refresh-
ments and serve up a free lunch
of spaghetti and meatballs. The
event was blessed with a warm
Byron Fire Department is al-
ways accepting applications for
membership. Openmeetings are
on the second Monday of the
lpgraphics.net
Stafford
Volunteer FireDepartment's
Rt. 5, Stafford, NY
AnnualMother'sDay
CHICKENBBQ
SUNDAY,MAY8
th
,
2016
Dinner served 11:30 am til ?
Meal to Include:
1/2 chicken, small potatoes, coleslaw,
applesauce, roll and butter, dessert