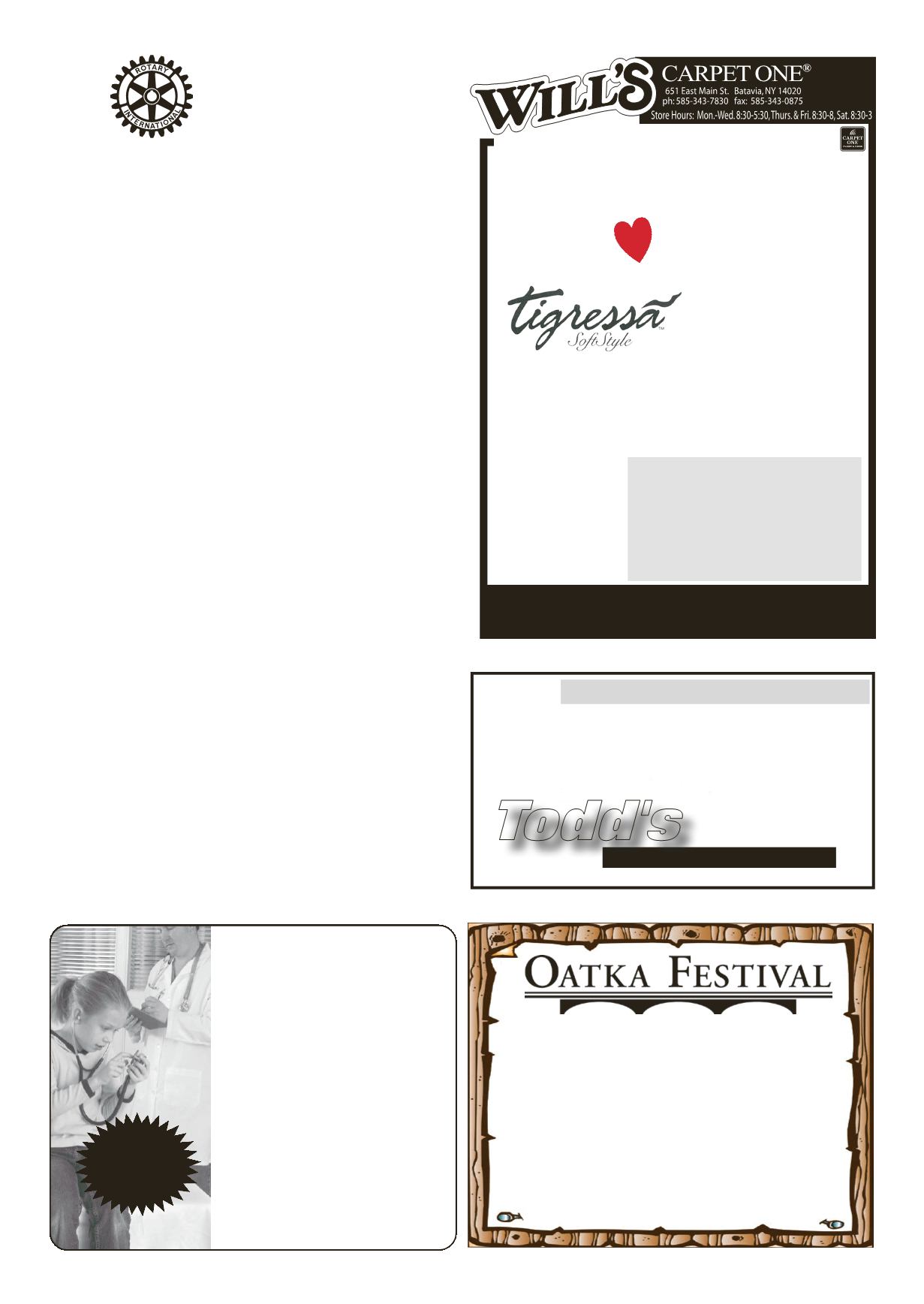 LEROYPENNYSAVER&NEWS -MAY 8, 2016
LeRotary
Notes
TheONE store for your perfect floor.
FLOOR
&HOME
LeRoyFamily
MedicalCare,PLLC
Officeof:
ThomasH.Ball,MD
-BoardCertified InternalMedicine
&Pediatrics
RobinShaw,ANP
PeterCoggiola ,FNP
We are now scheduling school/
sports physicals&well-child visits
Pleasecall
768-4400
to scheduleanappointment.
(We acceptmostmajor insurances.)
Accepting
New
Patients!
ROTARYNOTES - 4/27/16
No guests were present, how-
ever, the group did welcome
back June Dusen who had been
hidingout inFlorida for thepast
Martha Bailey reported that
the Rent-a-Rotarian fundraiser
is underwaywith twomore Sat-
urdays of projects ahead.
Thegroupheld itsfirstThirsty
Third Thursday Happy Hour at
LeRoyCountryClub. About 20
people attended the social event
that is open to all Rotarians and
guests. Tentative plans are to
continue the event on the third
Two LCS students attended
Rotary Slapshot this weekend.
HayleeBabbittandAllieMiller
both had an amazing experi-
ence and made many friends
This Friday is the last Friday
of the month and as usual there
will be a Friday Breakfast with
Martha Bailey is collecting
books for REAL which will be
heldon June25th.Booksmaybe
dropped off at Tompkins Insur-
includeanupdatebyLCSSuper-
intendant KimCoxon thisyear's
McKenzie and Rob Murray all
offeredupgreencards formissed
meetings as surprisinglynoneof
them had legitimate make-ups.
Carol Wolfe also had a missed
meeting but attended the Milne
Meeting the night prior andwas
exonerated of her absence.
Fines were administered to
Rob Murray for having a lot of
free timenow thatYouthHockey
is over. Mary Margaret Ripley
made a beautiful cake for the
50th Anniversary of GCC and
was fined for not sharing any.
June Dusen's annual stay in
Florida cost her as well. Finally
aphotoofBobandLorieBennett
surfaced from this year'sEncore
FundraiseratGCC.Bobwassuch
agreatCo-Host for theevent that
DavidGraysongraciouslyagreed
Tracy Ford was the program
for thedayandshedecided toed-
ucate the group on some history
ofRotary.Usingpersonal stories
from many "seasoned" Rotar-
ians, we were privy to Le Roy
Rotary's past and present.Many
remembered the shows and how
SealyPratt "highly encouraged"
them to join or how they were
asked to attend a lunch only to
be presented as a new Rotarian
upon their arrival. Bob Carlson
still has perfect attendance 39
years later.Manyalsosharedhow
meetings were held with "legal
beverages". All agreed that it is
the camaraderie that keeps them
coming back year after year.
Flooring
Carpeting
OnSale!
IncludingTigressa
H2OWaterproof Carpet
NewHomes •Additions •Garages •PoleBarns
ToddCarli • Phone 703-0964
Todd's
Decks •Windows •Doors
Kitchens •Baths
CeramicTile
Basement Finishing
CustomShelves/Built-Ins
Siding •Remodeling
Roofing • SnowPlowing
FULLY INSURED
PublicMeeting
Tuesday, May 10th,
6:30pm
TownHall Bldg./Court Room inLeRoy
All potential commercial/craft vendors,
food vendors, potential volunteers andany other
interested partieswelcome–
wewill have forms to fill out if needed.