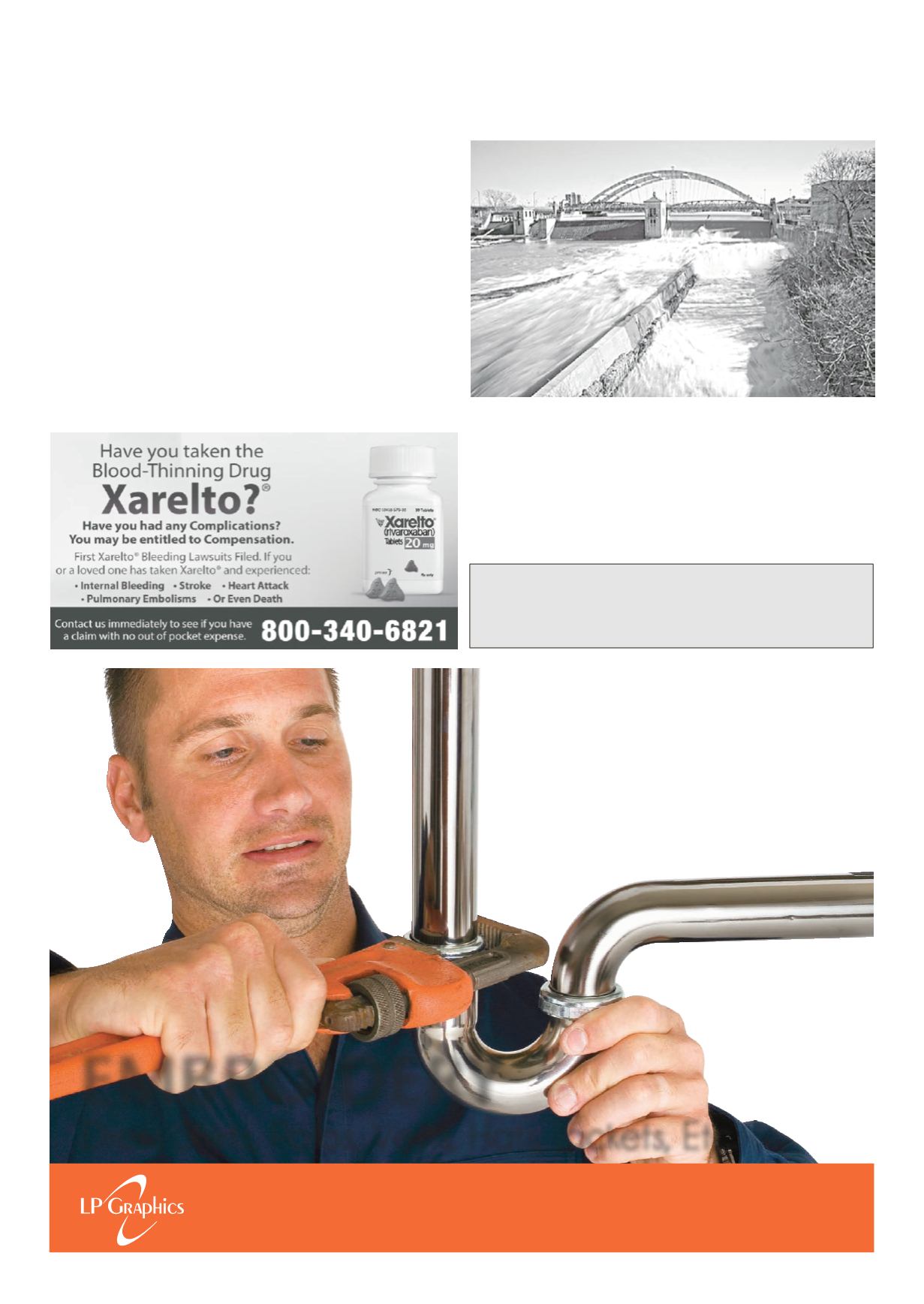 LEROYPENNYSAVER&NEWS -MAY 8, 2016
May3rd,2016 -Kenneth,MichaelGray, Jr., age24withnopermanent
residencewas chargedwithCriminal Trespass in the 2ndDegree. The
defendantwas arrested after allegedly entering a second storywindow
at Lake Street Rd, upper, LeRoy, NY. The defendant was arraigned in
LeRoyTownCourt and isbeingheldat theGeneseeCounty Jail in lieu
of $10,000 cash or $20,000 insurance bond.
05/05/2016 - A 57-year-old LeRoyman was charged with DWI fol-
lowinga report of avehiclewhichhadbeen involved inamotor vehicle
accident andhad left the sceneonSummit StreetRoad. BrianE. Bisig
of 25 Clay Street, LeRoy was allegedly involved in a motor vehicle
accident at about 6:15 P.M. onWednesdayMay 4th, 2016 which was
observed by a concerned citizen. The citizenwas able to provide a de-
scriptionof the vehicle topolice and followed the involvedvehicle to a
residence locatedonClayStreet. After abrief investigation, Bisigwas
found to be allegedly intoxicated andwas charged. In addition to the
DWI charge,BisigwasalsochargedwithDWI-.08%ormore.Bisigwas
also issued summons'byamemberof theNYSP regarding theaccident
Bisigwill answer thechargesat a laterdate in theTownofLeRoyCourt.
1ChurchSt., LeRoy, NY14482
585.768.2201
raphics.net
Dress Shirts, Polos, Vests, Hats, Jackets, Etc.
The Photography Enthusiasts
of Western NY will open their
springshowonFriday,May13at
7:00pm at 58onMain, 58Main
St.,LeRoy. Refreshmentsserved.
This online clubof almost 300
membershas showsof their pho-
tographic work throughout the
SpringShowFor
PhotographyEnthusiasts
year at thegalleryat 58onMain.
Theclub is freeandopen toall in-
terested inphotography. Formore
information,call585-768-2402or
You can find us on Facebook:
PhotographyEnthusiastsofWest-
SUPPORTYOUR LOCALADVERTISERS!
They help sponsor the local news section of the Le Roy Pennysaver.
THANKS FORYOUR SUPPORT!