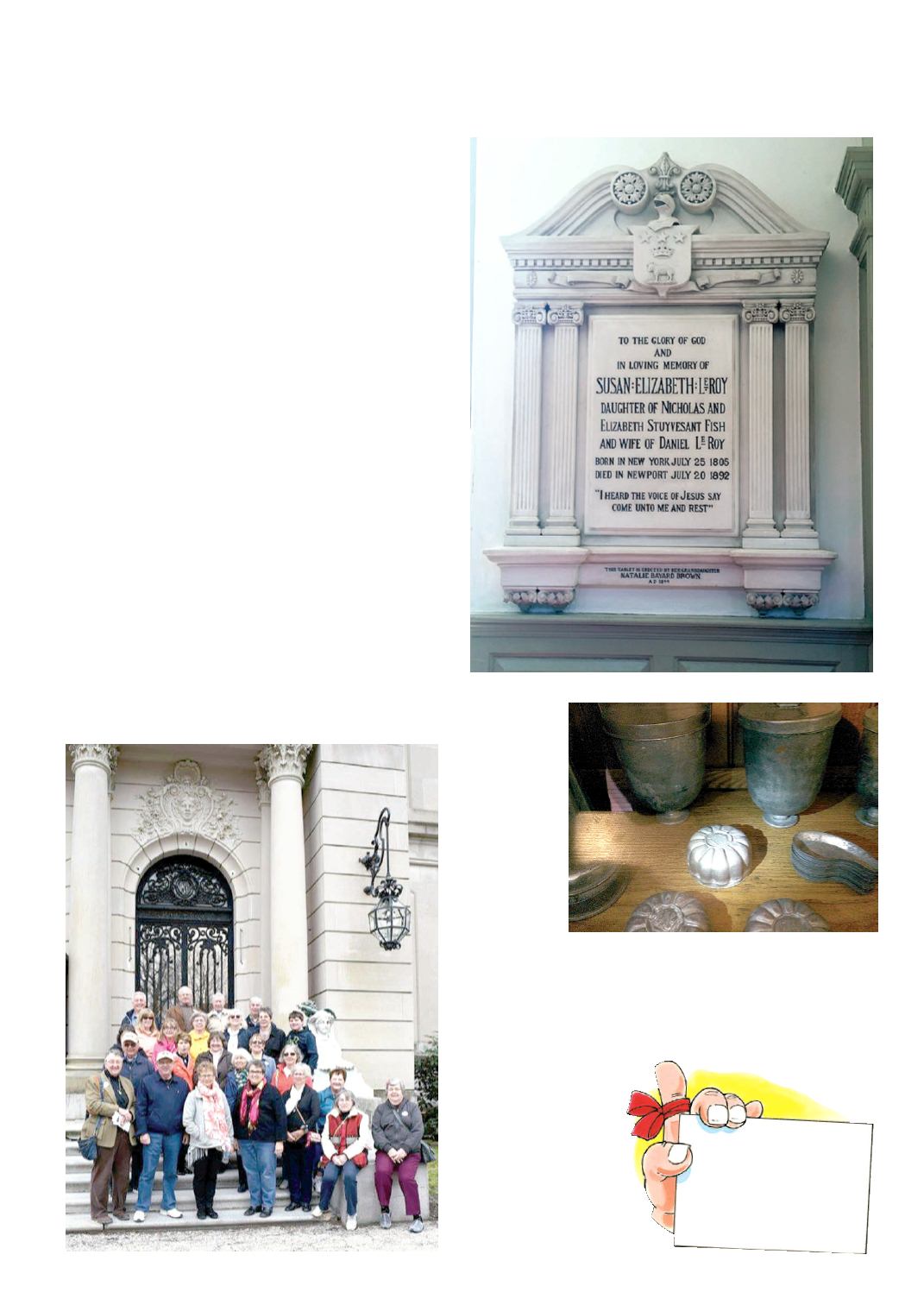 LEROYPENNYSAVER&NEWS -MAY 8, 2016
ATripToNewport, Rhode Island
ToDiscoverLeRoyHistory and Jell-O
byLynneBelluscio
It wasn't by coincidence that
theHistoricalSociety'sspring trip
headedoff toNewport,Rhode Is-
land thispastweekend.Although
Newport is known for theGilded
Age mansions and great food,
it is also the place where Jacob
LeRoy's brother,Daniel, lived
Daniel lived inLeRoy for a few
years, and then hemoved back to
NewYork Citywhere hemarried
SusanFish in1826.Daniel'shouse
inNewYorkCity, at20St.Mark's
Placewasbuilt in1832, and isstill
standing. It is listed in a historic
district.DanielandSusanmoved to
Newport and raised five children.
Their home was located at 206
BellviewAvenue. Itwas torndown
manyyears ago.Now, itwouldbe
adjacent to the InternationalTennis
Hall ofFamewhichwedrovepast
several times on our way to visit
Susan andDaniel had adaugh-
ter also named Susan, whomar-
ried GeorgeWarren Dresser. He
had graduated fromWest Point
and served during the CivilWar.
He served at Manassas and Bull
Run andwas an assistant instruc-
tor of military tactics at West
Point. After retiring from the
Armyhebecameacivilengineer.
Tragically,SusanDresserandher
husbanddied in1883, leaving the
five children orphans who were
raised by their grandparents, Su-
One of the granddaughters,
Edith Dresser, married George
Washington Vanderbilt in 1898.
IfGeorgeWashingtonVanderbilt
sounds familiar, he is the man
who built "Biltmore House" in
Ashville, North Carolina. His
brother, Cornelius Vanderbilt II
built the "Breakers" in Newport.
Another brother, William, built
Marble House in Newport. All
threemansionswere designedby
famous architect RichardMorris
Hunt,who also lived inNewport.
(And just for an additional con-
nection,RichardMorrisHunt,also
designed thebase to theStatueof
Liberty inNewYorkHarbor.)
On Saturday, while we toured
William Vanderbilt's Newport
House, I looked into the kitchen
cupboard, and there, believe it or
not,were threesmallJell-Omolds
–marked"Jell-O." RayYacuzzo
helpedwith a small flashlight so
Icouldget abetterphotowithmy
cell phone. I havenever seen this
shape before, and I hope to do
LeRoyplaque inTrinityChurch inNewportRhode Island.
Jell-Omold inkitchen atMarbleHouse.
hadhoped tovisitTrinityChurch
in Newport to photograph the
marble plaque dedicated to Su-
san Fish LeRoy and to find the
graves of some of the LeRoy
family buried there, but as luck
up in the parade traffic.
Roy. We asked a few folks in
Newport how they pronounce
LeRoy and were surprised that
they pronounce it LeeRoy. Poor
Daniel and Susan I'm sure they
May 11th, 7:00pm
LeRoyHouse
Suzi Parron, Author of
"Following the
BarnQuilt Trail"
FREE
Everyonewelcome!