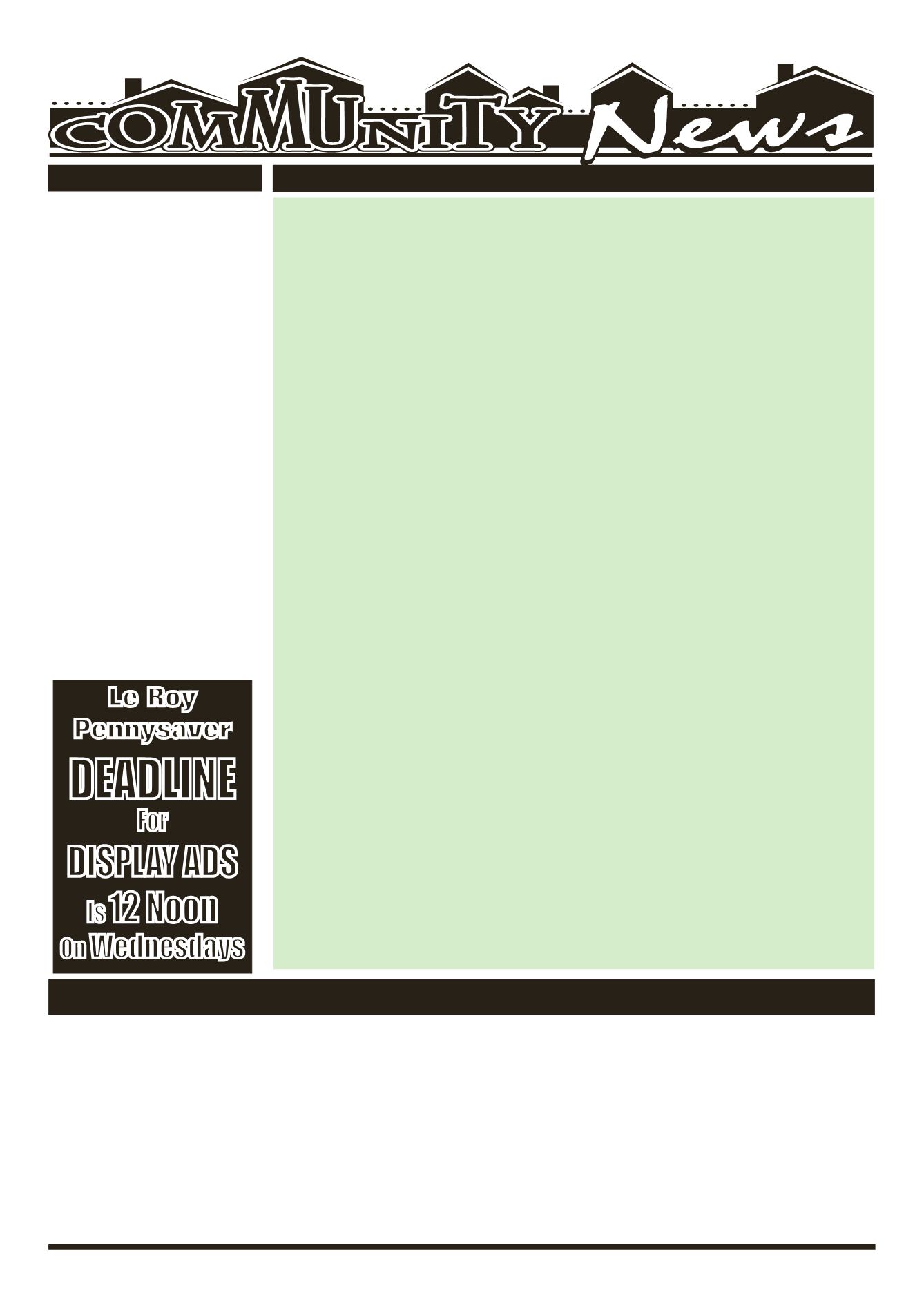 LEROYPENNYSAVER&NEWS -MAY 8, 2016
All GeneseeCounty residents, 60andolder, can takepart in thisweek'sactivitiesat theBataviaSenior Center, 2BankSt., Batavia. Formore information, call 343-1611.
SENIORCITIZENSACTIVITIES (May 9th -May 13th)
WEEKLYEVENTS
OBITUARIES
ArthritisExercise
isscheduled tobeginat9:30a.m.;
Bridge
isscheduled tobeginat11:30a.m.;
TaiChi
isscheduled tobeginat1:30a.m.
ARepresentative fromBlueCross/BlueShield Insurance
will be available from10:00 a.m. to12:00p.m.;
Cribbage
OmbudsmanMeeting
is scheduled tobeginat 9:00a.m.;
Quilter'sGroup
is scheduled tobeginat 9:00a.m.;
Euchre
Legal Services
is scheduled theentiredaybyAPPOINTMENTONLY.;
TaiChi
is scheduled tobeginat 9:30a.m.;
ARepresentative from
IndependentHealth
willbeavailable from9:30a.m. to11:30a.m.;
GentleFitness
isscheduledtobeginat10:30a.m.;
Cribbage
Bridge
isscheduled tobeginat1:00p.m.
ArtClass
is scheduled tobeginat10:00a.m.;
LineDancing
is scheduled tobeginat10:00a.m.;
Euchre
is scheduled tobeginat1:00p.m.
SUNDAY,MAY8
MONDAY,MAY9
TOPS (TakeOffPoundsSensibly)
meetsMondayevenings at the LeRoyPresby-
terian Church, corner of Clay&Main Streets. Doors open at 6:00 pm andmeeting
is from 6:30-7:15 pm. Visitors are always welcome. Call 585-768-7103 for more
TUESDAY,MAY10
PreschoolStorytime :
EveryTuesdayat11am featuringstories,craftandsongsat
PavilionPublicLibrary, 5WoodrowDr., Pavilion. For info: 584-8843.
LCCP'sGRACE'SKITCHEN:
AFREEdinnereveryTuesdayevening,5-6:30pmat the
Masonic Community Center on 12 Bank St. Plenty of parking. Takeout & delivery
areavailable. Formore info. contact SelbyDavisat585-738-8882or selbydavis1@
GRACE'S CLOSET: A clothing giveaway program
sponsored by Le Roy United
Methodist Church, 10TrigonPark, LeRoy, 9:30 am to11:30 am everyThursday.We
haveclothingforallages.Weneedbeddingofallkindsespeciallyblankets.Donations
canbedroppedoffat thehousenext to thechurch.Pleaseputallbags INSIDEon the
backporch. NOELECTRONICS, COMPUTERS,DISHES,etc.
OpenTuesdays5-6:30pm.
Anyquestions call theoffice768-8980.
AXISStudentMinistryatLivingWatersChurch
,onMainSt.LeRoy.Sundaysfrom
6:30to8:30p.m.for7thto12thgrade.Ourgoal isforteens'livestobe impacted,and
radicallychanged. Formore information, checkusoutat:
org/axis-student-ministry/
WEDNESDAY,MAY11
Wednesdaysfrom6:30pmuntil8:00pm -
FirstBaptistPavilionwillbehaving
their youthprogram. titled"JOYCLUB". It is open to children in thePre-school age
up to 6thgrade. Itwill be held at the church 10956 S. Lake Road, Rte. 19. It is a
fun time of Bible stories, game time, refreshments andmemory work. Call for
further information585-584-3179ext. 12. Leaveyour nameandnumber and the
secretarywill call youback.
TheSeniorCitizensofLeRoyandStafford
meet the thirdWednesdayof the
month fromMarch throughDecember for dinner and a planned program. We
meet in the Knights of Columbus Hall behind Save-A-Lot onWestMain Street.
Each person attending brings a generous dish to pass or pays $4.00 each for a
nicebuffetmeal and social. Bringyourownplacesettingandbeverage. Coffee,
teaanddessertareprovided.Dinner isservedat6:00pm followedbyaprogram.
Please joinusforanenjoyableevening. Anyquestions,pleasecontactJudyRidley,
Director@768-2001, or SharonFrost@768-6846.
TheLeRoyTown&CountryGardenClub
willhold it'smonthlymeetingat7:00
pm at theFirst PresbyterianChurchof LeRoy. FimkaCooley, aMasterGardener
from Rochester, will be presenting a program entitled "Herbs and Perennials".
Planswill alsobemade for theMainStreetPlantersWorkSession. Contact Lucy
MacKenzieat768-2308 formore information.
WoodwardMemorial LibraryBoardofTrusteesmeeting
THURSDAY,MAY12
Spaghetti Dinner,
South Byron UnitedMethodist Church, serving 4 pm til
soldout.Tickets$9.00-Takeoutsavailable.Formore informationcall494-1437.
StoneChurchPresbyterianChurchWomen'sAnnualRummageandBake
FoodSale
-Thursday,May12th,5-7pm,Friday,May13th,9am-1pm,BagSale
the13th, 9am-1pm. 7549S. LakeRd. (Rt. 19), Bergen,NY
TownofLeRoyBoardMeeting,
7pmattheTownHallBoardRoom,48MainSt.
FRIDAY,MAY13
PenuelChristianFellowship,
OneStep toFreedomaddictionsministry,aChrist
Centered Addictions program, a weeklymeeting every Friday at 7 pm. Call the
Church formore informationat768-6901or594-9575.
Penuel ChristianFellowship
is organizing a young adult fellowship andBible
study.Ages:12andup,Time:Fridays from7-9pm,Study:thebookofRomans(a16
week course), taughtby JosiahGariboldi.Place: 7115WestMainStreet.
SATURDAY,MAY14
Veterans Only Social Club -
Genesee Veterans Support Network announces
a newmeeting location at Scooter's Family Restaurant, 3711WestMain Street
Road,Batavia,NY- for theonceamonthVeteransOnlySocialClub.Meetingsare
held the second Saturday of eachmonth from 7:00 to 8:30 PM. Veterans of all
eras are invited toattend. GVSN is locatedat 3837WestMainStreet Road, Bat-
avia, NY. Formore information, contact GVSN, POBox 541, Batavia, NY 14021-
GobblingGoodSpringTurkeyDinner
@Riga Church. Come joinus for our
final springdinnerof realhomecooking !Servingbeginsat4:30pmuntilallare
served . First Congregational Churchof Riga ,7057Chili-RigaCenter Road (Rts.
33A@36) Homemade stuffing, potatoes, gravy and all the sidesWITH a nice
varietyof PIES!WelcomeSpringand seeyou soon !
UPCOMINGEVENTS
TheGeneseeValleyCivilWarRoundtable
presents JoyceThompsonHoveyon
"BrotherAgainstBrother",Wednesday,May18that7:00pm.Themeetingwill take
place at LeRoy UnitedMethodist Church, 3rd door on right end of long sidewalk,
10 Trigon Park, LeRoy, NY. Discussion periodwill follow program. Newmembers
StaffordGardenClubAnnualPlantAuction
,May18,2016atStaffordTown
Hall,8903Rte.237, Stafford,NY 14413. Auction@6:30PM GardenStoreand
Preview@5:30PM. This supportsour ScholarshipFund. Everyone'swelcome.
FoodlinkFreeMobileFoodPantry:
MorganvilleUnited Church of Christ is
partneringwithFoodlinkofRochestertohostafreemobilefoodpantry,Tuesday,
May31,4:00-6:00pmatMorganvilleUnitedChurchofChrist,8466Morganville
Road (offRt 237, 1milenorthof Stafford). Theexact food items andquantity
availablearenot known, but freshproducewill beavailable. Must be18years
of age, no income requirement or ID required. Must provideownbags/vehicle
to transport items toyourhome. Foodprovidedonafirstcome,firstservebasis
CommunityCalendarSubmissions shouldbe sent to:
STAFFORD ~ KennethA. Rumble Jr.,
age 58, of Sweetland Road, passed
away on Tuesday, April 26, 2016. The
courtesyofno flowers is requestedwith
memorials suggested to the family for
distribution to charities of their choice.
STAFFORD ~ Jean G. Diefendorf,
age 91, of Main Road, passed away
Wednesday afternoon (April 27, 2016)
at United Memorial Medical Center in
Batavia. In lieu of flowers, memorials
are suggested to either the AVBI
(Association for the Blind and Visually
Impaired), 422 S. Clinton Ave., Roch-
ester, NY 14620 or to HomeCare and
Hospice, 29 Liberty Street, Batavia,
LEROY ~ Caryn B. (Merrill) Harloff,
age 45, of MyrtleStreet, passed away
at home on Saturday, April 30, 2016.
Memorials are suggested to either
Volunteers for Animals or Disabled
American Veterans Chapter #166 in
Le Roy
Pennysaver