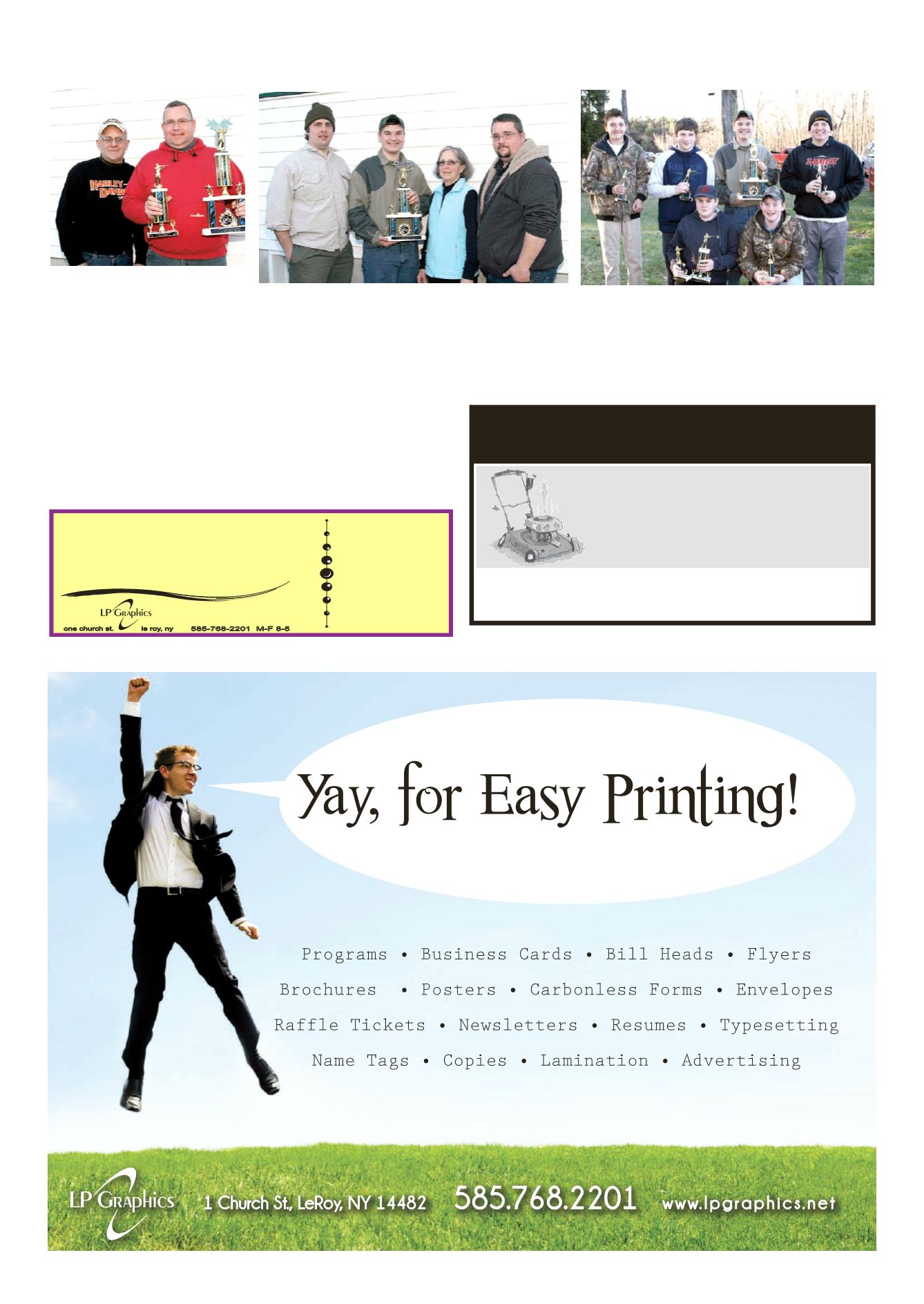 LEROYPENNYSAVER&NEWS -APRIL 24, 2016
• Engine andTransmissionRebuilds
• Lawn andGardenEquipment
•ATV's, Dirt Bikes • Light Equipment
• PickUp andDeliveryAvailable
8525Rt. 237, Stafford, NY
TheBuddyMiller andMichael
Fernaays shoot takesplaceat the
Northwoods Sportsmans Club
every year starting the 3rd Sun-
BuddyMillerTrapShoot
32nd Annual Buddy Miller
Shoot winners, 2016 TopGun
wasScottSnellwithanaverage
of 24.125 for the year. Shown
herewithCharlesMiller,Scott
wasalso theTrophyshootwin-
nerwith a score of 22.
The Annual Michael Fernaays Junior TopGun
wasKrisMcCowenwithanavgof 18.625 for the
years. Shown here with the Michael Fernaays
Family, Matthew, Kris McCowen, Cheryll and
Nathan Fernaays. The Jr. trophy shoot winner
was SamMillerwith a score of 20.
Group of Jr. shooters are 1st rowSamMiller,
Zack Boneberg, 2nd rowAaron Leone, Tom
Mellon, Kris McCowen, Bryce Bordonaro.
Absent frompictureCodyLytle.
day in January until the end of
March, shoot isopen toeveryone.
Please contact the Northwood
SportmansClub if interested.
one church st. le roy, ny
one church st. le roy, ny