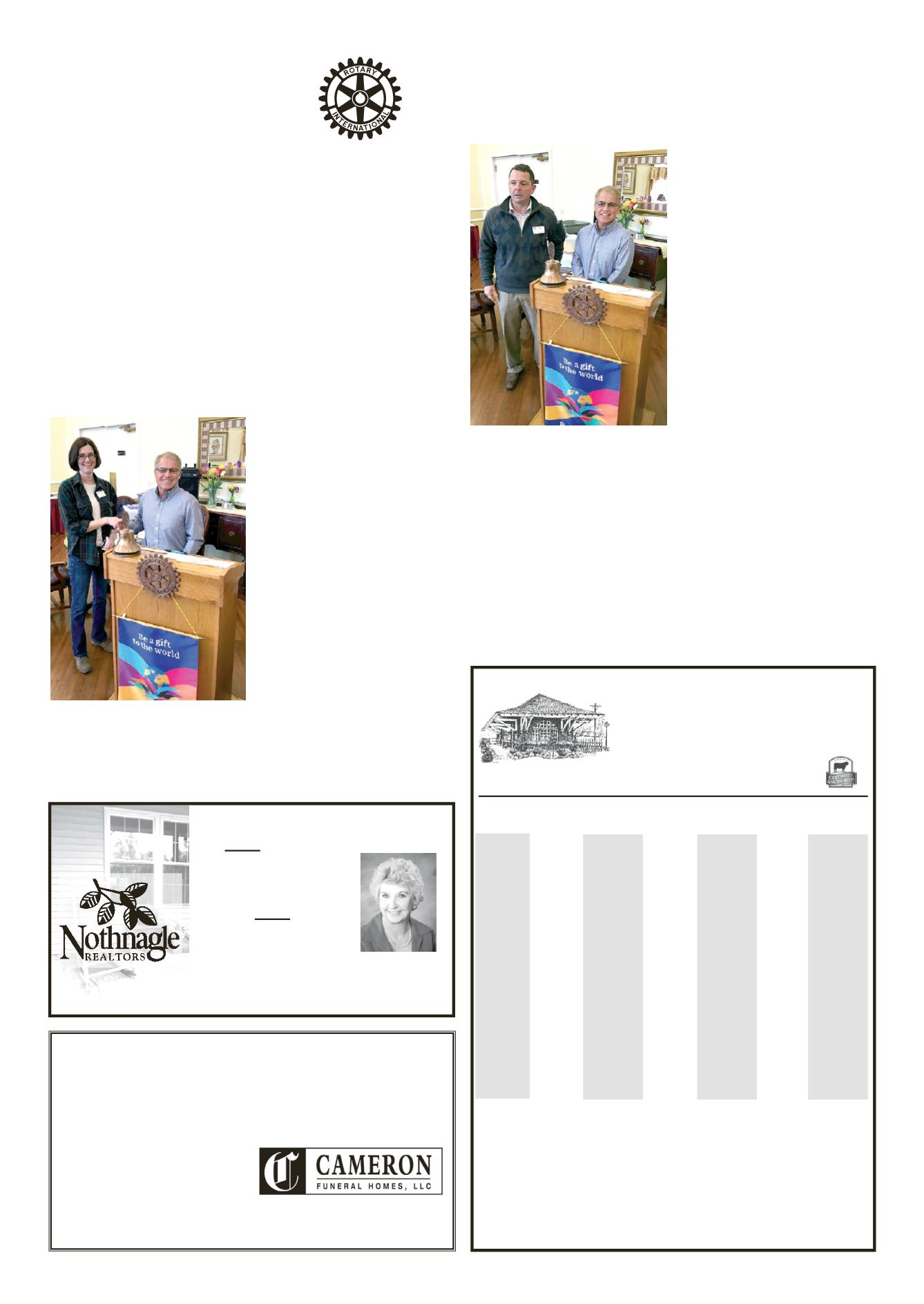 LEROYPENNYSAVER&NEWS -APRIL 24, 2016
LeRotary
Notes
LakeSt. (Rt. 19), LeRoy• 768-6270
... AGreatAmericanBrasserie
OpenForBreakfast, Lunch&Dinner
Sun.-Thurs. 7-7, Fri. &Sat. 7-9
&
HelpingFamiliesCelebrateaLifeLived
"Our FamilyServingYours Since 1907"
Trusted•Honest •Proven
Cameron, Brady&Steuber
FuneralHome
111Wolcott Street
LeRoy,NY14482
(585) 768-6800 •
Likeus onFacebook
APRIL: GRILLEDCHEESEMONTH
Sunday specials areservedwith soupor salad anddessert
CALLSOONTOMAKEYOURMOTHER'SDAY
DINNERRESERVATIONSHEREATTHEDEPOT
TheDepotwill be serving a slightly limited dinnermenu
ASeniormenu and a children'smenuwill be available.
We do not raise our prices forMother'sDay andwe strive to seat
Take outmealswill also be available.
Sun
Mon
Tues
Wed
Thurs
Fri
Sat
17
18
19
20
21
22
23
Jack CABBBQ Creamed Bratwurst,
Pork chicken Egg, bacon cheese,
Dinner sundried &American bacon
tomato on grilled turkey,
Apple avocado, homemade coleslaw, Sourdough
24
25
26
27
28
29
30
Cheese BBQpulled Cod& Burger,
Chicken pork, onion FishFry sauteed
The April 13th meeting of
the Rotary Club of Le Roy was
called to order by President
Tony. Our sole guest todaywas
GaryChurchill from theBatavia
-RentaRotarianwillcontinue
over the next three Saturdays
- Our Happy Hour gathering
will beApril 21st at the Le Roy
- Club Leadership Training
May 18thwith our Club assem-
- The Graze to Raise Fund-
raiser is May 20th. Samantha
is asking that unsold tickets and
ticketmoneybe turned inassoon
- TheRelay for Life isAugust
6th. Mary isasking forparticipa-
presentedwithapin fromRotary
International for sponsorship of
ournewestRotarianNanChiulli.
Erik Fix accepted a check from
our Club on behalf of Le Roy
Called on for missed meet-
ings were: Lynne Belluscio,
Ben Deragon, Erik Fix, Jerry
McCullough and Mary Young.
Larry Boylan, Bruce Baker and
Dave Frost werewelcomed back
and fined for their time away.
Ben Deragon and Jerry paid for
recent trips. Mary Young paid
Our program today was pre-
sented by Rotarian Lynne Bel-
Le Roy's Statue of Liber-
ty. The Strengthen the Arm of
Liberty project raised $15,000
to restore the statue. The work
was done at the McKay Lodge
Conservators in Oberlin, Ohio
and cost $8000. Through the
help of Rotarian Randy Vink,
the special padded crate which
was used to transport the statue
to Ohio and back was made in
Le Roy at Orcon on Lake Road.
The statue is now at the Le Roy
Historical Society and will be
placedonanew"plinth" thatwill
bemadeby theSouthsideCement
CompanyofBuffalo. Inaddition,
therewillbeanew retainingwall
installedbyBubba'sLandscaping
of Le Roy that will reveal the
eleven-point star that is in the
ground.LindseyYoder,who lives
in Stafford and is an architect
with Bero Associates in Roch-
ester, has been helping review
drawingsandplans.Pully'sFarm
Market will be donating annual
plants for the garden around the
base. If everythinggoes accord-
ing to schedule, the statue will
be rededicated the Saturday of
Oatka Festival. TheLeRoyBoy
Scout Troop will be involved
with a float in the parade, and
will be invitingBoyScouts from
the area to come to Le Roy to
participate in the parade and the
rededication. In preparation for
the rededication, a great deal of
research is being done to learn
moreabout theoriginalStatueof
Liberty inNewYorkHarbor. It
is interesting toknow that theLe
RoyStatueofLiberty is81/2 feet
tallwhich is about the same size
as the index finger of the huge
Please likeusonFacebookand
supportourupcoming fundraiser,
Batavia
585-343-6750
NOW is theBEST time
toBUYwith the interest rates
at their lowest!
Don't wait
toBUY -
call
LindaBeaumont
for all your real
estateneeds.
LindaBeaumont
Home (585) 768-6315
LicensedReal Estate
Salesperson
Multi-MillionDollar Producer