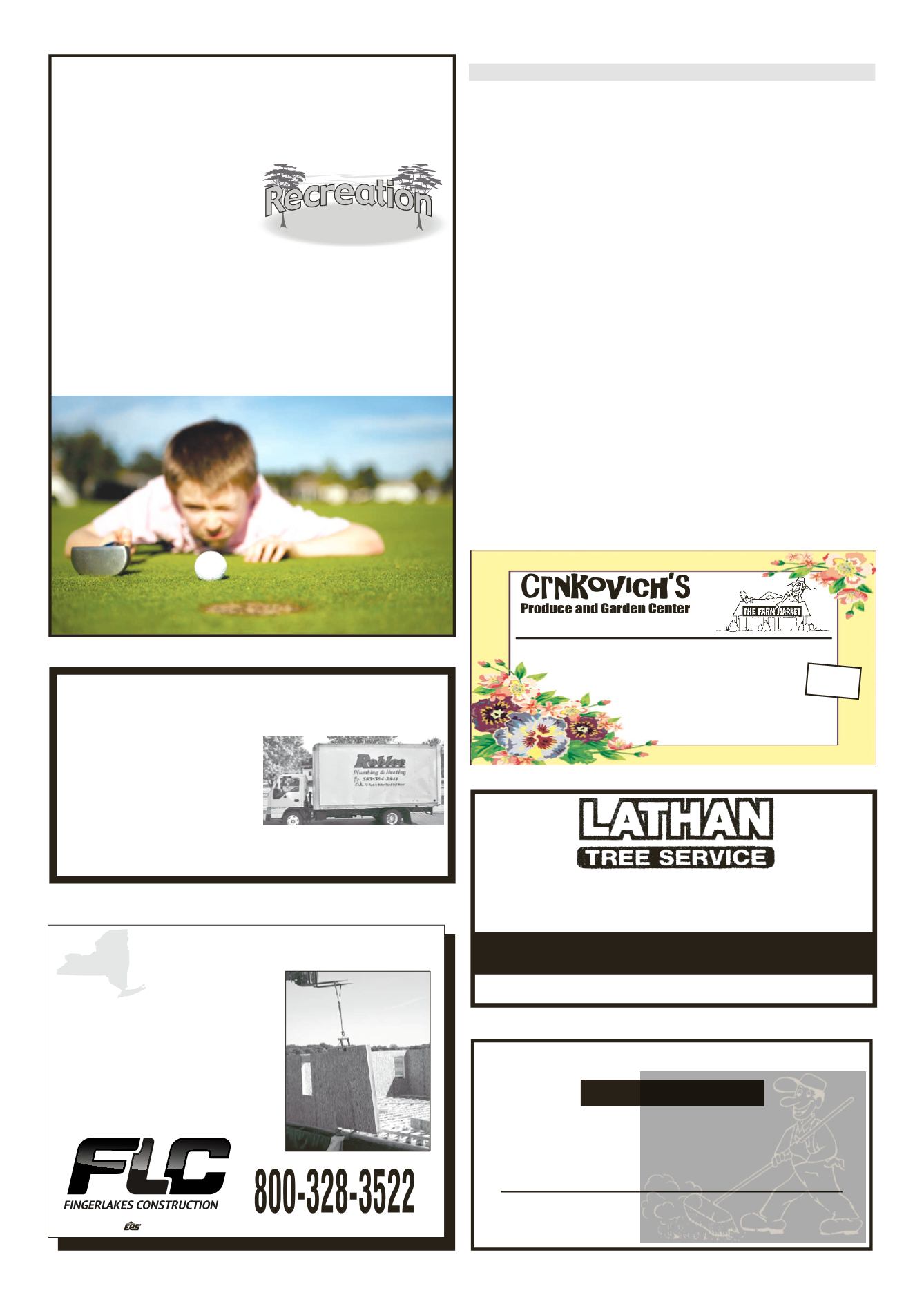 LEROYPENNYSAVER&NEWS -APRIL 24, 2016
ROBLEE
Plumbing&Heating, LLC
10991LakeRd., Pavilion • (585) 584-3841
Full Insured
LUXAIRE
GOULD
NYSCertifiedBackflowTester
Water&Sewer Lines •Water Treatment&ConditioningSystems
CleaningService
•Carpet &UpholsteryCleaning
•Spot Cleaning&Odor Removal
•Tile&WoodFloor Cleaning&Waxing
•Complete Janitorial Services
Part of the family of companies
fingerlakesconstruction.com
NewYorkState'sPost FrameLeader . . .
Now also manufactures and
Structural InsulatedPanels provide
high energy-efficiency and a
Ask us for completedetails!
byKimCox
Superintendent of Schools
Spring has sprung! What a
beautiful few days.We are very
excited thatwork on theR.I.T.E.
Project is soon to begin. To
celebrate this effort, we will be
Ground-Breaking
Ceremony
2016, at 10:00 am in front of the
Wolcott Street School sign. We
would love to have you join us
aswecommence the start of this
With the start of the project,
I would also like to remind
you that Stanley Place will be
closed for the duration of the
project. There will be no cars
allowed down Stanley Place. In
addition, Trigon Park will have
limited access to drop-off and
Cars will
notbeallowedonTrigon from
8:30-9:15amor2:45-3:20pm.
Walkers and students that are
beingpickedup fromschoolwill
be held in the school until 3:20
pmandwillbe releasedonce the
Thank you for your patience.
We plan to revert to our usual
drop-off andpick-uppractices in
I would also like to invite you
"Coffee with the Superin-
tendent" onWednesday, May
4, 2016 from 9:00-10:00 am
or 4:00-5:00 pm.
opportunity for an informal con-
versationabout topicsof interest.
Whilenot necessary, if youwish
to attend, wewould appreciate a
call to the district office at 768-
8133oremail lwrobel@leroycsd.
org, to help us with planning.
Thanks again for your ongoing
8041 E.MainRd. (Rt. 5) 1Mile East of LeRoy
OpenDaily •768-7259•768-7813
LARGESELECTION
PANSIES,
OnionSets • SeedPotatoes •GardenSeeds
585-768-2278
LeRoy, NY
Since 1971 .... ExperienceCounts
PROFESSIONALTREESERVICE
TREETRIMMING • TREEREMOVAL • STUMPREMOVAL
FreeEstimates • Fully Insured
AcceptingAll Major Credit Cards
LeRoyCountryClub
Mondays - 6pm
May 16th – June 20th
$50 for the 6week session
Registration forms available at theTownHall
Registration form and fee (payable toTown of LeRoy)
due prior to start of play
Town of
LEROY
2016
YOUTH
GOLFLEAGUE
Sponsoredby ...