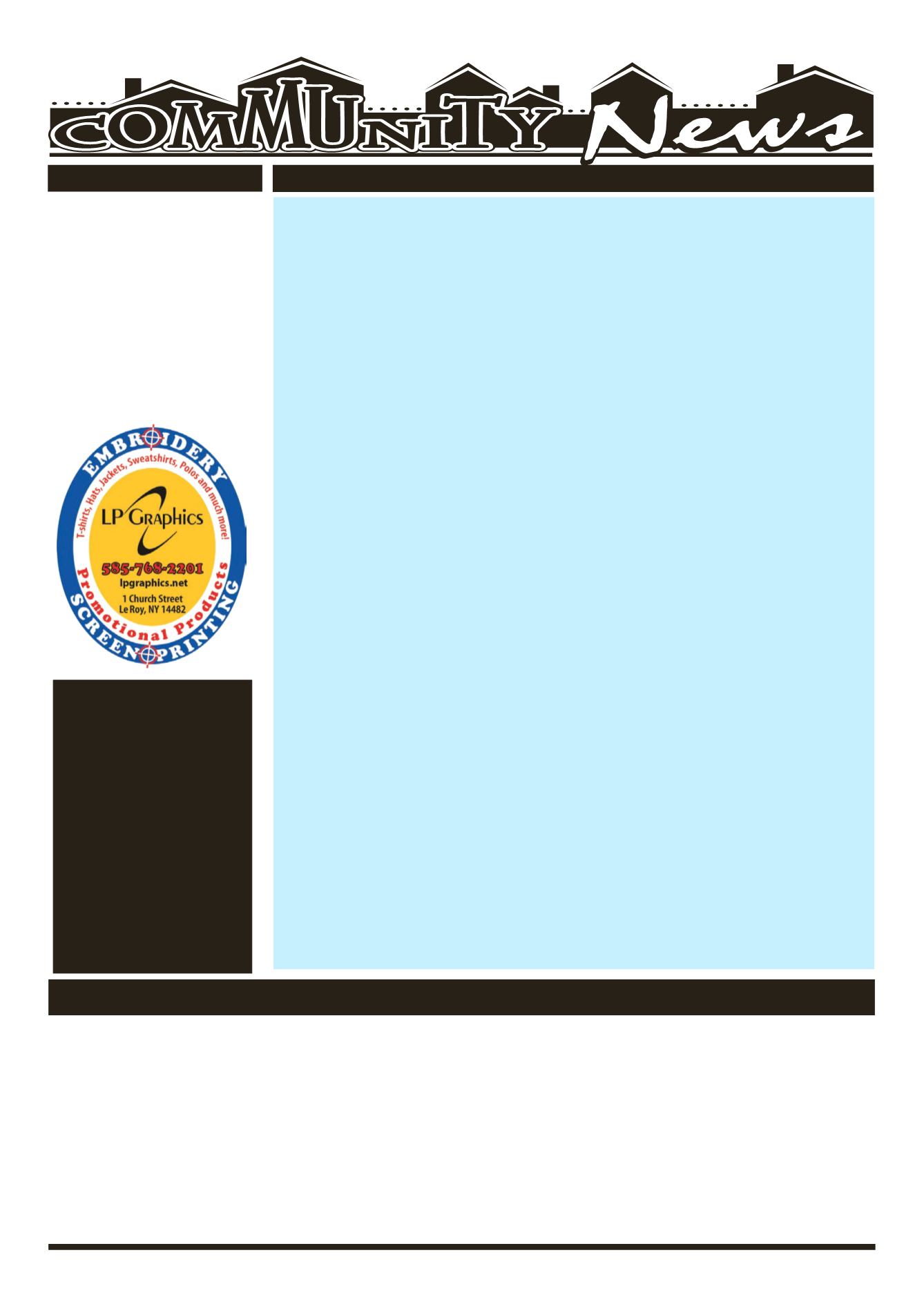 LEROYPENNYSAVER&NEWS -APRIL 24, 2016
All GeneseeCounty residents, 60andolder, can takepart in thisweek'sactivitiesat theBataviaSenior Center, 2BankSt., Batavia. Formore information, call 343-1611.
SENIORCITIZENSACTIVITIES (April 25th -April 29th)
WEEKLYEVENTS
OBITUARIES
ArthritisExercise
isscheduled tobeginat9:30a.m.;
Bridge
isscheduled tobeginat11:30a.m.;
TaiChi
Cribbage
is scheduled tobeginat1:00p.m.
Quilter'sGroup
is scheduled tobeginat9:00a.m.;
Euchre
is scheduled tobeginat1:00p.m.
TaiChi
is scheduled tobeginat9:30a.m.;
GentleFitness
is scheduled tobeginat10:30a.m.;
Cribbage
Bridge
isscheduled tobeginat1:00p.m.
ArtClass
is scheduled tobeginat10:00a.m.;
LineDancing
is scheduled tobeginat10:00a.m.;
Euchre
SUNDAY,APRIL24
Konnect YouthGroupat LivingWaters Church,
onMain St. LeRoy. Sundays
from6:30 to8:30pm forages12-18. "BringDownall theWalls! ConnectwithGod
andConnectwithothers." Formore information, checkus out onlineat: livingwa-
tersleroy.org/konnect-youth-ministry/
MONDAY,APRIL25
TOPS(TakeOffPoundsSensibly)
meetsMondayeveningsattheLeRoyPresby-
terianChurch, cornerof Clay&MainStreets.Doorsopenat6:00pmandmeeting
is from 6:30-7:15 pm. Visitors are alwayswelcome. Call 585-768-7103 formore
TUESDAY,APRIL26
PreschoolStorytime :
EveryTuesdayat11am featuringstories,craftandsongs
atPavilionPublicLibrary, 5WoodrowDr., Pavilion. For info: 584-8843.
LCCP's GRACE'S KITCHEN:
A FREE dinner every Tuesday evening, 5-6:30 pm
at theMasonic Community Center on 12 Bank St. Plenty of parking. Takeout &
delivery are available. For more info. contact Selby Davis at 585-738-8882 or
GRACE'S CLOSET: A clothinggiveawayprogram
Methodist Church, 10 Trigon Park, Le Roy, 9:30 am to 11:30 am every Thursday.
We have clothing for all ages. We need bedding of all kinds especially blankets.
Donations canbedroppedoffat thehousenext to the church. Pleaseput all bags
INSIDE on the back porch. NO ELECTRONICS, COMPUTERS,DISHES, etc.
Open
Tuesdays5-6:30pm.
Anyquestions call theoffice768-8980.
AXISStudentMinistryatLivingWatersChurch
from 6:30 to 8:30 p.m. for 7th to 12th grade. Our goal is for teens' lives to be
impacted, and radically changed. Formore information, checkusout at:
FoodlinkFreeMobileFoodPantry:
MorganvilleUnitedChurchof Christ is
partneringwithFoodlinkofRochester tohosta freemobile foodpantry,4:00-
6:00pmatMorganvilleUnitedChurchof Christ, 8466MorganvilleRoad (offRt
237, 1mile north of Stafford). The exact food items and quantity available
arenot known, but freshproducewill be available. Must be18 years of age,
no income requirement or ID required. Must provide own bags/vehicle to
transport items toyourhome. Foodprovidedonafirst come, first servebasis
LeRoy ZoningBoard of AppealsMeeting
(as necessary) 7:30 pm at the
TownHall, 48MainSt. For further info. call 768-6910, Ext. 223.
WEDNESDAY,APRIL27
Wednesdaysfrom6:30pmuntil8:00pm-
FirstBaptistPavilionwillbehaving
theiryouthprogram. titled"JOYCLUB". It isopen tochildren in thePre-schoolage
up to 6thgrade. Itwill be held at the church 10956 S. Lake Road, Rte. 19. It is
a fun timeof Bible stories, game time, refreshments andmemorywork. Call for
further information585-584-3179ext.12.Leaveyournameandnumberandthe
secretarywill call youback.
The StaffordHistorical Society's, monthlymeeting
TownHall at8903Route237,will featureour local resident,HelenBatchellor.
Shewill be giving her views of "What it was like in America: 1940-1950"--
The clothes of the era; what itwas like locally during theWar; the cars; the
entertainment; and theother areas of interest. For thosewho lived through
this time, it will bring backmemories and for others, an education of the
differenceof yesteryear and today.
Movie Showing of The Lady in the Van
for adults onWednesday, April
27 at 6:00 p.m. at theWoodward Memorial Library, 104 minutes, Rated
PG-13. Registration is required. Call 768-8300 or register online at
THURSDAY,APRIL28
TheAmericanRedCross isholdingaBloodDrive
inLeRoy from12:00noonuntil 5:00pm. Appointments canbe scheduledon
lineor asalways,walk insarewelcomeaswell.
Town of LeRoy BoardMeeting,
7 pm at the Town Hall Board Room, 48
That's My Story! Early Days in Le Roy! At theWoodwardMemorial
Library
onThursday, April 28 from6:30 to 7:30p.m. Listen to stories about
theGrowingUpOn theFarm. Presentersare: Esther LeadleyandBillGuthrie.
FRIDAY,APRIL29
PenuelChristianFellowship,
OneSteptoFreedomaddictionsministry,aChrist
CenteredAddictions program, aweeklymeeting every Friday at 7pm. Call the
Church formore informationat768-6901or594-9575.
PenuelChristianFellowship
isorganizingayoungadult fellowshipandBible
study. Ages: 12andup, Time: Fridays from7-9pm, Study: thebookof Romans
(a16week course), taughtby JosiahGariboldi.Place: 7115WestMainStreet.
SATURDAY,APRIL30
YoungLifeYouthAuction
, ByronFireHall. Pre-viewingat 4pmSale starts
at5pm,HarrisWilcoxAuctioneers.
UPCOMINGEVENTS
TheStaffordUnitedMethodistChurch isworking inpartnershipwith
FoodlinkofRochester
to sponsor the Foodlink FreeMobile FoodPantry. It
will beheldonFriday,May6 from4-5:30pmat EmeryPark, locatedat 6061
Rt. 5 in Stafford. Theexact items arenot known, but freshproduce is always
available.Food isdistributedonafirst-come,first-servedbasiswhilesupplies
last. There is no incomeor ID requirement but recipientsmust be18 years of
ageandprovide theirownbagsand transportation.
CommunityCalendarSubmissions shouldbe sent to:
CASTILE/LeROY- John F. Fallon of
Castile, formerly of LeRoy, passed
away Monday (April 11, 2016), at Be-
nincasa Hospice inMendon. In lieu of
flowers, donations canbemade toBe-
nincasa Hospice, 3880 Rush-Mendon
LeROY -ROBERTP. JOHNSON-Age
92, a resident of the LeRoy Village
GreenNursingFacility inLeRoypassed
awaypeacefullyonApril18,2016at the
Le Roy
Pennysaver