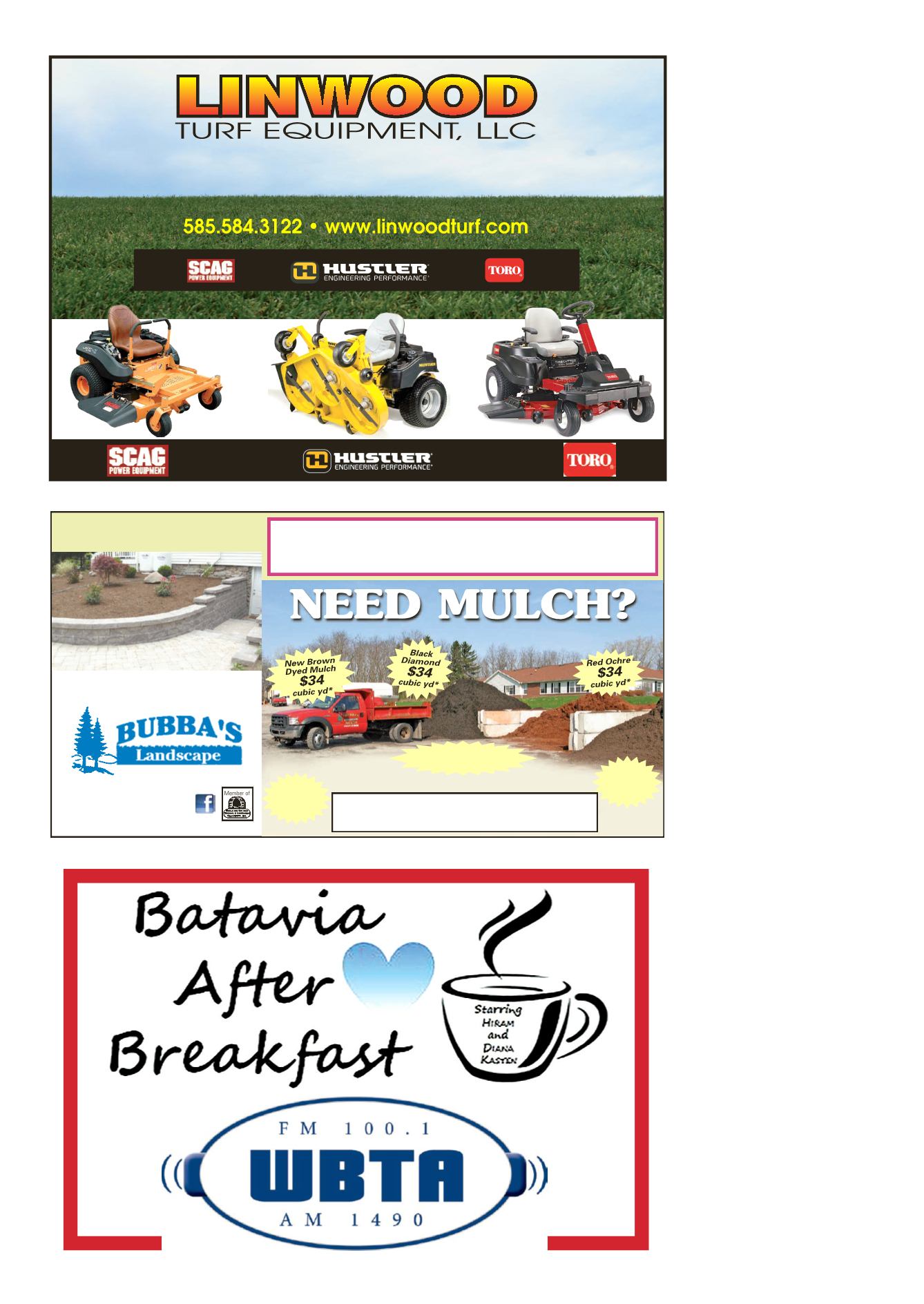 LEROYPENNYSAVER&NEWS -APRIL 24, 2016
PARTS •SALES •SERVICE
1818 LinwoodRoad, Linwood, NY
Deliveryor Pickup
Mon. - Fri. 9am-noon, 1pm-4pm
Allmulch is tripleground
Residential&Commercial
Brown
Hardwood
$30
cubic yd*
Topsoil
$34
cubic yd*
Wealsohavemushroom
compost $34/cubic yd.*
Fully Insured• Free Estimates
EarlySpringHrs.:Mon.-Fri. 9am-2pm
SPRINGCLEANUP?Giveusacall!
VISITUSATbubbaslandscape.net
SPRING ISHERE!!!
Nowacceptingnewcontracts for landscapes, hardscapesand
lawnmaintenance. It's theperfect time to install anewpatio,
walkwayor retainingwall!Wedo fencing too!
NicholasMuehlbauer
ford, NY, represented SUNY
Oneonta at the second annual
SUNYUndergraduate Research
Conference, held at SUNY Co-
bleskill onFriday, April 15. The
conference featured more than
200 oral, poster and performing
arts presentations on a wide
range of topics across academic
"The conference highlights
exceptional academic work by
students across the disciplines
and across our great SUNY
system," saidSUNYChancellor
Nancy L. Zimpher. "Their great
accomplishments in laborato-
ries, and communities on and
off campuses are testaments of
their educational ambition and
Muehlbauer, who is majoring
inEnvironmentalScienceandBi-
ology at SUNYOneonta, gave a
posterpresentation titled"Pollen
TubeGrowth on aWindyDay."
German, the Adjutant General,
announces the recent reenlist-
ment of members of the New
York Army National Guard in
recognition of their continuing
commitment to serve communi-
ty, state and nation as part of the
SpecialistDouglasVagg
Pavilion, NY. has reenlisted to
continue service with the 152nd
Engineer Support Company.
"New Yorkers count on our
Citizen Soldiers to be ready and
be there when disaster strikes,"
German said. "And our nation
counts on our Soldiers when
duty calls for overseas service.
I congratulate our members for
choosing to stay in service and
striking that balance between
military duties, education or
employment commitments and
Michael Slack
N.Y., was recently initiated into
TheHonorSocietyofPhiKappa
Phi, the nation's oldest andmost
selective collegiate honor soci-
ety for all academic disciplines.
Slackwas initiated at Rochester