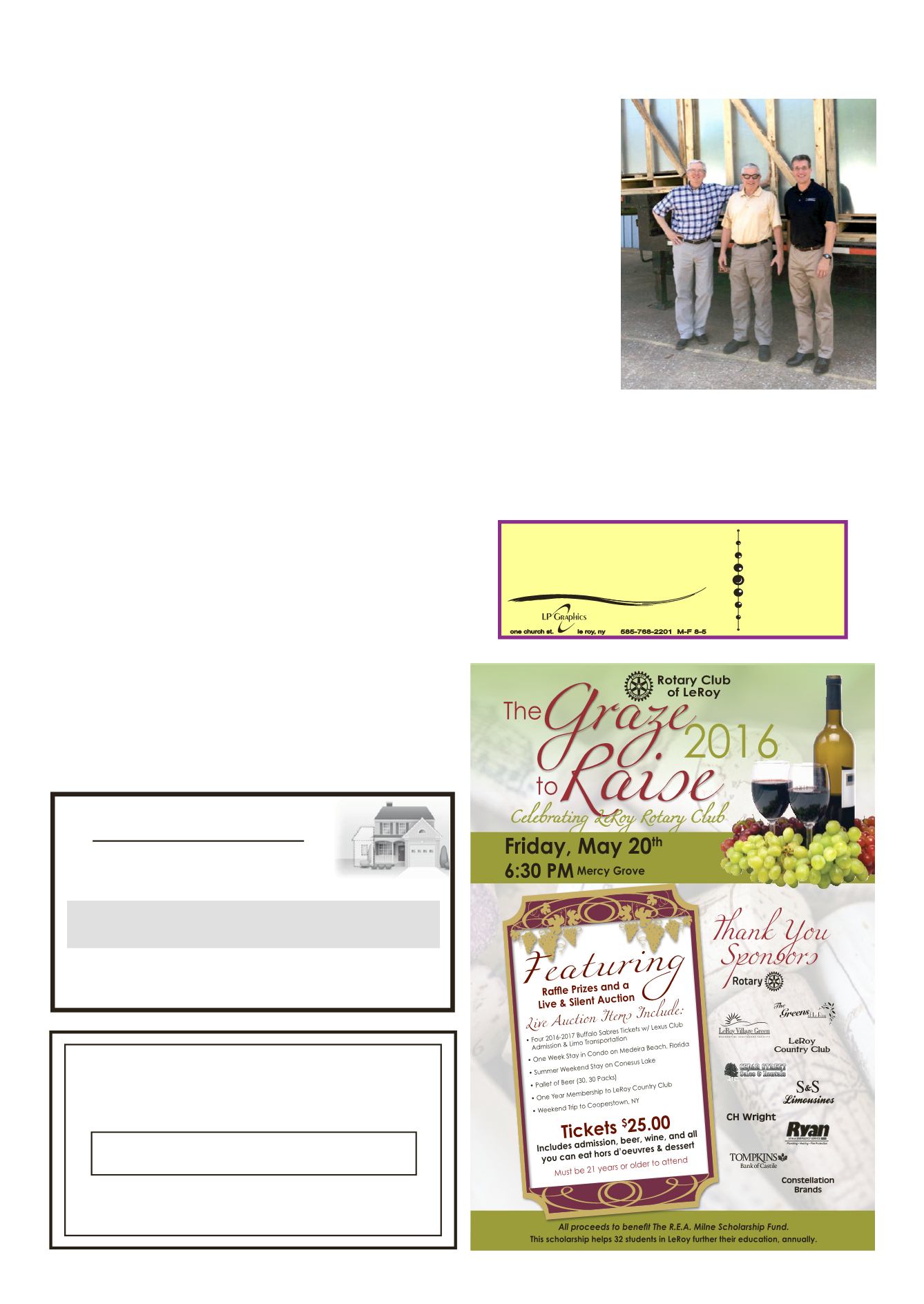 LEROYPENNYSAVER&NEWS -APRIL 24, 2016
"CompleteCarpentry Service"
M
ILLER
B
ROTHERS
B
UILDERS
CustomHomes •Remodeling•Additions
Roofing• Siding
DANIEL
MICHAEL
April 19, 2016 - Moffitt Cor-
poration, Inc. (Moffitt) today
announced that it had finalized
the purchase of Western Can-
well (Canwell) of Denison, TX.
This purchase adds the Canwell
factory, product line, sales rep-
resentatives and manufacturing
expertise to Moffitt's existing
global industrial ventilation and
natural solutions business.
Canwell has produced natural
ventilators and heat and smoke
relief devices since 1927. They
own patents for their Firex™
HeatandSmokeventilator,Ther-
moflow™GravityVentilator,and
Ridgepac™ Gravity Ventilator.
They have been at the forefront
of product innovationanddevel-
opment for nearly 90 years and
haveprovided theirequipment to
hundreds of facilities in dozens
The new manufacturing loca-
tion will allowMoffitt to better
serve theWesternU.S. andMex-
ico, which each include some of
Moffitt's fastestgrowingmarkets.
The addition of the new facility
will increaseMoffitt'sproduction
capacity, expand itsproduct line,
decrease lead times, improve
service, and lower costs.
"We areprivileged towelcome
the talentedstaffatWesternCan-
well as part of theMoffitt team",
said John Moffitt, President of
Moffitt Corporation. "Many of
theCanwell teammembers have
built their careers there over the
past20years.Weare fortunate to
beable tobring that levelofexpe-
rience to theMoffitt teamonday
one. It is our goal to build upon
the solid foundation created by
thepreviousCanwell ownership,
to further strengthen Moffitt's
position as the leading provider
in North America of Natural
Ventilation Systems, and to ex-
pand our capabilities into new
Natural Solutions technologies
ClarkCrandall (plantmanager
ofCanwell)added, "Iam thrilled
that thehard-working,dedicated,
andexperiencedmenandwomen
of Western Canwell are becom-
ing a part of the Moffitt team.
We've long admired Moffitt as
the industry leader in Natural
Ventilation products, and look
forward tohelping themcontinue
to provide innovative and effec-
tive ventilation solutions."
Moffitt products have been a
part of the commercial and in-
dustrial marketplace throughout
NorthAmerica forover55years.
TheMoffitt lineof natural venti-
lationproductsprovides facilities
with a ventilation solution that
requireszerooperatingcostsand
ventilators, louvers, and
fitt's entire product line
ufacturing facilitieswill
MoffittCorporation, Inc. AcquiresWesternCanwell
(left to right) Clark Crandall (Western
Canwell plant manager, now Moffitt
West plant manager), Dave Crandall
(former Western Canwell owner), and
JohnMoffitt (Moffitt president andnew
MoffittWest owner).
Plumbing • Heating
Installation&Repair Service
For All Residential &Commercial Work
one church st. le roy, ny
one church st. le roy, ny