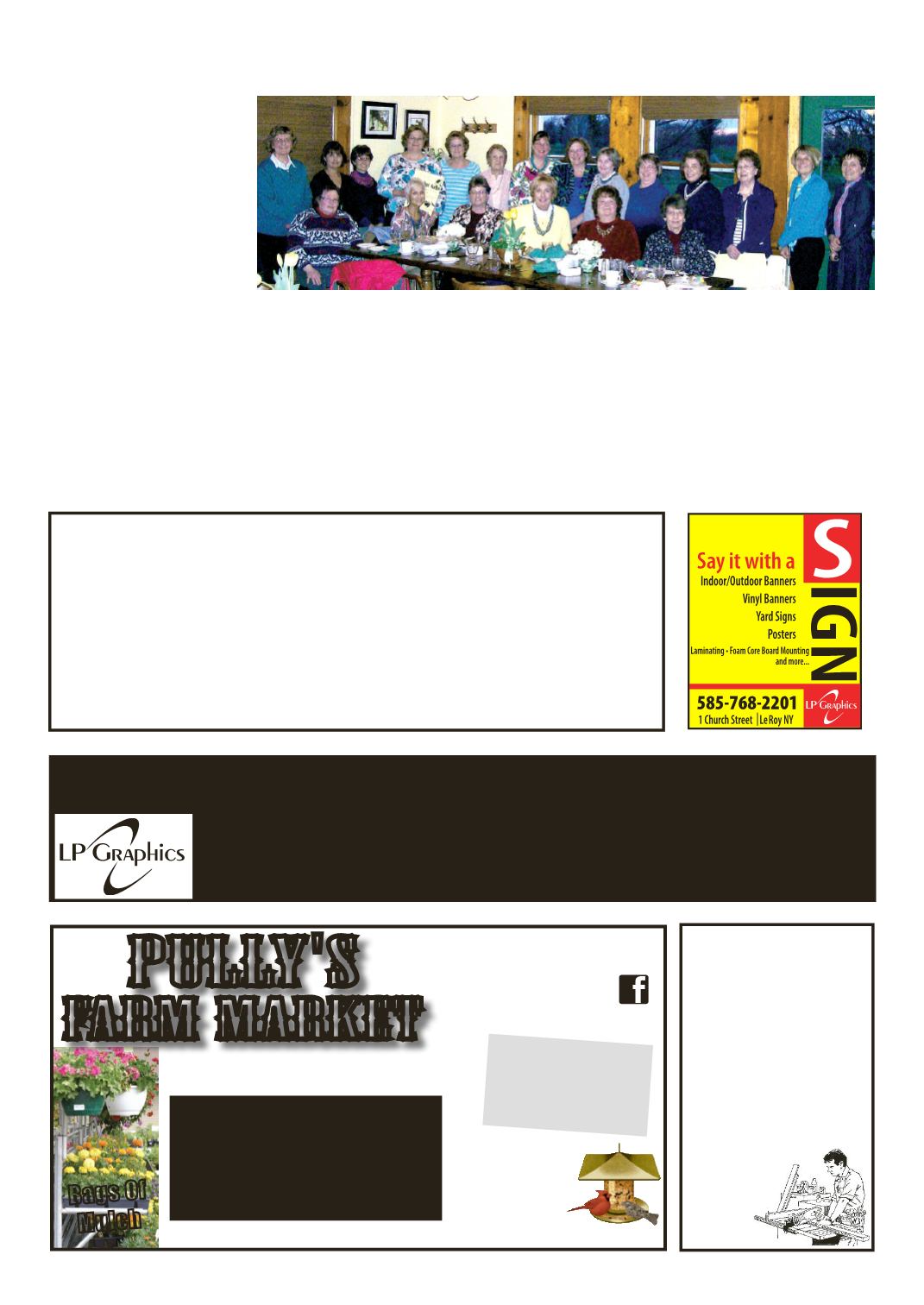 LEROYPENNYSAVER&NEWS -APRIL 24, 2016
8160LakeRd. (Rt. 19) LeRoy, NY
1/2mile south of Thruway
768-2280 • 704-1157
Hours: 10:00 to5:00
pullysfarmmarket.com
Jams • Jelly • Seed •Honey • Syrup
PottingSoil&TopSoil
Opening
April 28
th
HangingBaskets •Annuals
Perennials
VegetablePlants
ComboPlanters
PansyBowls •Herbs
BIRDSEED
and
FEEDERS
Gift CertificatesAvailable!
Please send resume to: DRIVERSCDL-A, POBox 190, LeRoy, NY14482
EOE/AA Disability/Veterans
Local ManufacturerwithcompanyownedFleet looking for experienceddrivers.
Weoffer the following:
• PaidHolidays andVacations
• Year RoundWork if mechanically inclined
• $17 - $20/hr. depending on experience
Long term, year round
employment
5 yrs. experience in residential
Must have driver's license/
Email:
Twenty members of the Town
& Country Garden Club of Le-
Roy held their annual Banquet
onWednesday, April 13th at the
LeRoyCountryClub.Weenjoyed
the delicious food and fellow-
ship. A short business meeting
was held welcoming the new
officers: President-Jules Feltes;
Vice-President-Ann Walters;
Recording Secretary-Sue Lints;
Corresponding Secretary-Sue
Privitera;andTreasurer-Charlene
Ray.The2016-17Yearbooks and
posters for thePlantAuctionwere
The Club will hold a Work
Session on May 24th. We will
be cleaning out last year's plants
from theMain Street containers
and putting new plants in them.
Anyone who would like to par-
ticipate isasked tomeet onMain
Streetat6:00p.m.Work timesfor
theOatkaCreekbankmonument
and the three village entrance
bedswill be scheduledby the re-
spectivecommitteechairpersons
TheGardenClubwill be hold-
ing its annual Plant Auction on
Wednesday, June 8th at 6:00pm
in theOlmsteadHall of theFirst
Presbyterian Church (corner of
MainStandRoute19). TheAuc-
tion is open to the public. Items
to be auctioned include: bulbs,
perennials, annuals, shrubs, and
houseplants. Refreshments will
Programs for the year include
presentations on Bees, Herbs
& Perennials. We will also be
touring Hosta Gardens in Cale-
Town&CountryGardenClub ofLeRoyAnnual Banquet
donia and Sara'sGardenCenter.
TheGardenClubmeets the 2nd
Wednesday of themonth at 6:30
pm(unlessotherwisenoted). The
location, time and program are
announced on the Community
page of the LeRoy Penny Saver.
You're invited to come and join
us. Anyone interested in more
information should contact Jules
T-shirts • Hats • Visors • TankTops • Jackets • Towels
GREATGIFTSFORYOURFAMILY • FRIENDS • ETC.
1ChurchSt., LeRoy, NY • 585-768-2201 • Fax 585-768-6334 • Hours: Mon.-Fri. 8:00-5:00
lpgraphics.net