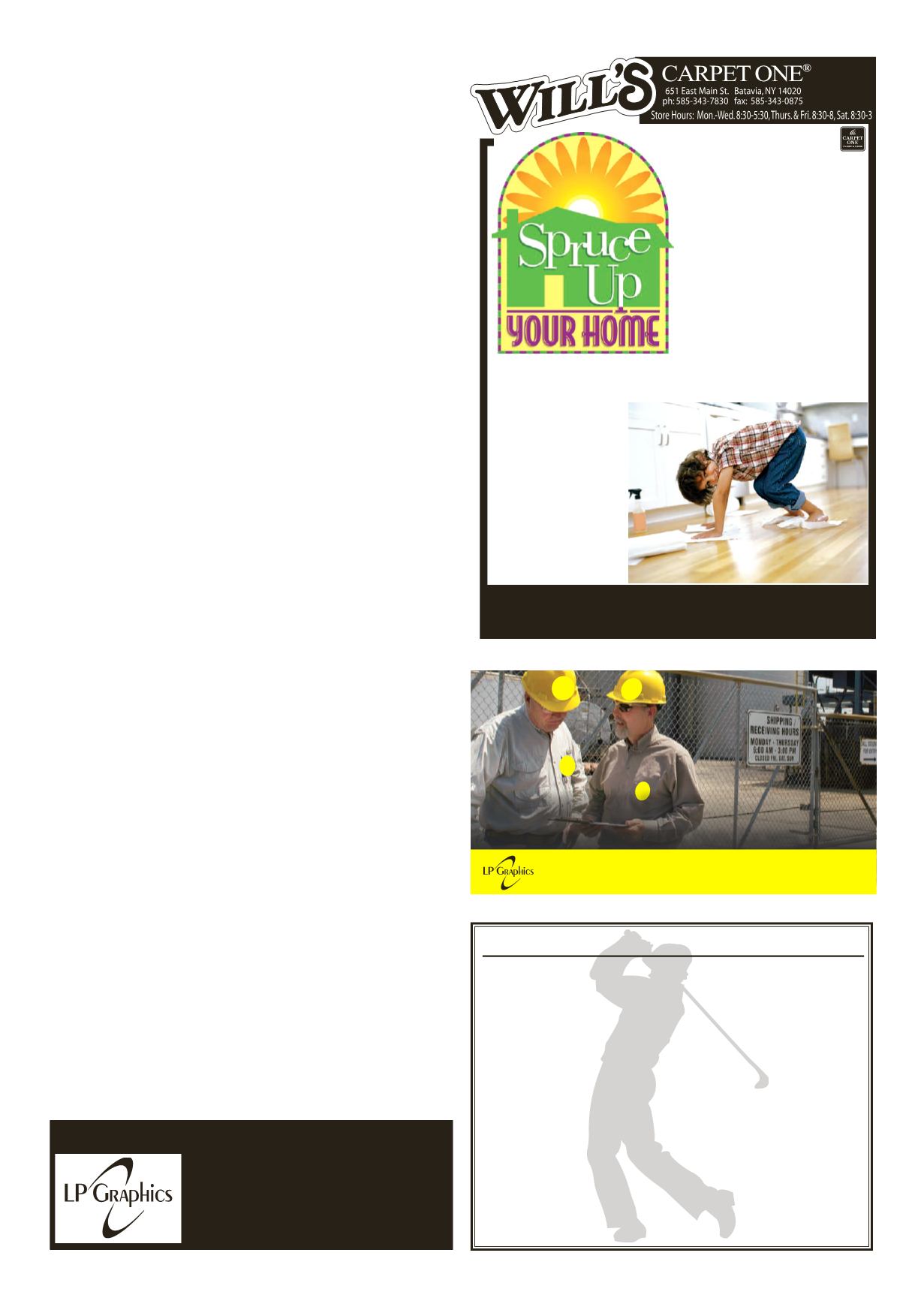 LEROYPENNYSAVER&NEWS -APRIL 24, 2016
1ChurchSt., LeRoy, NY14482
585-768-2201
FAX585-768-6334
WeDo
TheONE store for your perfect floor.
NewMembersNeeded
LeRoyCountryClub
EastMainRoad
All interestedmen 55 years or older that have not previously
signedup&would like to be a full time player
or a substitute, please callDavid Jeary at 768-7586
and leave amessage beforeApril 26th.
TheOrganizationalMeetingwill beheld
Wednesday,April 27th
at 9:00 am
Leagueplaywill beginWed.,May 4th
LorenWetzel
Senior Golf League
FLOOR
&HOME
bySenatorRanzenhofer
April 2016
moving in the right direction,
we must continue to make our
economy as strong as possible.
The 2016-17 State Budget ac-
complishes this goal in three
important ways– by controlling
spending, cutting taxes and in-
vesting in our community.
For the sixthyear in a row, the
budget restrainsspendinggrowth
to below two percent. This
self-imposed spending cap has
saved taxpayers approximately
$31 billion. A spending cap is
critical to protecting taxpayers
fromhigher taxes in futureyears.
Ifought foranddeliveredoneof
the largest income tax reductions
in state history for residents and
small businesses. This broad-
based tax cut planwill establish
the lowest middle-class tax rate
since 1948. When fully imple-
mented, this new income tax cut
will savemiddle-class taxpayers
There is also more property
tax relief in the new budget,
• $2.7 billion in funding for
• Another round of tax rebate
• A record amount of school
aid to protect homeowners from
Partofa record levelof funding
for school districts incorporates
an end to the Gap Elimination
Adjustment (GEA). Ivowed todo
awaywith theGEA for students,
parents and our communities,
and I kept my word. Governor
Cuomo initially pushed for a
phase-out over two years, and I
am proud to report an end to the
GEAbudgetcuts thisschoolyear.
Additionally, the new budget
invests in our roads and bridges
by committing a record level of
funding for infrastructure proj-
ects. Finally, UpstateNewYork
will get its fair shareof transpor-
Upstate will benefit from an
additional $6 billion to repair
ourhighways, roadsandbridges.
Now, Upstate's infrastructure
will be improved and repaired
with a record $27.1 billion in-
vestment. I have been fighting
throughout the budget process
for a fair and more equitable
distribution of resources.
The new budget achieves par-
ity of transportation dollars
betweenUpstateandDownstate.
In other words, I have been able
to successfully secure an equal
amount of state funding for our
As you'll recall, Governor
Cuomo'soriginalproposal short-
changed Upstate infrastructure
by $6 billion, resulting in 35%
more state transportationdollars
going to Downstate's Metropol-
itan Transportation Authority.
The new budget re-establishes
fairness in fundingwitha region-
Furthermore, state funding for
the Consolidated Local Street
and Highway Program and the
newPaveNY programwill help
local governments repair their
own county, town and village
roadswhichare sorely inneedof
repair. Committingmore fund-
ing to infrastructureprojectswill
help to create thousands of jobs,
save motorists hundreds of dol-
lars in vehicle repairs, and keep
driversand theirpassengerssafe.
ThenewStateBudget isn't just
investing inoursmallbusinesses,
schools and roads, it's investing
in our future– right here, in our
Efforts InNewBudget
ToKeepWNYEconomy
MovingForward
ThisSpring!
CarpetRems
Large&Small Sizes
Great Bargains
Great Selection
of Color and Styles
Dress Shirts, Polos, Vests, Hats, Jackets, Etc.
1ChurchSt.
LeRoy, NY14482
585.768.2201