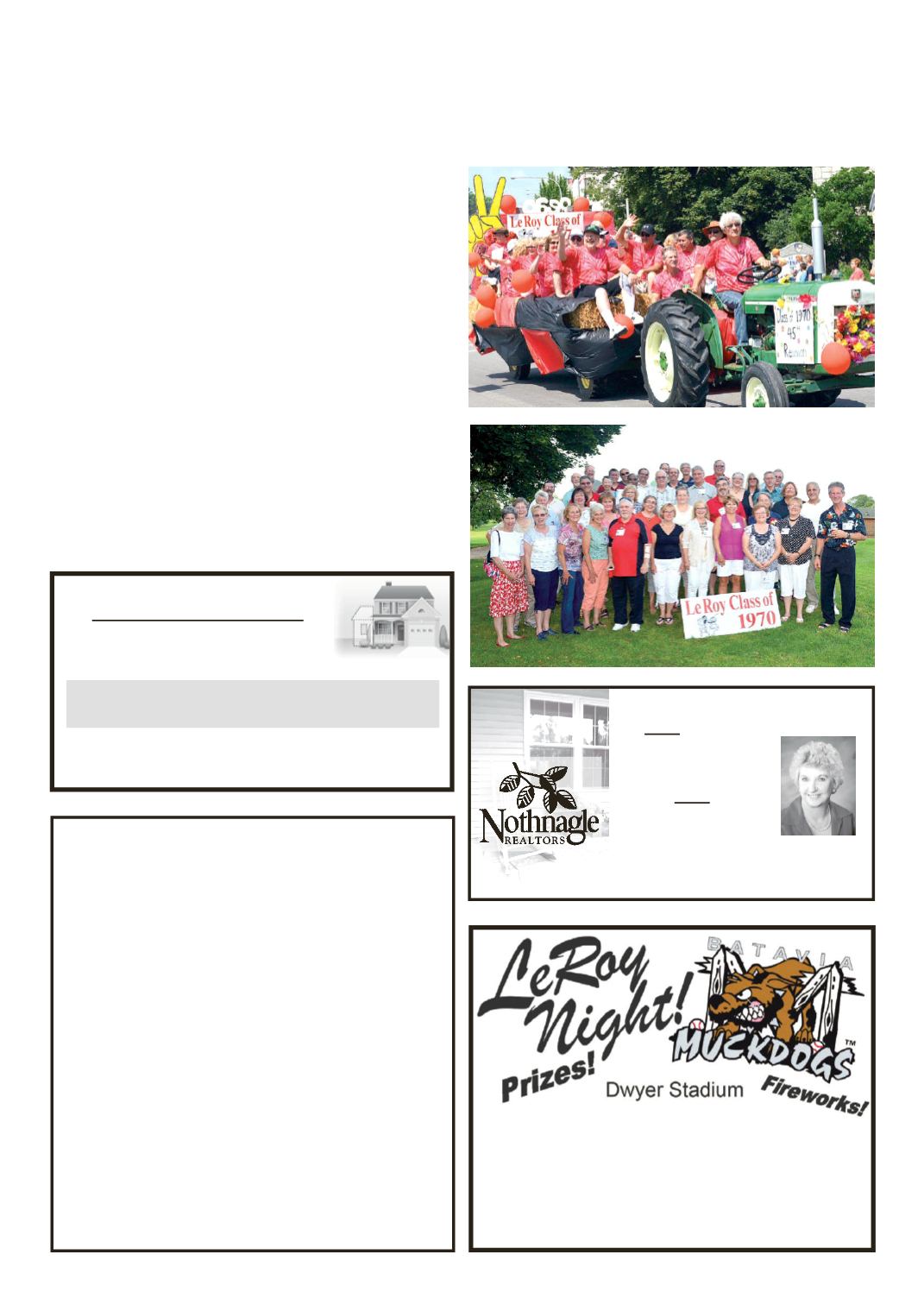 LEROYPENNYSAVER&NEWS - JULY 26, 2015
FACTORYPOSITIONS
AVAILABLE
We are looking for dependable individuals to work year
round in our established localmanufacturing operation.
Wages start at $11.00 per hour andwe offer:
Ifyouareover18and interested infindingoutmore –please
send a letter of interest andwork history or a resume to:
FactoryPositionsAvailable
"CompleteCarpentry Service"
M
ILLER
B
ROTHERS
B
UILDERS
CustomHomes •Remodeling•Additions
Roofing• Siding
DANIEL
MICHAEL
BataviaMuckdogs vs. Lowell Spinners
Available at TompkinsBank of Castile or Townof LeRoy
Joinus for a funfilled evening for the entire family!
Batavia
585-343-6750
NOW is theBEST time
toBUYwith the interest rates
at their lowest!
Don't wait
toBUY -
call
LindaBeaumont
for all your real
estateneeds.
LindaBeaumont
Home (585) 768-6315
LicensedReal Estate
Salesperson
Multi-MillionDollar Producer
The largestgraduatingclass in
LeRoyHigh School history, the
Class of 1970, celebrated their
45th Reunion this year. They
started the celebration off by
boarding their brightly colored
float in theOatkaFestivalParade.
Theirwagon includedsomesigns
of their time, flower covered
peace signs and a large hand
making thepeacesign. Itwasalso
decorated in red and black. All
classmateswerewearing red, tie-
dyed t-shirts.As theyapproached
the judges' stand they held up
signs indicating that they were
collecting for the"Strengthen the
Later that evening about 50
members of the class gathered
at the LeRoy Country Club for
the reunion. Name badges that
included theseniorphotoofeach
member were worn throughout
the evening and most greetings
were followedbyhugs.Members
Class of 1970
travelled from Texas, Arizona,
Ohio, Florida, Pennsylvania and
The Class of 1970's special
guestwasClaireEiselenNaples,
a formerhistory teacher,who told
the class that shewas honored to
join in the celebration. Prior to
dinner the class gathered on the
greens for a group photo.
Later in the evening Marga-
ret Ehrhart DeBellis lead brief
program that included amoment
of silence for the 11 deceased
classmates.Shealsosharedsome
memories of times long ago at
LHS. Therewas amemory table
where old photos and yearbooks
Lastly the class held a bas-
ket auction, a 50/50 raffle and
a collection was taken for the
"Strengthen the Arm of Liberty
Fund."Theclasspresident,Gerry
Paganin, was playing keyboard
in his band on the patio of the
Country Club. The band played
many favorite tunesof theeraand
duringoneagroupof thewomen
classmates broke into dance.
Over all the evening was a
huge success. The class will be
planning a 50th reunion in2020.