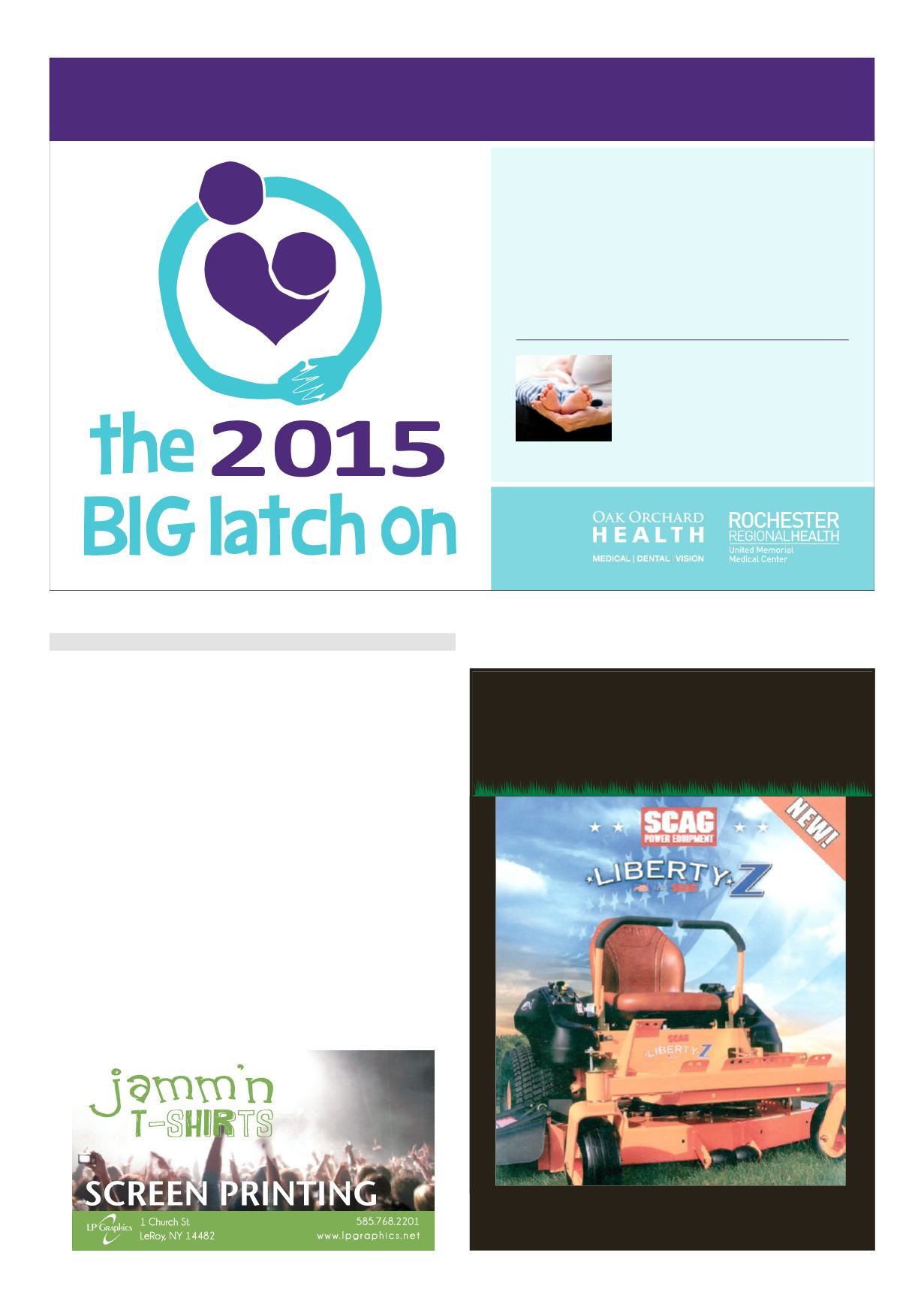 LEROYPENNYSAVER&NEWS - JULY 26, 2015
Joinus Friday, July31st!
10am to1pm
JeromeCenter
•
16BankSt.
Arriveearly to register–latch starts at 10:30am!
Bringa chair or blanket.
Refreshments, giveaways andadrawing for
aVeraBradleydiaper bag.
hoStedBy:
TheBig LatchOn supports communities
with identifyingandgrowing
opportunities toprovideongoing
breastfeeding support andpromotion.
ummc.org
•
oakorchardhealth.org
•
biglatchon.org
1818 LinwoodRd., Linwood, NY
HOURS:Mon.-Fri. 8am-5:00pm, Sat. 8am-12:00noon
LINWOOD
TURF EQUIPMENT, LLC
SIMPLY
THE
BEST.
0
%
Financing
Only$100/mo.
3Year
Warranty
Notes From TheMayor's Office
byGreg "Porp"Rogers
Mayor
Once again theOatkaFestwas
a huge success! I would like to
thank the new committee, who
had big shoes to fill, and didn't
missabeat.TheRegattawasalso
well received and promises to
havemanymoreboatsnext year.
The Tri theOatka hadmore par-
ticipants thaneverbefore.This is
the typeofexperience thatmakes
LeRoy one of America's best
communities, great job by all.
The Village Board has taken
action on some tax abatement
program's to encourage people
to invest in our community, for
commercial or residential prop-
erties. One of the programs is
for people who buy distressed
homes, and rehab them back
into valuable properties in the
community and clean up neigh-
We are about midway through
the sidewalk project; theywill be
abenefit foryears tocome. Iwould
like to thank everyone for their
patience.Wearedoing thebestwe
can tofix anyproblems that come
along.Thesidewalk reconstruction
was made possible by a Federal
SafeRoute toSchool Grant in the
amount of $421,000dollars.
Please make every effort to
support local businesses, let's
keep our dollars inLeRoy.
"Do what you can, with what
you have, and where you are"