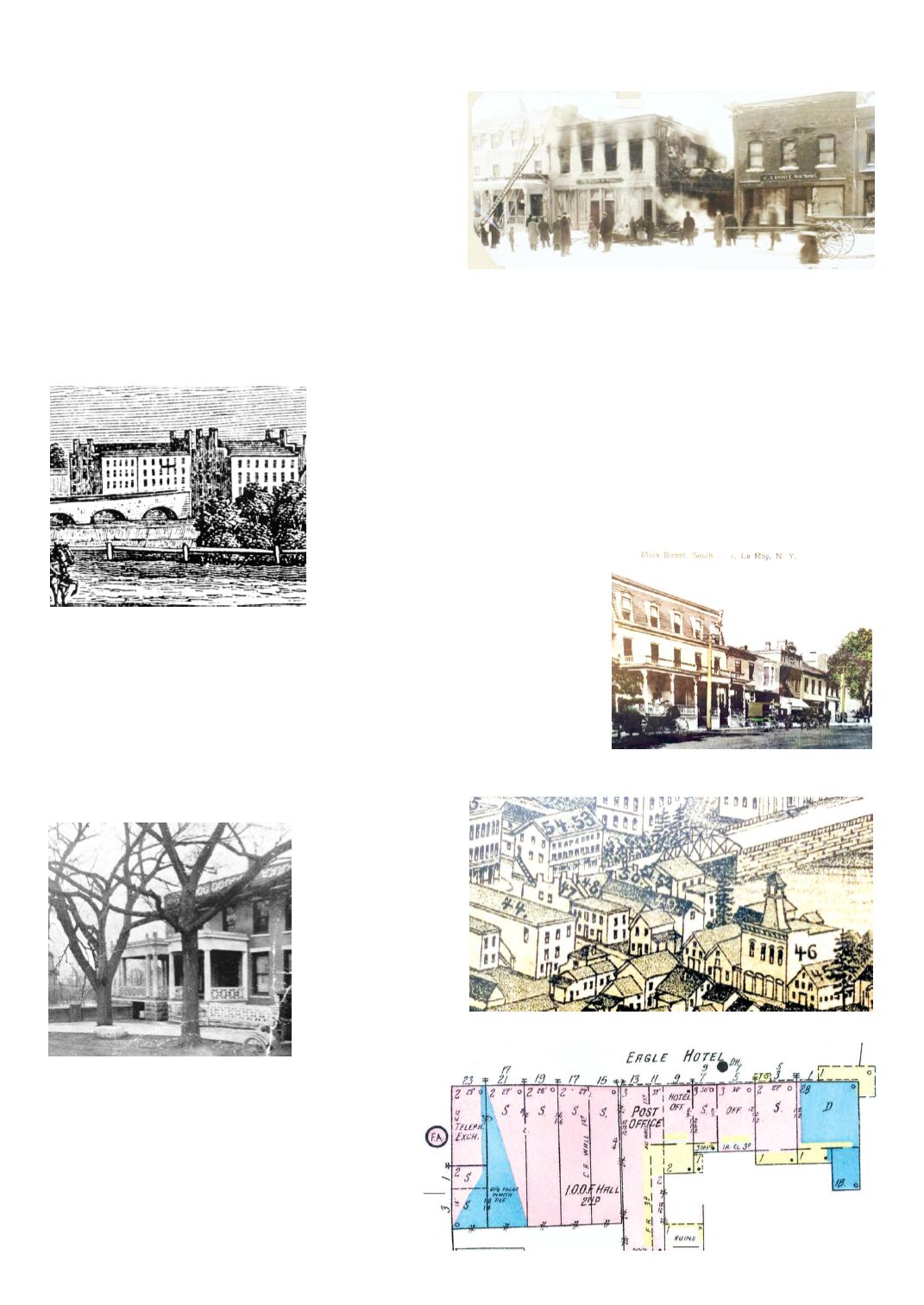 LEROYPENNYSAVER&NEWS - JULY 26, 2015
1 to 23Main
byLynneBelluscio
Well, it was a little too hot on
Sunday, and although there was
a small group assembled on the
steps of theWoodward Library,
we all agreed that it might be
prudent to postpone ourwalk up
MainStreet. If you're interested
in joining us, call 768-7433 and
leaveyournameandnumber and
wewilladdyou to thecall listand
let you knowwhen we're going
on our stroll. This article adds
some information and images of
#1 through #23 onMain Street,
from theCreekside toShelby's.
#1 Main Street, next to the
bridge is the former Creekside
Inn. It'soneof theearliest build-
ings on Main and was probably
built in the 1820s. Built of black
Marcellus shale or "oil shale", it
was covered with stucco. In the
1830s itwasBallard'shat factory.
On the1894birds-eye-viewmap,
it served as F.C. Lathrop's Bank
office. By the early 1900s, itwas
theprivatehomeofPercyHooker,
thefirstNewYorkStateCommis-
sionerofHighways.At that time it
had twobeautiful porches.
By 1940, Harold Cleveland
lived in the house with his huge
collectionof stuffedanimals. He
sold thehouse toDr.Knoll.Even-
tually it became a well-known
restaurant and bar, operating
under severalownersandnames.
(RecentpostsonLeRoyThenand
NowFacebookpagehas included
discussion about who ranwhich
barwhen.)Today, it standspictur-
esquelyon thebankof thecreek,
waiting for its new lot in life.
#3Main Street is the law of-
ficeofRobertHumphrey. I don't
know much about the building.
Jim Arrington told me that Dr.
Murdock, theoptometristhadhis
officehere.Atone time, therewas
Hotel. PavilionNaturalGas had
#7 has had a long history.
Originally it was a tunnel to the
back of the hotel that allowed
stage coaches to pass through to
the livery stable behind. It was
closed up, perhaps as early as
the 1830s. In 1897, therewas an
insuranceofficeandamusicshop
had offices in the Eagle.
In 1834, the first Village
there was a wallpaper and paint
TheLeRoy
Gazette
extensivedamageas the resultofa
fire in thebuilding to thewest.The
A&P storewas in the building in
the40s.Today, it is thehome toour
newest restaurant,NoFinerDiner.
#19 a major fire burned out
the building on this site. The
fire spread east through theOdd
Fellows building and stopped
at the fire wall of the Eagle.
Market fire.
Earlypostcard image.
PercyHooker's front porch.
Earliest image of LeRoy.
1894Birds-Eye viewmap.
Photoof 1927map.
photograph, C.A. Root's Meat
Market sign can be seen. It was
totally replaced and is now the
#23 - On the 1897 map this
building was the LeRoy Bank,
with a set of outside stairs on
Bank Street. In 1927, it was the
telephone exchange. Jim Ar-
rington said in his time, Frank
Willard had a grocery store on
the corner. JimShelby operated
a jewelry store until recently.