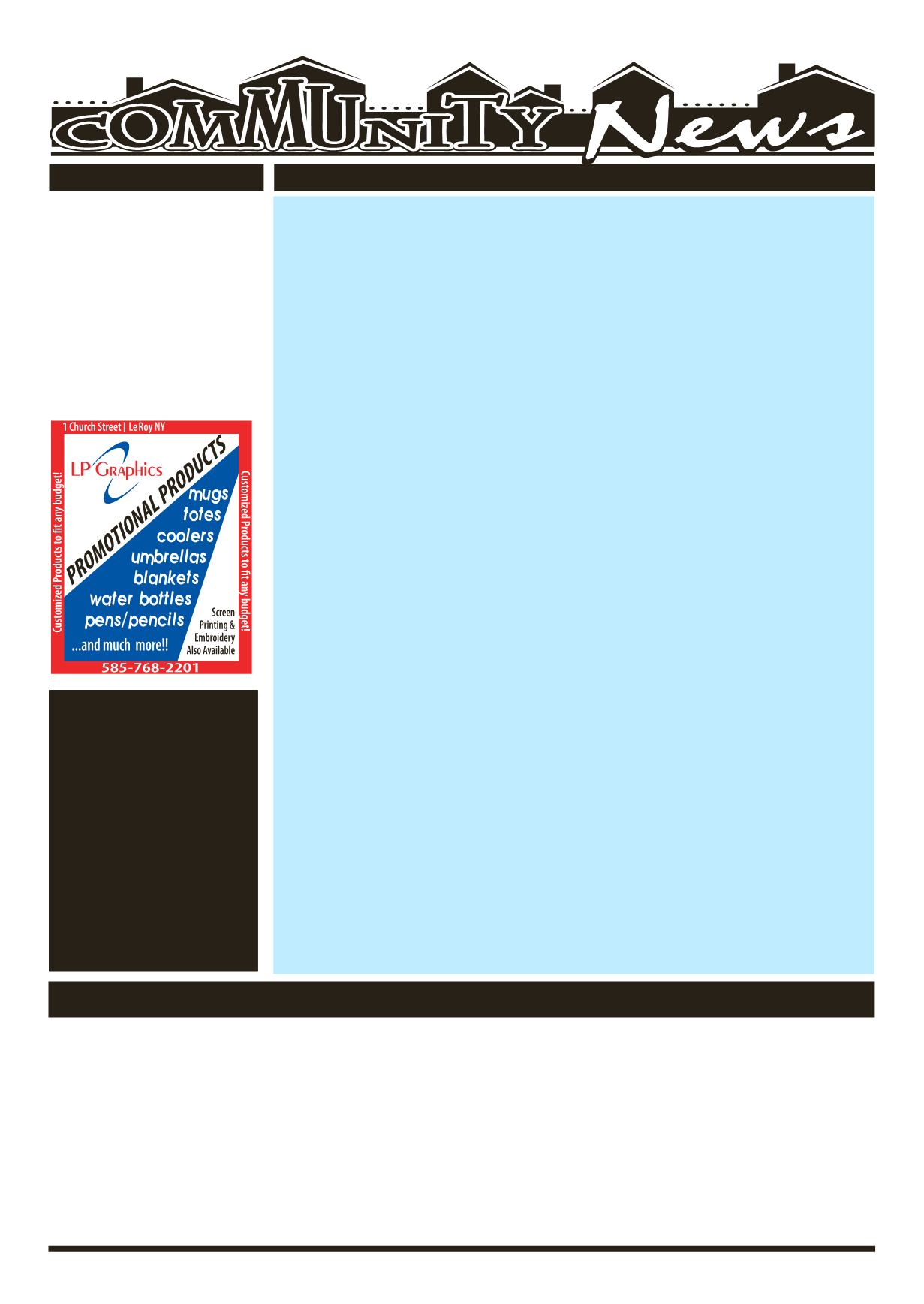 LEROYPENNYSAVER&NEWS - JULY 26, 2015
Le Roy
Pennysaver
All GeneseeCounty residents, 60andolder, can takepart in thisweek'sactivitiesat theBataviaSenior Center, 2BankSt., Batavia. Formore information, call 343-1611.
WEEKLYEVENTS
OBITUARIES
ArthritisExercise
is scheduled tobeginat 9:30a.m.;
ARepresentative fromUnivera InsuranceandBlueCross/Blue
Shield
will beavailable from10:00a.m. to12:00p.m.;
Bridge
is scheduled to start at 11:30a.m.;
Medicare101Seminar
is scheduled tobeginat 6:00p.m.
Cribbage
is scheduled tobeginat 1:00p.m.
QuiltersGroup
is scheduled tomeet at 9:00a.m.;
Euchregame
is scheduled tobeginat 1:00p.m.
Cribbage&Bridge
are scheduled tobeginat 1:00p.m.;
ViolenceTraining
is scheduled tobeginat 1:30p.m.
ArtClassandLineDancing
is scheduled tobeginat 10:00a.m.;
Euchre
is scheduled tobeginat 12:00p.m.
SUNDAY, JULY26
Konnect YouthGroup at LivingWaters Church,
Sundays from6:30 to8:30pm for ages12-18. "BringDownall theWalls!
ConnectwithGodandConnectwithothers." Formore information, check
usoutonlineat: livingwatersleroy.org/konnect-youth-ministry/
MONDAY, JULY27
TOPS(TakeOffPoundsSensibly)
meetsMondayeveningsattheLeRoy
Presbyterian Church, corner of Clay &Main Streets. Doors open at 6:00
pmandmeeting is from6:30-7:15pm.Visitors arealwayswelcome. Call
585-768-7103 formore information.
ToddlerTime forTwosandThrees
beginsat theWoodwardMemorial
Library.Program runseachMonday from June29–August10 from10:30
-10:50am.ToddlerTime isa storytime for childrenwhoare2and3years
oldanda caringadult. Spend20minutes listening to stories that feature
themes like shapes and colors, singing songs anddancing, coloring, and
TUESDAY, JULY28
Preschool Storytime:
Every Tuesday at 11 am featuring stories, craft
and songs at Pavilion Public Library, 5Woodrow Dr., Pavilion. For info:
LCCP'sGRACE'SKITCHEN:
A FREEdinner everyTuesdayevening, 5-7:00
pm at theMasonic Community Center on 12 Bank St. Plenty of parking.
Takeout & delivery are available. For more info. contact Selby Davis at
GRACE'SCLOSET:Aclothinggiveawayprogram
UnitedMethodist Church, 10 Trigon Park, Le Roy, 9:30 am to 11:30 am
everyThursday.Wehaveclothingforallages.Weneedbeddingofallkinds
especiallyblankets.Donationscanbedroppedoffatthehousenexttothe
church. Please put all bags INSIDE on the back porch. NO ELECTRONICS,
OpenTuesdays5-6:30pm.
FoodlinkFreeMobileFoodPantry:
MorganvilleUnitedChurchofChrist
ispartneringwithFoodlinkofRochestertohosta freemobile foodpantry,
4:00-6:00 pm at Morganville United Church of Christ, 8466Morganville
Road (off Rt 237, 1mile north of Stafford). The exact food items and
quantityavailablearenotknown,butfreshproducewillbeavailable. Must
be18 years of age, no income requirement or ID required. Must provide
own bags/vehicle to transport items to your home. Food provided on a
first come, first servebasiswhile supplies last.
LeRoyZoningBoardofAppealsMeeting
TownHall, 48MainSt. For further info. Call 768-6910, Ext. 223.
WEDNESDAY, JULY29
THURSDAY, JULY30
GeneseeVeteransSupportNetwork
(GVSN)supportsthedevelopment
ofVeteransfocusedAAmeetingseveryThursday,6-7pmattheFirstBaptist
Church, 306 E.MainSt., Batavia.Meetings ledbyMikeW. &areopen to
non-veterans as well. Handicap accessible. For additional information
MakeSuperheroPerlerBeads
at theWoodwardMemorial Libraryon
from1to2p.m.Thisprogram isforteens ingrades7-12. Createsuperhero
designsusing fusebeadsandan iron. Call 768-8300or register onlineat
That'sMy Story! Early Days in Le Roy!
Library from 6:30 to 7:30 p.m. Listen to tales of what it was like at the
PostOffice in thegoodolddays. Registration required! Call 768-8300or
FRIDAY, JULY31
PenuelChristianFellowship,
OneSteptoFreedomaddictionsministry,
aChrist CenteredAddictions program, aweeklymeetingevery Fridayat
7pm. Call theChurch formore informationat768-6901or594-9575.
Flea&Farmer'sMarketFridays
-GeneseeValleyEMS,3338Caledonia
Avon Rd. (Rte. 5), Caledonia, NY. 11 am to 6 pm - every Friday, May
1st - October 30th. Fresh fruit and vegetables, etc. Hot food and drinks
will beavailable for purchase. 11'x22'spaces -$20.To reservea spaceor
more info - call 585-698-8244. All proceeds go toGeneseeValleyEMS&
CaledoniaAmbulance. Come shopandvisitwithus!
Legos, Games, andaMovie
at theWoodwardMemorial Library from
12–2p.m. for children ingrades Kindergarten through6. Registration
SATURDAY,AUGUST2
UPCOMINGEVENTS
LCCP's Mommy &Me Playgroup: Every 2nd& 4th Friday,
1:30, Le Roy Physical Therapy (in the back gym). Anymoms and their
birth-kindergarten children are welcome to come enjoy socialization,
lunch, coffee, structuredgames& freeplay.
CommunityCalendar Submissions shouldbe sent to:
LEROY— DarrellA.Roblee,64,ofLinwood
Road, passed away suddenly onThursday
afternoon (July16,2015)atUnitedMemorial
MedicalCenter.Memorialsaresuggested to
Crossroads House, PO Box 403, Batavia,
LE ROY —William S. Crimbring, 78, of
WestBergenRoad, passedawayThursday
evening (July 16, 2015) at The Highlands
at Brighton. Memorials in his namemay be
made toTheHighlands at Brighton, Ellison
ParkUnit,5901LacdeVilleBlvd.,Rochester,
N.Y. 14618 Attn: SheilaCampbell.