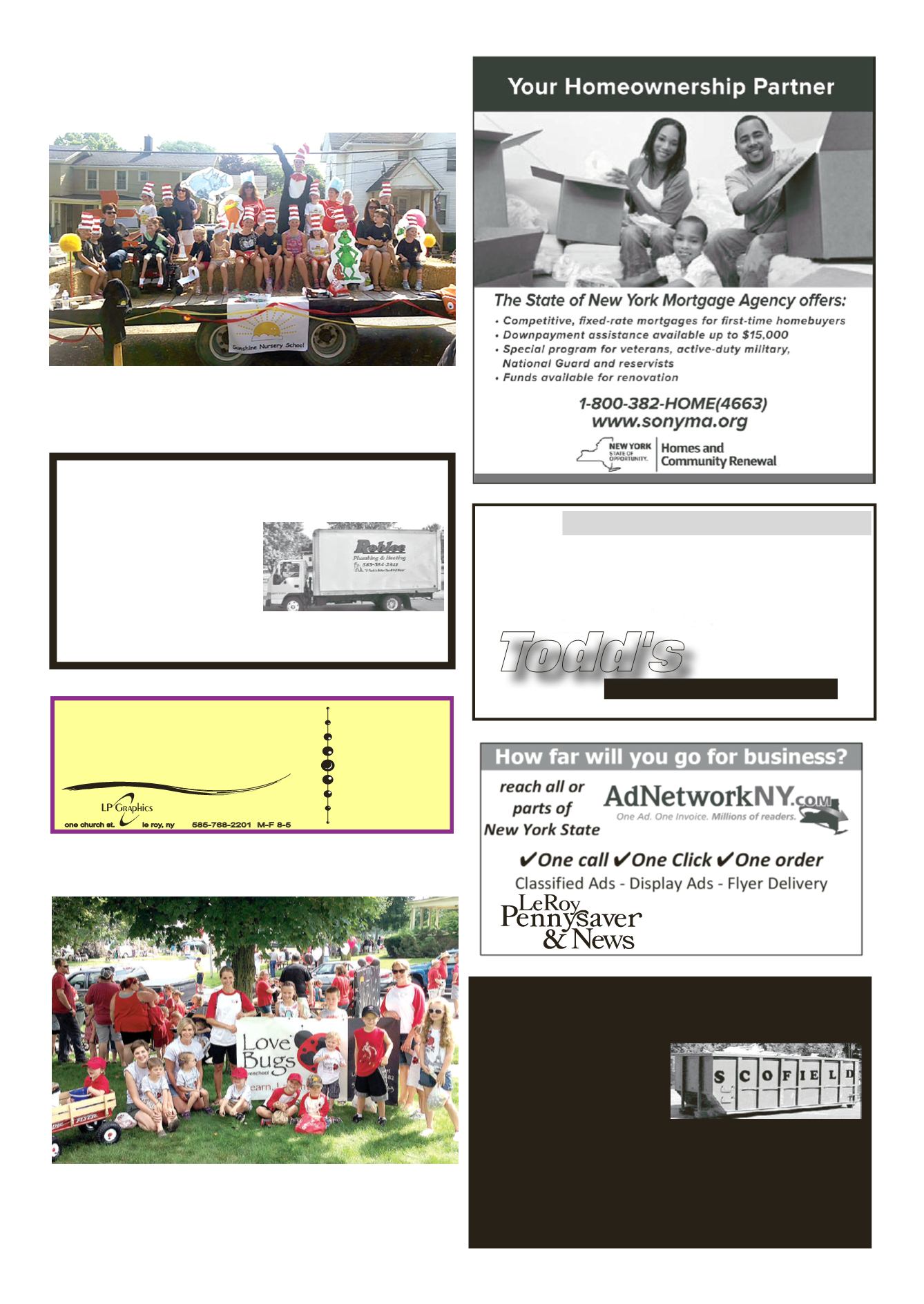 LEROYPENNYSAVER&NEWS - JULY 26, 2015
1Church St., LeRoy, NY 14482
15, 17, 20, 25, 30,
and 40 cu. yd.
CONTAINERS
ScofieldRolloff •343-8383
NobodyBeatsOur Prices!
ARayOf Sunshine
InSeussville!
SunshineNurserySchool's students stepped intoSeussvillewith
TheCat InTheHat,Thing2andThing1.They tookaridedown
LeRoy'sMainStreet forOatkaFest fun!
NewHomes •Additions •Garages •PoleBarns
ToddCarli • Phone 703-0964
Todd's
Decks •Windows •Doors
Kitchens •Baths
CeramicTile
Basement Finishing
CustomShelves/Built-Ins
Siding •Remodeling
Roofing • SnowPlowing
FULLY INSURED
ROBLEE
Plumbing&Heating, LLC
10991LakeRd., Pavilion • (585) 584-3841
Full Insured
LUXAIRE
GOULD
NYSCertifiedBackflowTester
Water&Sewer Lines •Water Treatment&ConditioningSystems
Love Bugs Preschool families gathered together to share in the
festivitiesat theOatkaFestival thisyear. Their teachers, children
and their families braved the heat towalk in theOatkaparade.
Theyenjoyed seeingeachotherandcan'twait for school to start
inSeptember!
FunAtTheOatkaFestival!
one church st. le roy, ny
one church st. le roy, ny