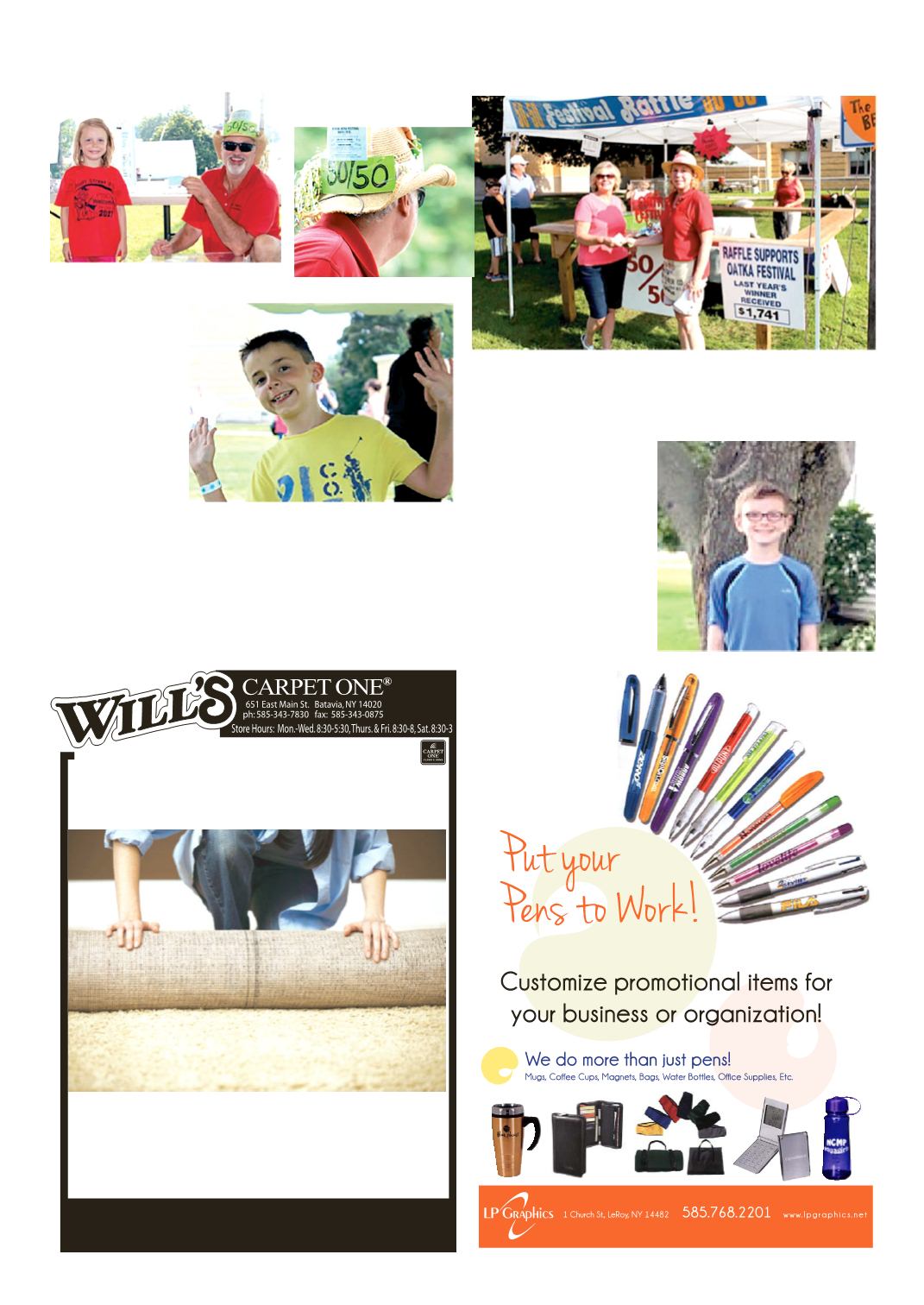 LEROYPENNYSAVER&NEWS - JULY 26, 2015
Jack Mayer an 8
year old from Le-
Roy, pulled the big
ticket Sunday to
close thesuccessful festival.Jackalsoenjoyed theBounceHouse,
RockWall and spending timewithhis family.
Saturday'srafflewinnerwasPatSeeley,LeRoy.Patwassurprised
to receive the call, because she had not purchased any tickets.
HerHusband, Tom, wrote her name on one of three tickets he
bought that day. The annual rafflehelps support the festival.
TheOatka Festival Committeewishes to thank all the commu-
nity who supported the ticket sales. Proceeds from the tickets
help cover some expenses for the festival, suchas paradebands,
security, insurance, etc. Thank you for your support.
TheONE store for your perfect floor.
FLOOR
&HOME
CheckOutOur
LargeSelectionof
CarpetRemnants
•WeBind InStore
•Small andLargeSizes
Available
OatkaFestivalRaffleResults
VioletBlake,5yearsoldfromLeRoy,
pulled Saturday's winning raffle
ticket worth $500.
Violetandher fami-
lyenjoyedmanyfun
activities especially
theBounceHouse.
Sunday's Grand Prize raf-
fle drawing, worth $1,750,
went to William Bogan a
4th grader from Bergen.
His Grandmother, Laurie
Cooper, Stafford, put his
name on one of the three
tickets that she purchased.
Will was excited and is
considering spending some
of thewinnings ona trip to
awaterpark.