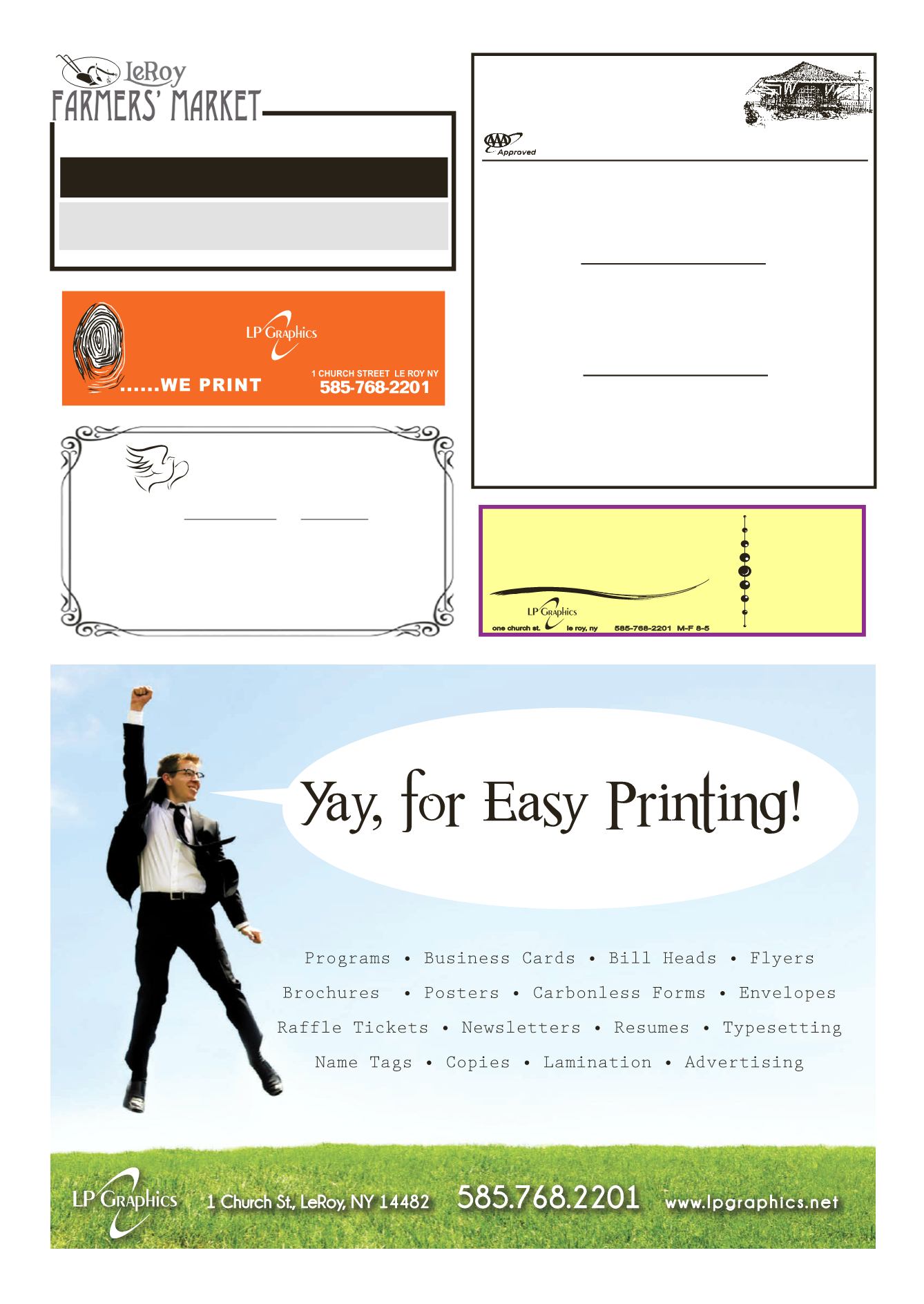 LEROYPENNYSAVER&NEWS - JULY 26, 2015
Director /Owner
FuneralDirector
F
ALCONE
F
AMILY
Funeral&Cremation Service, Inc.
Director/Owner
"ALOCALFAMILY
CARINGFORLOCALFAMILIES"
D&RDepot
63LakeSt. (Rt. 19), LeRoy• 768-6270
Let'sMeetAt The ...
OpenForBreakfast, Lunch&Dinner - 7DaysAWeek7 am-9pm
LeRoyFarmer'sMarket onFacebook
TRIGON PARK
Saturday, Aug. 1st
9:00 am-12:30 pm
LOCAL • FRESH•DELICIOUS •NUTRITIOUS
Seasonal Fruits andVegetablesWill BeArrivingWeekly!
8/1-
8/8-
TheWastrelswill be in ourmusic tent andLCCPQuilt rafflewill be
Jams, jellies, eggs,Yancey'sFancyCheeses, NundaMustards,
OnceAgainNut Butters, baked goods, organic produce, honey,maple syrup
and fresh, locally grown produce.
SUNDAY, JULY 26th
homemadeCANADIANCRABCAKESdinner
(includes chilled Strawberry soup, potato salad, and
one of Amy'sCrèmePuff desserts) - $20.99
SUNDAY,AUGUST 2nd
VIRGINIABAKEDHAMdinner special
(servedwith soup or salad, scallopedpotatoes, rolls
andmuffins, and homemade coconut layer cake)-$17.99
SUNDAY,AUGUST 9th
STUFFEDPEPPERdinner
(includes soup or salad, rice pilaf, rolls andmuffins,
and a homemade apple cake dessert) - $17.99
one church st. le roy, ny
one church st. le roy, ny
lpgraphics.net