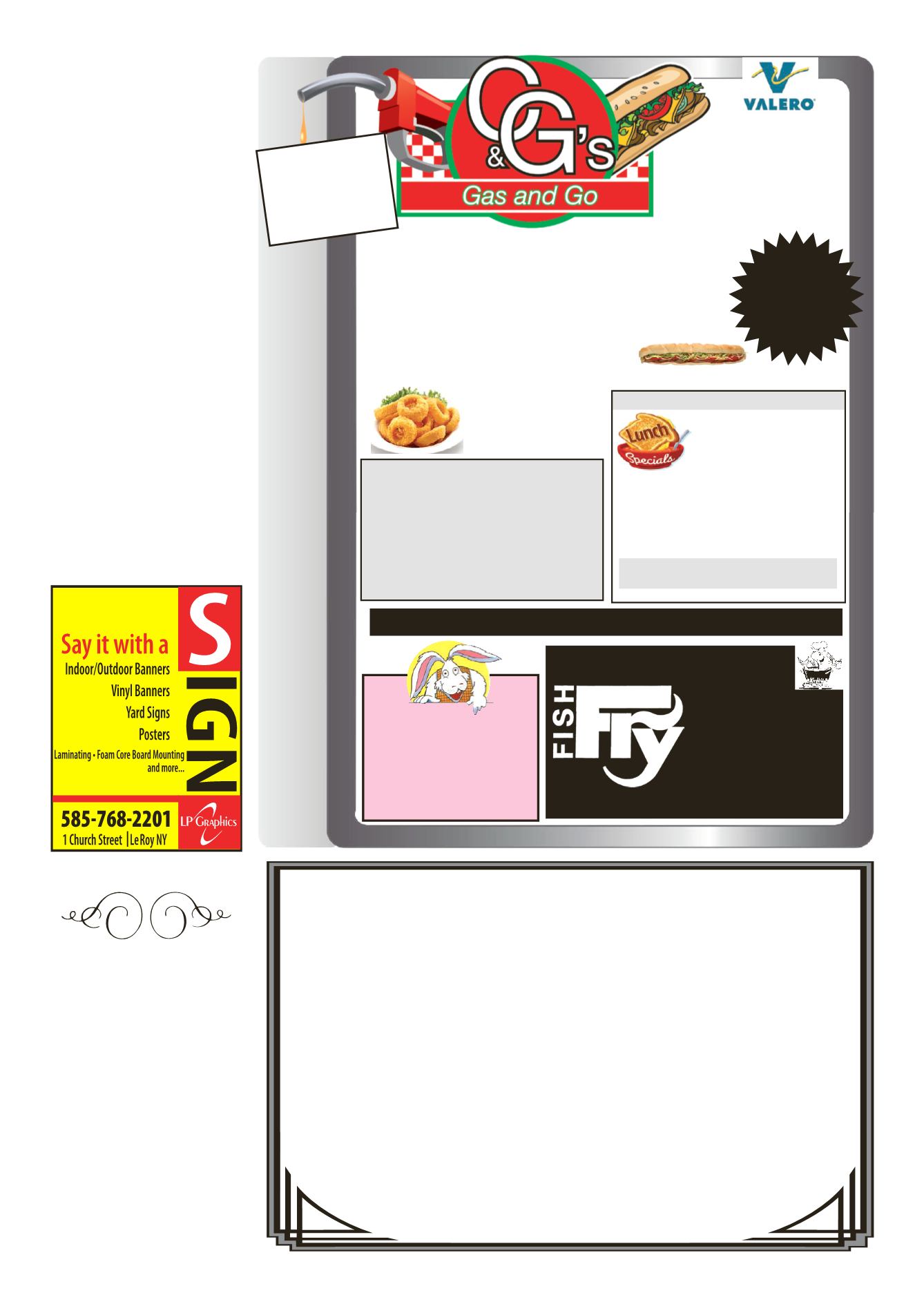 LEROYPENNYSAVER&NEWS -MARCH 29, 2015
March
Meeting
Clubheld theirMarchmeetingon
Wednesday,March11that theFirst
PresbyterianChurch of LeRoy.
Marilyn Pallotti helped the
members make garden flowers
from avarietyof glassmaterials.
In themidstofourwintryweather
themembersenjoyedeachother's
company and thinking about the
A short business meeting was
held to review the calendar and
programs for the upcoming year
Plant Auction
whichwillbeheldonJune3rd
Planswerefinalized forour an-
nualBanquet -Wednesday,April
8th at the LeRoy Country Club.
Anyone interested inmore infor-
mation about the LeRoyGarden
Club shouldcontactAnnWalters
would like toexpress their sinceregratitude for all the
prayers, kindwords andcards at the timeof his passing.
WhenClair andGaryopened "C&G's" they saw
great potential in LeRoyandwereexcited
tobecomeapart of thecommunity.
The storewill continue to serve thecommunityas usual.
Again, thank you for your support.
MilburnandGephart Families
LocalStudentNamed toDean's
List at University of Rochester
Phillip James Moulton
seniormajoring in linguisticsand
philosophy at the University of
Rochester, hasbeennamed to the
Dean'sList foracademicachieve-
ment for the fall 2014 semester.
Moulton, a resident ofLeRoy,
NY, is the child of Stephen and
Martina Moulton, and a gradu-
ate of LeRoy Central School in
lpgraphics.net
Buy 1LargeCheesePizza
..................................$8.99
Get SecondLargeCheesePizza
.....................$5.00
Extra toppings $1.50.
NoCoupons, Please.
EARLY BIRD PIZZA SPECIAL!!
Sun. •Mon. •Tues. -LargeCheese - 16"
FRESHMADE TOORDER SUBS
ColdSub
......................$7.99
Hot Sub
.............................$8.99
CheckOut
Our GAS PRICE
5¢OFF
Every SUNDAY
NoCoupons, Please
Saturday& Sunday ONLY
SUPERSUBSPECIAL
(ColdSub)
Monday-Friday
$5.00
IncludesFountainDrink
Homemade Chili Available
FRIDAYS!
WithColeslaw, Fries,
Roll&Butter
ServedTil 7pm
NowFeaturing!
MozzarellaSticks
&OnionRings
StoreOPEN
5:30 am to 3:00pm
DELICLOSEDAll Day
Monday- Macaroni&CheesewithRoll
Tuesday- Spaghetti&MeatballswithRoll
Wednesday- 2Slices of Pizzawith 3Wings
Thursday- FrenchDipRoast Beef Sandwich
OnRoll withSmall Bag ofChips
All LunchesComeWith
16 oz. FountainDrink!
*Menu Subject to change