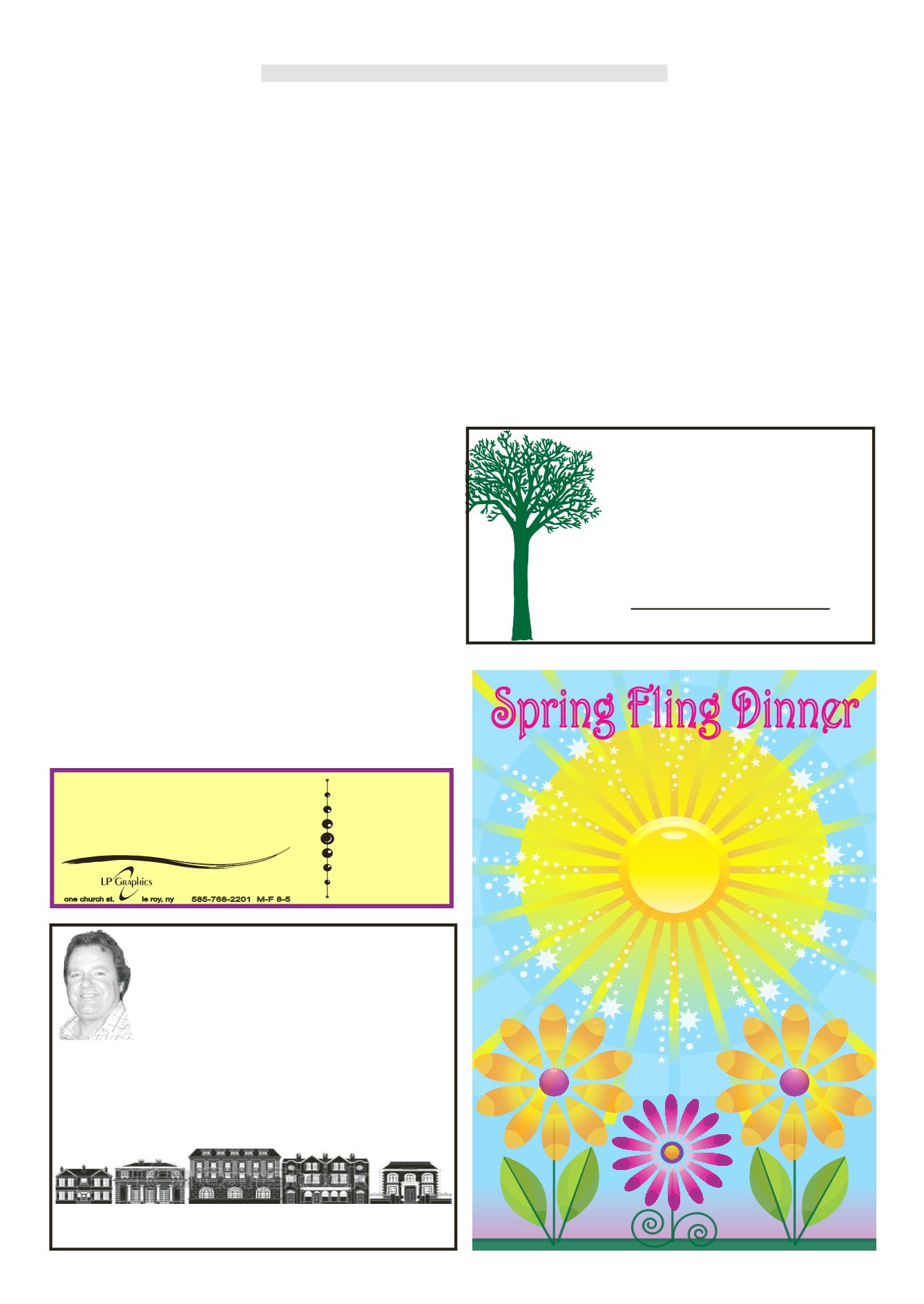 LEROYPENNYSAVER&NEWS -MARCH 29, 2015
Rider
Real Estate
"Not TheBiggest, Just TheBest"
BuyersNeeded
Howard E. Hotze, Jr.
Sales Associate
LetMeAssistYou InNegotiatingTheBestDeal ForYou!
Cell Phone: 690-7811
"PeopleYouKnow&Trust"
Office: 768-7293
M
ALOVICH
E
NVIRONMENTAL
585.409.6509
TreeService • TreeTrimming
TreeRemoval • TreeCabling
StumpGrinding
Full Insured • FreeEstimates
WeNowAcceptAllMajorCredit Cards
Family
Owned&
Operated
and Silent Auction
Saturday, April 11th, 2015
LeRoyUnitedMethodist Church
Hamor Turkey, ScallopedPotatoes,
SaladBar, Peas&Corn, Rolls, Dessert, Beverage
Seating: 4-7pm, TakeOuts 4-6pm
Adults $10• Seniors $9•Children $6
TicketsAvailableat theDoor
Musicby
"TheMusic Lady" - BevHess
byKimCox
Superintendent of Schools
Thank you for your support on
the bus referendum on Tuesday.
This vote allows us to begin the
purchasing process early and to
have our new buses in place for
the start of the year. Thanks for
cation, along with the District
administrative team, hasworked
diligently to create a budget that
maintains and enhances educa-
tional programs while ensuring
fiscal responsibility to the com-
munity. Budget development is
alwaysa strategicand thoughtful
process. This year we have en-
countered additional challenges
due to the lack of information
from the state. At this point we
draft
for the 2015-16 school year.
In making yearly decisions
about the budget many import-
ant perspectives are considered
including the input received
from the community, teachers
and administrators, as well as
the mission, vision and goals of
the district. Our main goal is to
continue to do what is best for
our students and ensure that they
arereadyforcollegeand/orcareer
beyondourwalls. While thiscan
be a challenging balancing act,
we feel confident that the 2015-
16 Le Roy School Budget will
Our preliminary draft budget
$22,787,267
$178,282
.79%
or less than 1%. Reductions in
teacherandemployee retirement
costs, along with other realign-
ments, have helped to keep our
expenditures down. As usual,
general increases are due to op-
eratingandcontractual costs.We
are also planning on adding a .5
business teacher and1.0 instruc-
tional technology teacher. A .5
elementary teacher will also be
restored from a previous reduc-
tion tohelpwith some increased
enrollment. To offset these in-
creases,wehaveone retirement,
that we will realize some cost
savings in the replacement. We
areplanning to eliminate a .5 art
teaching position and there will
be some realignment of special
As I stated before, we do not
knowwhatourstateaidcontribu-
tionwillbe.Wearehopeful tosee
some increase from lastyear,but
toplay it safewehavecalculated
this draft budget based on last
year'snumberswithno increase.
We also plan to stay within the
property tax cap, which is a
1.61% increaseon the levy.This
will qualify the community for
a rebate check from the state,
similar to the one received this
fall. Tax rate informationwill be
determinedoncewehave a state
budget inplace,whichweexpect
around April 1st. The Board of
Educationwill adopt theBudget
at the April 14, 2015 meeting.
Our Budget Newsletter, due out
at the end of April, will detail
the full budget information. As
always, once the budget is ad-
opted, information will also be
ThePublicHearingon theBud-
Tuesday,May
12th at 7:00 p.m.
Auditorium at theWolcott Street
School. The budget vote is set
Tuesday, May 19, 2015
the gymnasium corridor of the
Wolcott Street School from
7:00
a.m. to 9:00p.m.
I would to like to recognize
and thank the staff, community
members, administrationand the
Le Roy Board of Education for
devoting their time and effort in
developing the 2015-16 Le Roy
Thank you for your continued
one church st. le roy, ny
one church st. le roy, ny