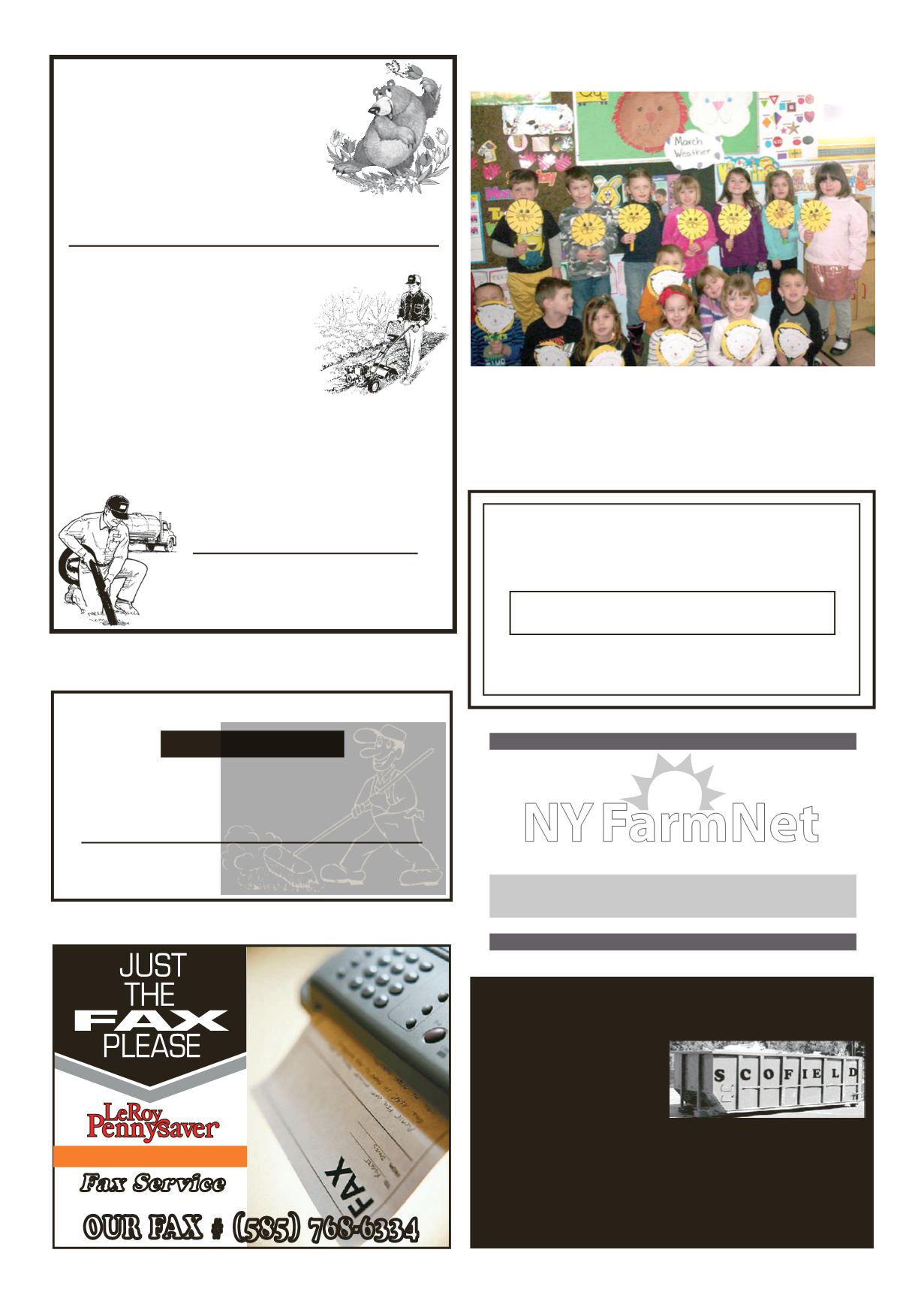 LEROYPENNYSAVER&NEWS -MARCH 29, 2015
1ChurchSt., LeRoy, NY • (585) 768-2201
NYFarm
Net
Brightening the futureofNYagriculture since1986
BusinessPlanning •Retirement&EstatePlanning
FinancialAnalysis •StressManagement
PersonalWellbeing •BusinessTransfers
1.800.547.FARM • NYFarmNet.org
100% FREE&CONFIDENTIAL
Plumbing • Heating
Installation&Repair Service
For All Residential &Commercial Work
LeRoy Nursery School learned about the weather. Will it be
a Lion or Lamb Day? Is it really spring? The children do the
weather everyday. Theweather person gets to tell what kind of
day it is byusing their stickpuppets theymade.March came in
like a lion and they think it'll go out like one too. Picturedhere
is the 3DayPre-KClass.
MarchWeather
a call for anyof your needs at 768-6769.
Starting our 48th year servingLeRoy and surrounding areas!
Lawn Rolling • GardenTilling • Lawn Restoration
Hydro-Seeding • Landscape • Shrubs
Septic Pumping, Installation
Repairs,Port-A-Jon Rentals
Excavator,Backhoe &Bulldozer Service
PureOrganic or ScreenedTopsoil
Gravel • Stone ProductsAvailable at
781/2LakeSt.
PlumbingNeeds
No JobToo Small
Or Large For
McGinnis Excavating
10, 15, 17, 20, 25,
30, and40cu. yd.
CONTAINERS
ScofieldRolloff •343-8383
NobodyBeatsOur Prices!
CleaningService
•Carpet &UpholsteryCleaning
•Spot Cleaning&Odor Removal
•Tile&WoodFloor Cleaning&Waxing
•Complete Janitorial Services