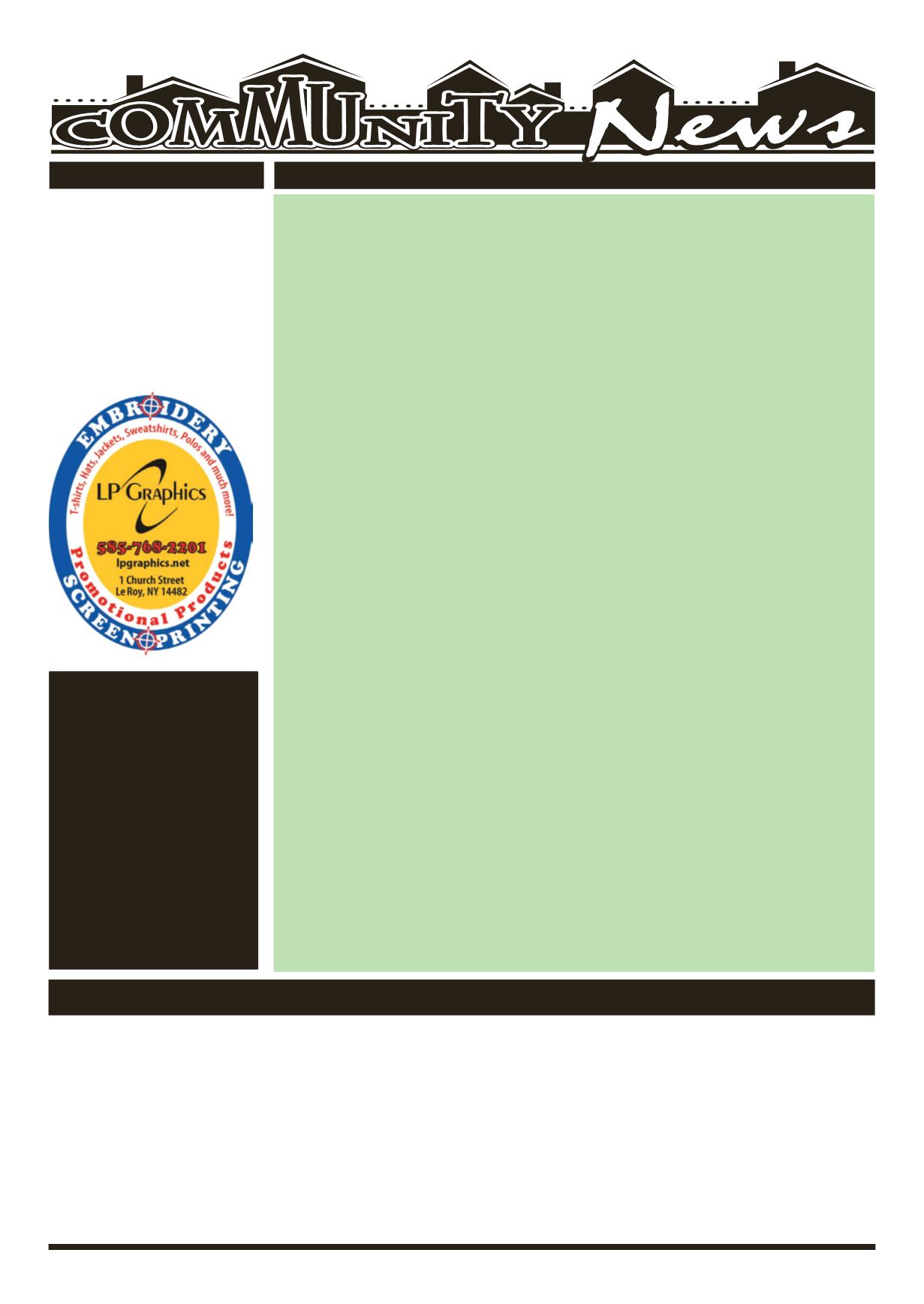 LEROYPENNYSAVER&NEWS -MARCH 29, 2015
Le Roy
Pennysaver
All GeneseeCounty residents, 60andolder, can takepart in thisweek'sactivitiesat theBataviaSenior Center, 2BankSt., Batavia. Formore information, call 343-1611.
WEEKLYEVENTS
OBITUARIES
IncomeTaxPreparation
byAPPOINTMENTONLY takingplacebetween9:00am to3:00pm;
ArthritisExercise
ARepresentative fromBlueCross/BlueShield Insurance
willbeavailable from10:00a.m. to12:00p.m.;
Cribbage
scheduled tobeginat 1:00pm.
IncomeTaxPreparation
byAPPOINTMENTONLY takingplacebetween9:00am to3:00pm;
QuiltersGroup
Euchregame
is scheduled tobeginat 1:00pm.
TaiChi
is set tobeginat9:30a.m.with
GentleFitness
Cribbage&Bridge
LineDancingandArtClass
is set tobeginat 10:00a.m.;
Euchre
is set tobeginat 12:00p.m.
SUNDAY,MARCH29
AWANA Program at Penuel Christian Fellowship.
Street. Sundays 12:15 to 1:45 pm. Ages 5-17 broken into groups.
Developing friendships. Having fun. Learning about God. Safe envi-
Konnect Youth Group at Living Waters Church,
LeRoy. Sundays from 6:30 to 8:30 pm for ages 12-18. "BringDown
all theWalls! ConnectwithGodandConnectwithothers." Formore
information, check us out online at: livingwatersleroy.org/kon-
MONDAY,MARCH30
TOPS (TakeOffPounds Sensibly)
meetsMonday evenings at the
LeRoyPresbyterianChurch, cornerofClay&MainStreets.Doorsopen
at 6:00 pm and meeting is from 6:30-7:15 pm. Visitors are always
welcome. Call 585-768-7103 formore information.
TUESDAY,MARCH31
Preschool Storytime:
Every Tuesday at 11 am featuring stories,
craft and songs at Pavilion Public Library, 5Woodrow Dr., Pavilion.
LCCP's GRACE'S KITCHEN:
A FREE dinner every Tuesday evening,
5-6:30 pm at the LeRoy UnitedMethodist Church, 10 Trigon Park.
ParkingavailableonTrigonPark& the lots to the left andbackof the
Church. Handicapped Entrance in the back of the Church. Takeout &
deliveryareavailable. Formore info. contact SelbyDavisat 585-738-
FoodlinkFreeMobileFoodPantry:
MorganvilleUnitedChurchof
Christ is partneringwith Foodlink of Rochester tohost a freemobile
food pantry, 4:30-6:30 pm at Morganville United Church of Christ,
8466MorganvilleRoad(offRt237,1milenorthofStafford). Theexact
food items andquantity available are not known, but freshproduce
will be available. Must be 18 years of age, no income requirement
or ID required. Must provide own bags/vehicle to transport items
to your home. Foodprovided on afirst come, first serve basiswhile
WEDNESDAY,APRIL1
PavilionBaptistChurch
youthprograms
wintereveryWednesdayevening.Allcommunitychildrenarewelcome
toattend.AWANA isaprogram foryounger childrenPreschool (4year
old) through6thgrade. It is a fun time of Bible Stories, games Bible
memoryandeven refreshments.WordofLifeprogram is for teens7th
through 12th grade.We are easily located at 10956 S Lake Road in
Pavilion. Call 585-584-3179ext. #12 for anyquestions.
Annie -MovieShowingattheWoodwardMemorialLibrary
children ingrades K-6, from1 to3p.m. Registrationappreciatedbut
THURSDAY,APRIL2
GeneseeVeteransSupportNetwork
(GVSN) supports thedevel-
opment ofVeterans focusedAAmeetings everyThursday, 6-7pmat
the First Baptist Church, 306 E. Main St., Batavia. Meetings led by
MikeW.&areopen tonon-veteransaswell.Handicapaccessible. For
additional information call 585-302-0825.
GRACE'S CLOSET: A clothing giveaway program
Le Roy UnitedMethodist Church, 10 Trigon Park, Le Roy, 9:30 am
to 11:30 am every Thursday.We have clothing for all ages. FALL &
WINTER clothingnowbeingput inplace.Weare inneedofWARMER
clothing especially coats, jackets boots, pajamas. Weneedbedding
ofallkindsespeciallyblankets.Weacceptdonationsbedroppedoffat
thehousenext to the church. Pleaseput all bags INSIDEon theback
porch. NO ELECTRONICS, COMPUTERS,DISHES, etc. Any questions
MovieShowingofWild foradults
at 6:00p.m. at theWoodward
MemorialLibrary.115minutes. Registration isrequired. Call768-8300
FRIDAY,APRIL3
Penuel Christian Fellowship,
One Step to Freedom addictions
ministry, a Christ Centered Addictions program, a weeklymeeting
every Friday at 7 pm. Call the Church formore information at 768-
SATURDAY,MARCH28
UPCOMINGEVENTS
LCCP's Mommy & Me Playgroup: Every 2nd & 4th Friday,
12:00-1:30, Le Roy Physical Therapy (in the back gym). Anymoms
and their birth-kindergarten children are welcome to come enjoy
socialization, lunch, coffee, structuredgames& freeplay.
FreePromDresses
-Girls fromallsurroundingareasarewelcometo
lookthroughtheHundredsofdressesondisplay.AlldressesareFREE.
Donations, however, canbemade for thegirlsatTanzania'sHouseof
Hope.MondayandTuesday,March30thand31st from6:30p.m. to8
p.m. LivingWatersChurch,30MainSt.,LeRoy. Formore information,
please call 585-768-7570.
TheGeneseeValley CivilWar Roundtable
on "Redemption of Harper's Ferry Cowards". Themeeting will take
place onWednesday, April 15th at 7 pm at LeRoyUnitedMethodist
Church,dooron rightendof longsidewalk,10TrigonPark,LeRoy,NY.
Discussionperiodwill followprogram.Newmembersarewelcome.
CommunityCalendar Submissions shouldbe sent to:
WYOMING—JoyceA. "Jackie"Coulter,70,
of East Bethany Road, Wyoming passed
away Saturday (March 21, 2015) at Mercy
Hospital in Buffalo. Memorial contributions
may bemade toANewStart Kitty Shelter
at 342 Denton Corners Rd., Castile, New
LEROY—GilsonPatrickPaul, 61, passed
awaySaturday (March21,2015).Memorial
donationsmay bemade to the family.