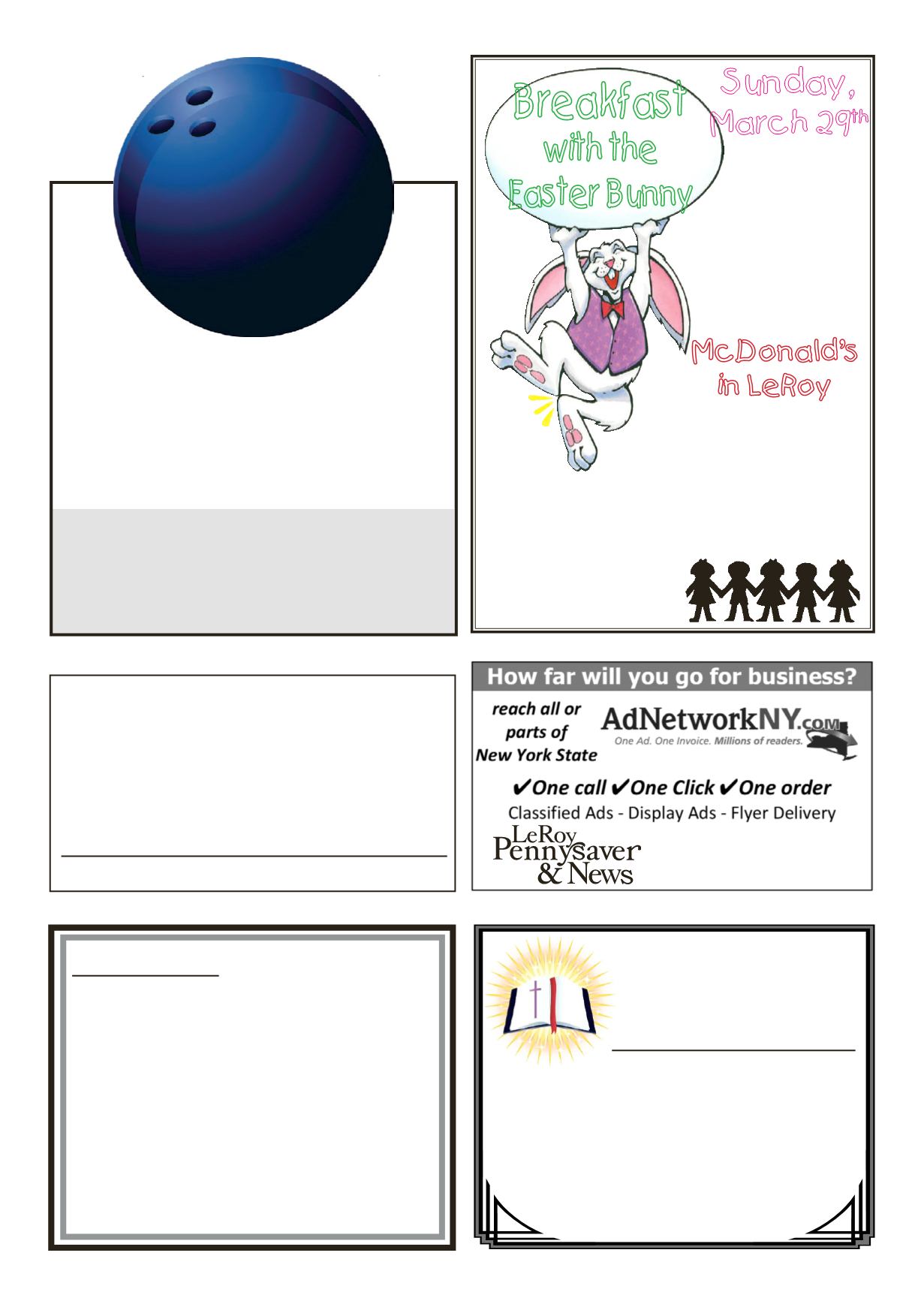 LEROYPENNYSAVER&NEWS -MARCH 29, 2015
HelpWanted
- Part time loader. Nights/weekends, approx. 20 hrs./week. Load
product, assiston salesfloor, restockmerchandise.Mustbeable to load50 lbs.
HelpWanted
- Part time, Sales Floor/Loader.Weekdays/weekends/somenights.
Approx. 20 hrs./week. Work on sales floor, knowledge of plumbing & electrical
preferred.Great for retired tradesperson.Mustbeable to lift40 lbs.
HelpWanted
- Part time, Shop Person, weekdays, approx. 20 hrs./week. Shop
work andmaintenanceof physical plant, fix screens,windows,wood stoves, etc.
Operate lifttruck inasafemanner.Lawnmowing,generalhandymanskillsneeded.
Not summerhelp. Apply inpersonat
Crocker'sAceHdwe.
Sunday,April 12th
MancusoBowlingCenter
SquadTimes: 12:00pm& 2:00 pm
Formore details please contact Tournament
Director:MarkBrown 716-474-7960
Wewill alsobehosting aChineseAuctionduring
the tournament (open to everyone).
Stop by and enter for your chance towin
Just ahighlight: 2VIPBradPaisley tickets forDarien
Lake on 6/28, seats are on theLabatt's deck.
JoinUs For Lenten/Easter Services
PALMSUNDAY,March 29th
11 amWorship at First Baptist
MAUNDYTHURSDAYSERVICE,April 2nd -
7:30 pm at St.Mark'sEpiscopal
GOODFRIDAYSERVICE,April 3rd
-
SUNRISESERVICE/EASTERBREAKFAST
Scott andMaryRipley's home, 8719LakeSt., Rd.
EASTERSUNDAYWORSHIPSERVICE,April 5th -
foodlink
Grace's Kitchen
Tuesday, April 7th
at 4:00pm
PleaseuseHandicap EntranceAt TheRearOfChurch
LeRoy
NurserySchools
From
9 am-11 am
Ticket includes
your choice of hotcakes
orbiscuit sandwich, hashbrowns
and a small drink.
ALLWELCOME!
ToBenefit
LeRoyYouth
Football
1Church St., LeRoy, NY 14482