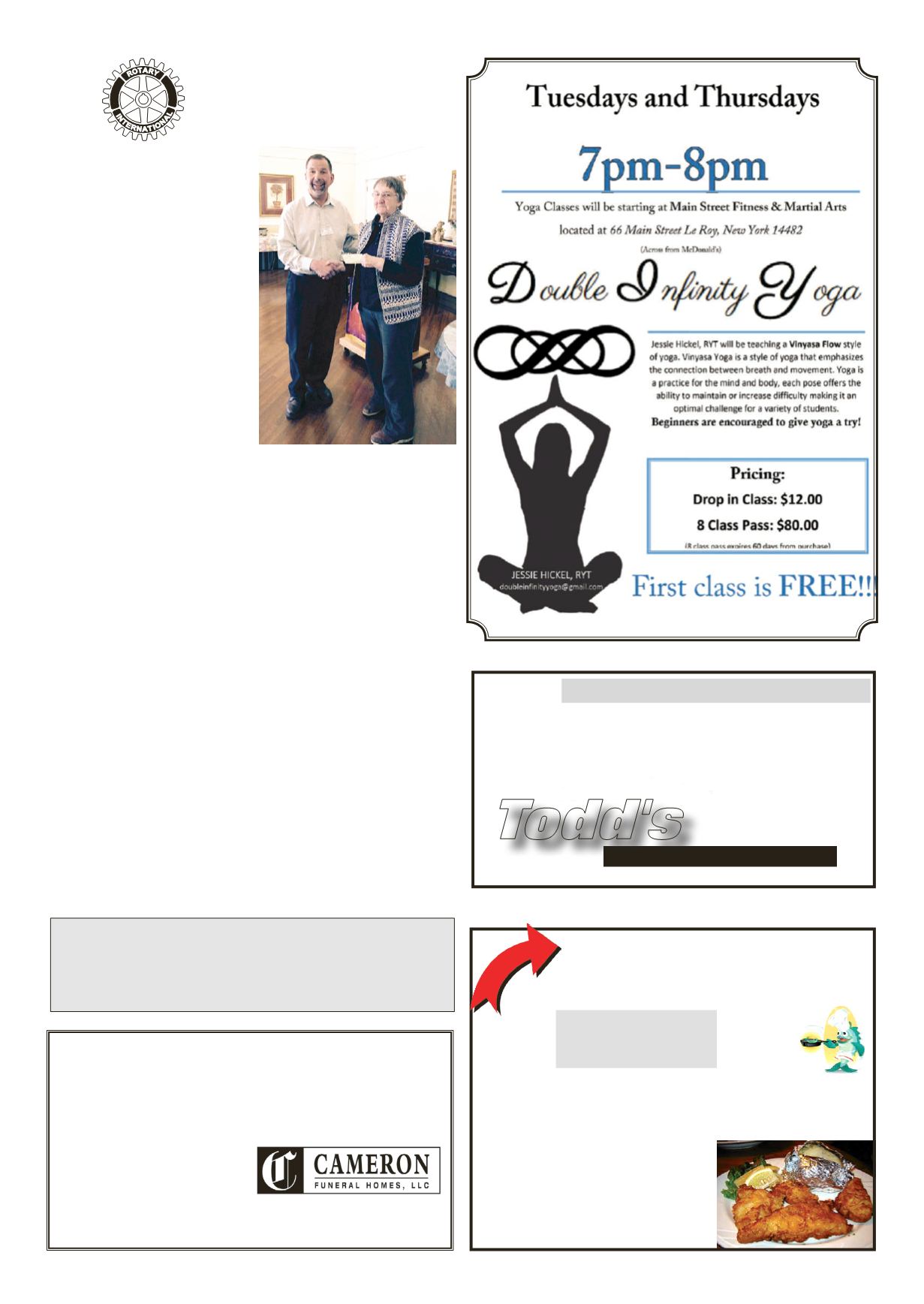 LEROYPENNYSAVER&NEWS -MARCH 29, 2015
HelpingFamiliesCelebrateaLifeLived
"Our FamilyServingYours Since 1907"
Trusted•Honest •Proven
Cameron, Brady&Steuber
FuneralHome
111Wolcott Street
LeRoy,NY 14482
(585) 768-6800 •
Likeus onFacebook
SUPPORTYOUR LOCALADVERTISERS!
They help sponsor the local news section of the Le Roy Pennysaver.
THANKS FORYOUR SUPPORT!
RotaryNotes 3/18/15
It was a beautiful sunny day
at The Greens of LeRoy for our
meeting today.DerrikO'Sullivan
& Kyle Hobart joined us today
from LeRoy Central School.
Peggy Marone from Leadership
Lynne Belluscio announced
LeRoy Historical Soci-
ety Newsletter
awesome. For more information
on how to get one, contact the
Historical Society. Sam Vagg
announced that the LeRoyBusi-
nessCouncilwillbestuffingeggs
for the Easter Egg Hunt at the
Moose on March 28th at 9 am,
andvolunteers are needed. Also,
the next Graze to Raisemeeting
will be March 24th at 5 pm, at
LeRoy Village Green. Mary
Young reminded the group that
TheRelay forLifeKickOffParty
will be Saturday, March 21st at
the Moose from 6-8 pm. Tracy
Ford is heading up or Dodgeball
Team forLCCP'sTournamenton
April 18th .TheGeneseeCounty
UnitedWay Day of Caring will
take place onMay 13th. Rotary
will have a team, see Tracy Ford
Jim Ellison, Tim Moag, Joe
Giannettino, Lynne Belluscio,
andSamVaggwere all called on
for missed meetings. Christine
Gephart, MaryMargaret Ripley,
&Mary Young were recognized
forbirthdays.MaryMargaretwas
also recognized forher3year an-
niversary inRotary. ErikFixwas
fined for his incredibly adorable
children. ScottMcCumiskeywas
finedforhisupcomingMarch trip.
Peggy Marone was our pre-
senter today. Peggy gave an
excellent presentation on all the
benefits of participating in the
Leadership Genesee Program.
Leadership Genesee not only
offers personal growth through
their program, but offers insight
into leadership and business
management. Leadership also
offers excellent opportunities to
go inside different industries in
Genesee County. For example,
they offer agriculture, tourism,
and community services experi-
ences. Formore information into
theLeadershipGeneseeProgram,
pleasecallPeggyMaroneat (585)
Please like us on Facebook at
LeRotary
Notes
NewHomes •Additions •Garages •PoleBarns
ToddCarli • Phone 703-0964
Todd's
Decks •Windows •Doors
Kitchens •Baths
CeramicTile
Basement Finishing
CustomShelves/Built-Ins
Siding •Remodeling
Roofing • SnowPlowing
FULLY INSURED
585-502-5155
FISH FRY
4pm til
SoldOut!
FridaysDuringLent (includingGoodFriday)
Regular FishFry •Mini FishFryorBroiledFish
TakeOutOrEat In