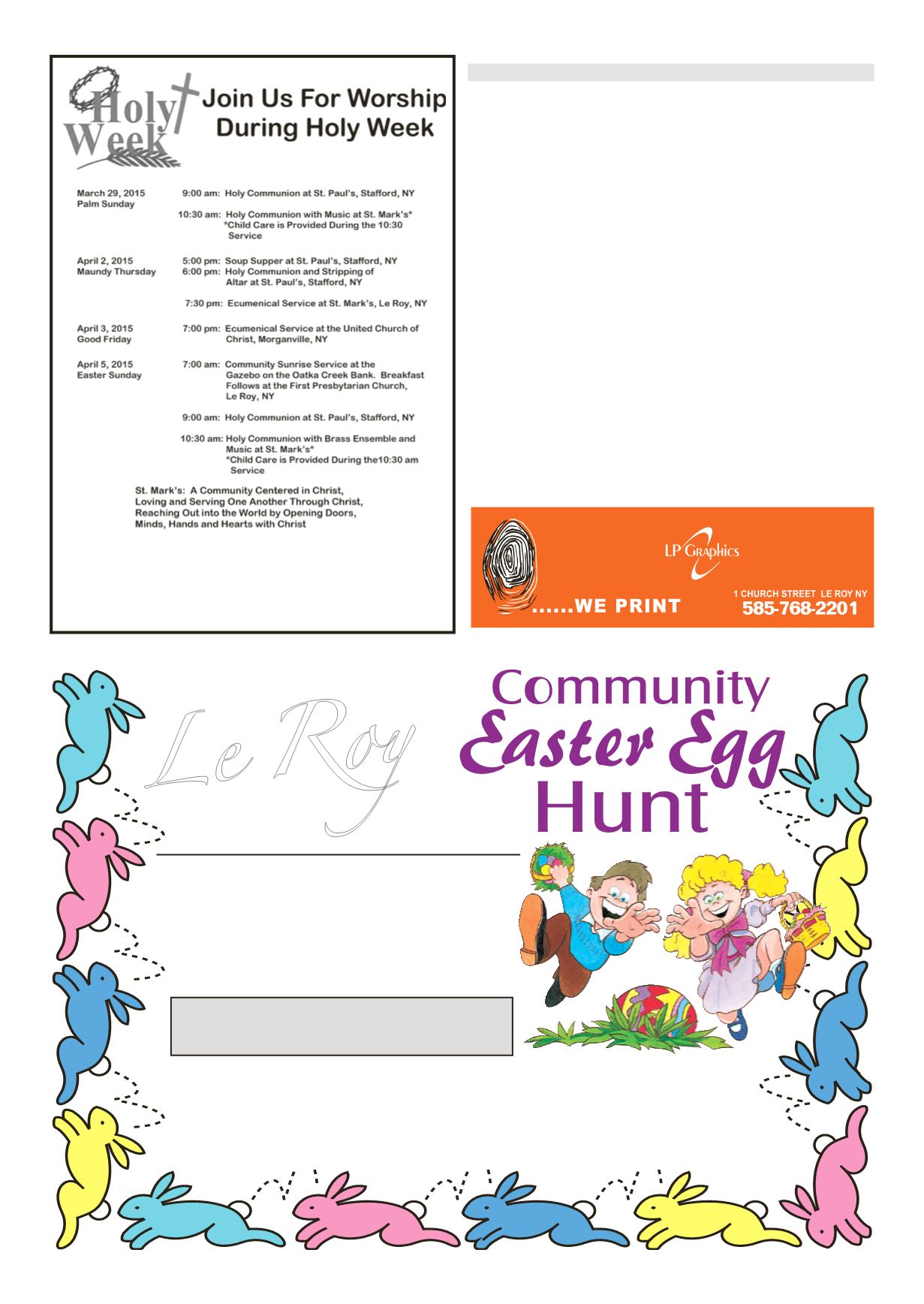 LEROYPENNYSAVER&NEWS -MARCH 29, 2015
Free Coffee, Juice &Hot Dogs
Sponsored by: The American Legion • TomMcGinnis • Le Roy Business Council
Knights of Columbus • Le RoyMoose Family Center • Le Roy Federal Credit Union
Oatka Fish andGameManagement Society •McDonald's of LeRoy •UpstateMilk
Rotary Club of LeRoy •VietnamVeterans of AmericaChapter 193 •Northwoods Sportsmen's ClubAssoc.
Orcon Industries •Kiwanis of Le Roy/Pavilion/Stafford • Tompkins Bank of Castile
LeRoy Village Green •Greens of LeRoy • Shelley Stein
St. Mark'sEpiscopal Church
1East MainStreet, LeRoy, NY14482
byGreg "Porp"Rogers
Mayor
The day is finallyhere!We are
going to bid for our sidewalk
project; this work should be
done this summer. Along with
the sidewalkwork fundedby the
Safe Route to School grant, the
Village isgoing replace theSouth
side of Main St. sidewalks as
well, that's theplanandwehave
The Village Board has met
with department heads to come
up with the 2015-2016 Budget.
Wewill givenoticeof thepublic
hearing on the proposed budget,
toget feedback from thecommu-
nityandanswer thequestionsyou
Thewinter reallydidanumber
on our streets; we have gone
through 5 tons of cold patch for
pot holes already. If you want
to report a pot hole please call
768-2527. We will get someone
thereassoonaspossible.Wewill
alsobegetting any leaves left on
the terraces as soon as they thaw
a little more. Another thing that
gets uncovered when the snow
goes away is dog droppings,
please takemeasures to takecare
Soon the Farmers'Market will
be opening, please support our
local growers and shop locally
"I not only use all the brains I
have,butall Icanborrow"Wood-
Notes From TheMayor's Office
lpgraphics.net