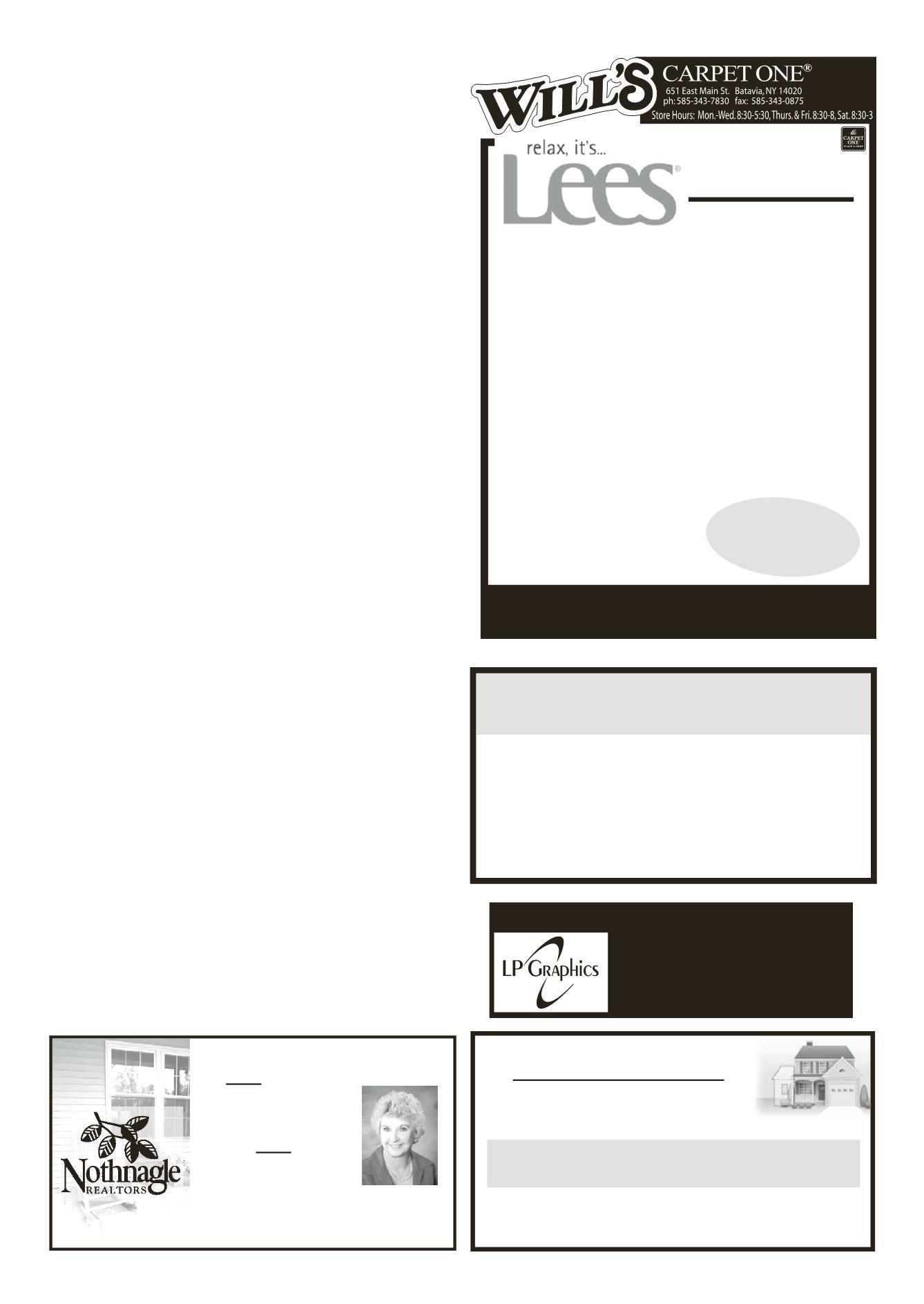 LEROYPENNYSAVER&NEWS -MARCH 29, 2015
1ChurchSt., LeRoy, NY14482
585-768-2201
FAX585-768-6334
WeDo
"CompleteCarpentry Service"
M
ILLER
B
ROTHERS
B
UILDERS
CustomHomes •Remodeling•Additions
Roofing• Siding
DANIEL
MICHAEL
Batavia
585-343-6750
NOW is theBEST time
toBUYwith the interest rates
at their lowest!
Don't wait
toBUY -
call
LindaBeaumont
for all your real
estateneeds.
LindaBeaumont
Home (585) 768-6315
LicensedReal Estate
Salesperson
Multi-MillionDollar Producer
TheONE store for your perfect floor.
FLOOR
&HOME
• Lifetime - Stain& SoilWarranty
• 25Year TextureRetentionWarranty
• FreeEstimates
• FinancingAvailableTo
QualifiedBuyers
Hurry
LimitedTime!
CARPET
InstalledWith a 6#Pad
ALLWORKMANSHIP GUARANTEED • INSURED
297-9097 • 768-7737
• InteriorPainting
• Plaster/LathRestoration
•Drywall&Drywall Repair
•TextureRemoval
• Floors Stripped
&Refinished
•OldCeilings&Walls
MadeLikeNew!
MikeDarby'sPatch&Paint
bySenatorRanzenhofer
March 2015
I am pleased to report that the
State Senate is moving the State
Budget process forward with a
balanced,fiscallyresponsibleplan
thatwill cut taxes, control spend-
ing and build a brighter future.
Iamevenmoreproud to report
that theSenate'sBudgetplanwill
help tobuildabrighter future for
the residentsofGeneseeCounty.
TheSenateone-housebudget res-
olution reflects many important
priorities for our community.
First, the Senate Budget ends
the notorious Gap Elimination
Adjustment (GEA) budget cuts
to our school districts. For far
too long, the GEA budget cuts
have had a devastating impact
on state funding for our schools,
especially inmore rural districts.
Second, theSenateplan rejects
Governor Cuomo's proposal to
require local agencies, such as
the Genesee County Economic
Development Center, to receive
State approval for projects. If
enacted, thisproposalwouldcrip-
ple the work of local economic
development agencies. More
importantly, the Senate plan
reauthorizes a $33 million state
grant to help develop theWNY
Third, theBudgetplan includes
the recently unveiled "Grown in
NewYork" initiative tohelp sup-
port local farmers in their efforts
toprovidequality, fresh foodand
meet consumers'demands for lo-
cally-grownproduce. TheGrown
in NY plan has the potential to
strengthenandgrow family farms
Lastly, if many of the tax
relief proposals in the Senate's
one-house budget resolution are
included in thefinal budget, then
Genesee County's homeowners
and small businesseswill benefit
The Senate budget establishes
the largest, most comprehensive
property tax relief program in
state history. Under the Gover-
nor's plan, a majority of home-
ownerswouldn't receiveadollar
in additional relief. In contrast,
the Senate Budget plan would
deliver relief to approximately
Our package makes the prop-
erty tax cap permanent and in-
cludes the creation of the New
York Property Tax Relief Check
Program. When combined with
the existing property tax freeze
credit, homeowners across the
state will receive rebate checks
To help create jobs and grow
the economy, the SenateBudget
advances a $200 million small
business package. Among other
things, the Senate's plan would
increase the business income
tax exemption from 5 percent
to 10 percent for all businesses
filing under the personal income
tax with less than $500,000 in
business income. This initiative
would save small businesses
more than$125millioneachyear.
Overall, I believe that the
Senate Budget should serve as a
blueprint for thefinalbudgetplan.
As the April 1st budget dead-
linegetscloser, Iwillbeworking
to ensure that the final budget
plan is good forGeneseeCounty
residentsaswell. Iwill be sure to
keep you posted onmy efforts.
Senate'sBrighterFuture
Budget Plan:
Good forGeneseeCounty