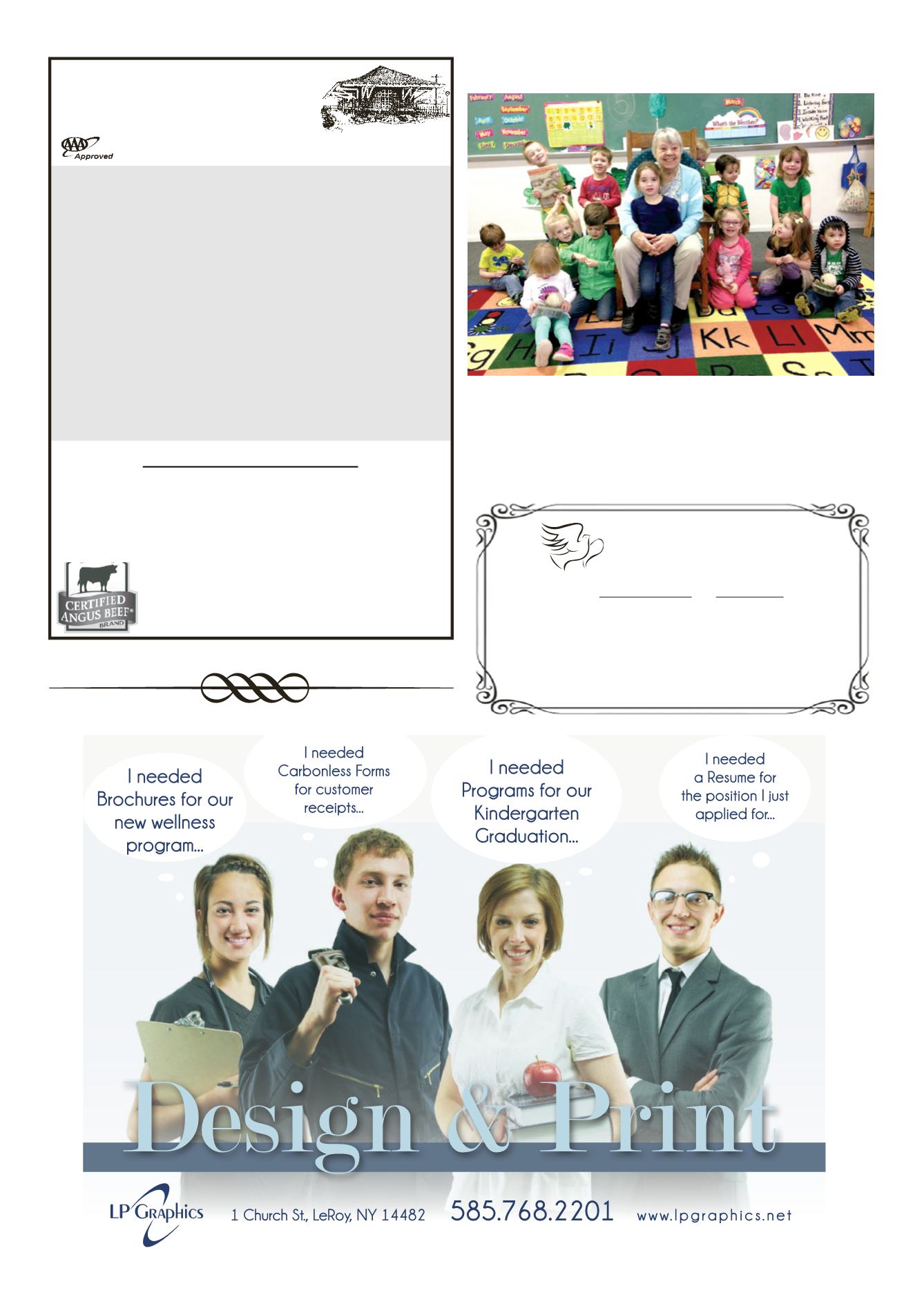 LEROYPENNYSAVER&NEWS -MARCH 29, 2015
Director /Owner
FuneralDirector
F
ALCONE
F
AMILY
Funeral&Cremation Service, Inc.
Director/Owner
"ALOCALFAMILY
CARINGFORLOCALFAMILIES"
D&RDepot
63LakeSt. (Rt. 19), LeRoy• 768-6270
Let'sMeetAt The ...
OpenForBreakfast, Lunch&Dinner - 7DaysAWeek7am-9pm
TheD&RDepot Restaurant is nowa
CertifiedAngus Beef Steakhouse!
If you'venever enjoyed theamazingquality,
flavor & tenderness of CAB, youwon't believe
thedifference.
Askyour server if youhave
anyquestions.
TheNursery children at LoveBugs Preschool welcomed a very
specialvisitor to theirclassroom lastweek. GrandmaPatstopped
bytoreadthebook"WeavingaRainbow".Thechildrenwereable
to feel and smell real sheep'swool. They learnedhowdifferent
coloredplantsareused todye thewoolmanydifferentcolorsand
how thewool is transformed intowarm clothes forus towear.
Agricultural LiteracyWeek
SUNDAY,MARCH 29thDINNERSPECIAL
STUFFEDPORKCHOPDinner – 17.99
(includes soup or salad, choice of potato and coconut crème pie)
and at 5 pm– the final appearance of our ol' timemusicians
JerryCurry, AlMastrolio, Dave SantaMaruia, andNancyDrum
(Reservations necessary - $5 cover charge for the benefit of themusicians)
EASTERSUNDAY,APRIL 5th
ServingDinner from 11 am – 7pm
Reservations strongly suggested
Featuring a slightly limited dinnermenu includingLeg of Lamb,
Ham Steak, ChickenPot Pie, PrimeRibs of Beef,VeggiePot Pie,
Poached Salmon, Porterhouse Steak, Broiled Scallops,
SeafoodPot Pie, PorkChops, and othermenu items.
Senior portions andChildren's entrees available.