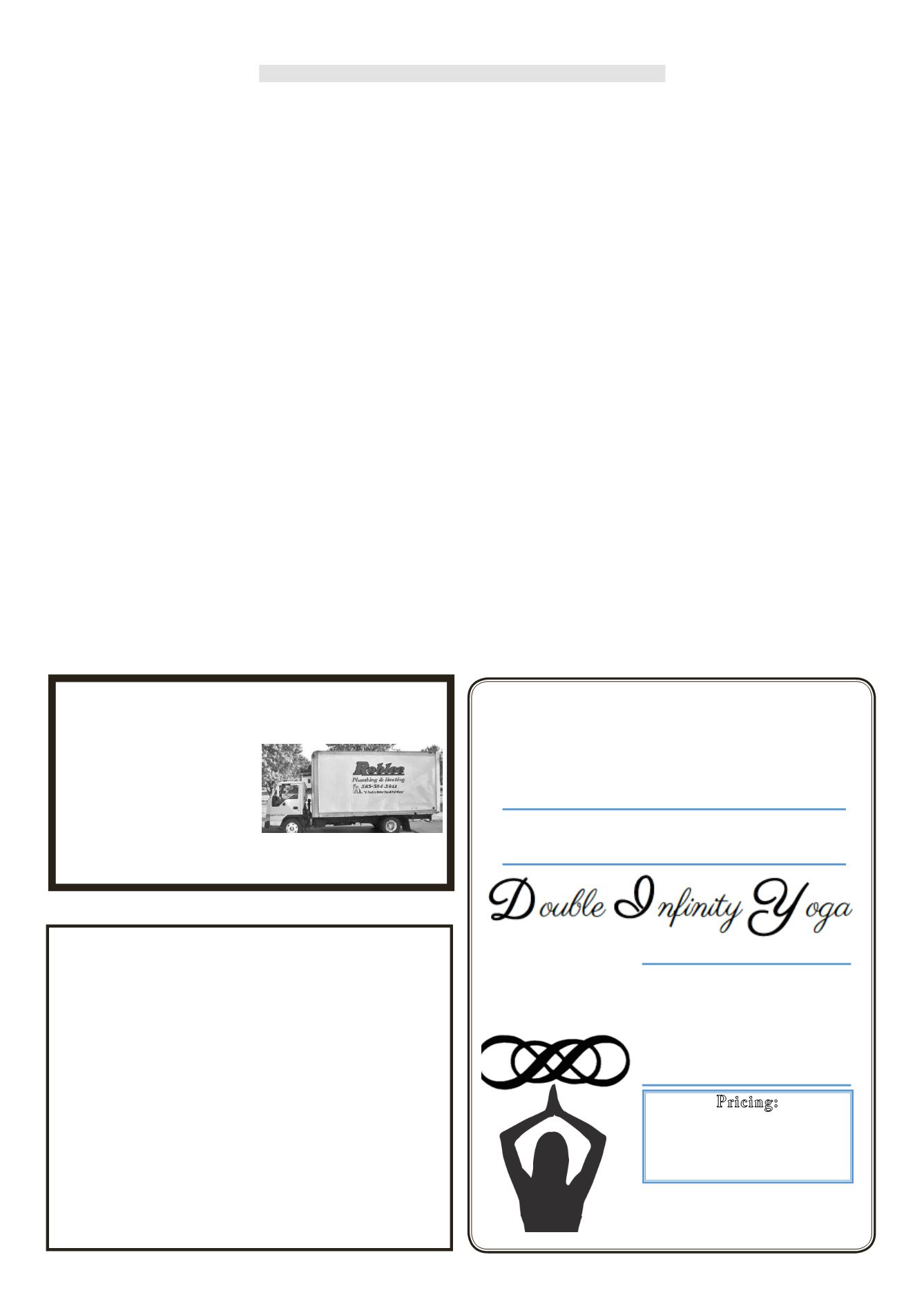 LE ROY PENNYSAVER & NEWS - MARCH 22, 2015
NOW HIRING
FACTORY POSITIONS
Seeking energetic dependable individuals for
steady year round employment.
• Wages start at $11.00 per hour
• Medical Benefits available
Factory Positions
PO Box 190, LeRoy, NY 14482
ROBLEE
Plumbing & Heating, LLC
10991 Lake Rd., Pavilion • (585) 584-3841
Full Insured
LUXAIRE
GOULD
NYS Certified Backflow Tester
Water & Sewer Lines • Water Treatment & Conditioning Systems
by Kim M. Cox
Superintendent of Schools
Spring is here, but clearly
someone forgot to tell Mother
This is a very busy time for the
Le Roy Central School District.
I hope you were able to attend the
wonderful production of "Shrek".
This production truly show-
cased the talent of our students,
staff, and community members.
Congratulations, and thank you
to the Le Roy Central School
District Music Department for the
commitment and hard work that
goes into these outstanding pro-
ductions year after year. At the
Wolcott Street School, students
are well into "PARP" month.
"PARP" (Parents as Reading
Partners) is an opportunity for
the school and community to join
together to celebrate and promote
reading both at home and at
school. This will culminate with
a PARP Festival on Friday, April
10th. Hope to see you there!
The Board of Education and
the Administration continue to
draft the 2015-16 School Bud-
get. Each year we work hard to
navigate the many challenges
set forth in this process by the
Governor and the legislators to
design a budget that meets the
needs of our students and is fiscal-
ly responsible to our community.
Over the past few years we have
had to deal with GAP elimination
adjustments (currently withhold-
ing over 8.3 million dollars in aid
from our students), a flawed foun-
dation aid formula (that hasn't
been properly implemented since
2009), and the addition of a prop-
erty tax cap formula (which is
very difficult to explain at best).
Still, despite these challenges
we have been able to continue to
develop responsible budgets that
have allowed us to realign our
resources to make substantive
changes to our program. We have
been compliant and worked hard
to meet every mandate that has
come our way. This year, we
have not only had to deal with
these complex constraints, we
have had to build our entire
budget blindfolded. You might
wonder, what does that mean?
Each year the legislators and
the Governor release school aid
runs that give districts an ap-
proximate idea of how much aid
we can expect for the upcoming
school year. This number, along
with our property tax cap cal-
culation, combine and provide
districts with an estimate of
revenue for the upcoming year.
As we work to develop our ex-
penditures, we have a general
idea of what programs, items, and
personnel that can be included
in the school budget, where we
need to trim or (rarely) where we
may add. This year the Governor
refused to release these figures.
This has caused considerable
concern in the process. In ad-
dition, the Governor has tied
several reform initiatives to the
state aid picture. Essentially he
is holding districts hostage to his
demands in exchange for state aid
that is due to the public to ensure
a free and appropriate education
While there may be some re-
forms needed in the educational
process, using your children's
education as blackmail is not
acceptable. If you wish to share
your concerns about this with
the Governor or legislators, I
urge you to go to our website at
Advocate for Schools
Fortunately, we have been ex-
tremely cautious and mindful in
our planning over the past several
years and despite the climate at
the state level, we do believe that
we will be able to put forward a
well-balanced and responsible
school budget for the 2015-16
school year. The budget will be
adopted at the April 14th school
board meeting. Budget presenta-
tions will be held throughout the
community beginning in April
and the Budget Hearing will be
May 12, 2015
Auditorium. If you like more
information or would like to
schedule a budget presentation,
please feel free to contact me at
Pricing:
Drop in Class: $12.00
8 Class Pass: $80.00
(8 class pass expires 60 days from purchase)
Tuesdays and Thursdays
7pm-8pm
Jessie Hickel, RYT will be teaching a
Vinyasa Flow
of yoga. Vinyasa Yoga is a style of yoga that emphasizes
the connection between breath and movement. Yoga is
a practice for the mind and body, each pose offers the
ability to maintain or increase difficulty making it an
optimal challenge for a variety of students.
Beginners are encouraged to give yoga a try!
Yoga Classes will be starting at
Main Street Fitness &Martial Arts
66 Main Street Le Roy, New York 14482
JESSIE HICKEL, RYT
FREE!!!