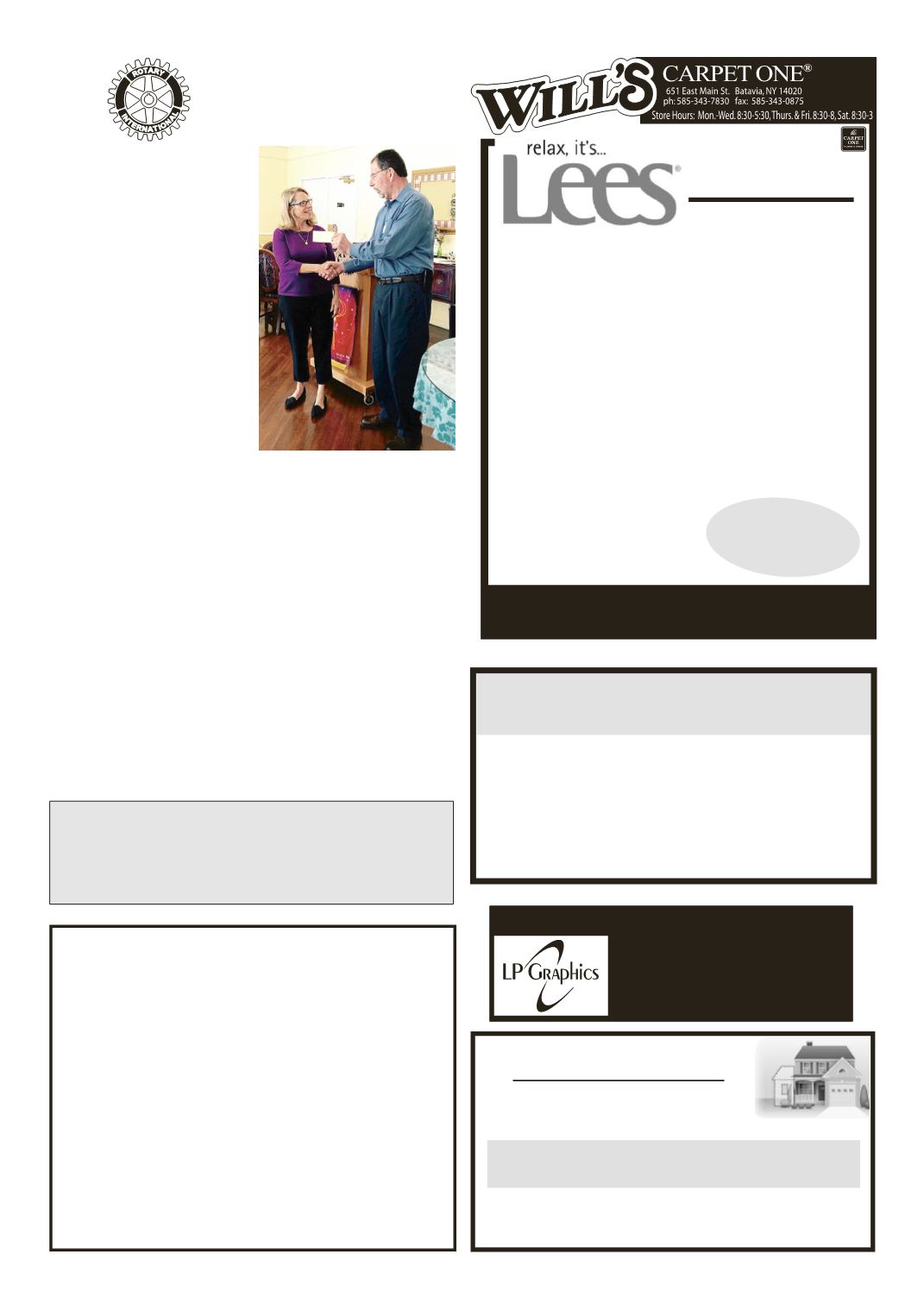 LE ROY PENNYSAVER & NEWS - MARCH 22, 2015
1 Church St., Le Roy, NY 14482
585-768-2201
FAX 585-768-6334
We Do
"Complete Carpentry Service"
M
ILLER
B
ROTHERS
B
UILDERS
Custom Homes • Remodeling • Additions
Roofing • Siding
DANIEL
MICHAEL
SUPPORT YOUR LOCAL ADVERTISERS!
They help sponsor the local news section of the Le Roy Pennysaver.
THANKS FOR YOUR SUPPORT!
PAINT & BODY TECHNICIAN
(BATAVIA, NY AREA)
• 3-5 years of experience
• Trucks / Construction Equipment
• Part-time or Full-time position
• Pay based on experience
• Competitive compensation package
Send resume or outline of experience to:
Paint & Body Technician
The ONE store for your perfect floor.
FLOOR
& HOME
• Lifetime - Stain & Soil Warranty
• 25 Year Texture Retention Warranty
• Free Estimates
• Financing Available To
Qualified Buyers
Hurry
Limited Time!
CARPET
Installed With a 6# Pad
ALL WORKMANSHIP GUARANTEED • INSURED
297-9097 • 768-7737
• Interior Painting
• Plaster/Lath Restoration
• Drywall & Drywall Repair
• Texture Removal
• Floors Stripped
& Refinished
• Old Ceilings &Walls
Made Like New!
Mike Darby's Patch & Paint
Our regular lunch meeting at-
tendance was spirited yet sparse
as President Randy Vink called
Our guests today were LHS
Seniors Sarah Ball and Sydney
Heywood. JaneMonaghan visited
from the Perry Club and Selby
Davis was on hand to accept a
donation to Grace's Kitchen.
upcoming Board and Area 14
meeting were met with the usual
excitement. Egg stuffing for the
Annual Community Egg Hunt
will be March 28th at the Moose
Club at 9:00 am. We usually are
done in 2-3 hours. All volunteers
and anyone needing community
service are welcome! David
Grayson, Mary Margaret Ripley
and Eric Fix were called on and
paid up for missed meetings while
Tracy Ford, Phil Weise and Tom
McGinnis had more make-ups
Birthdays for Mary Margaret
and Tom M. were celebrated
with a fine rendition of Home
on the Range. When Tom was
again called on to thank him
for 22 years of Rotary service,
he offered up that he has more
grandchildren on the way and
that Santa would be very busy
Our fining session began with
Tracy Ford, now that she has four
licensed drivers in the family.
Rob Murray paid postage for
President Randy having to deliver
Rob's mail. Chris Biviano paid
for violating the "sign and no
show" rule. Larry Boylan, taking
a break from Arizona to join us,
paid up for a photo of he and the
rest of the LHS Cross Country
team (circa 195?) apparently
prior to the advent of matching
uniforms. Selby Davis provided
an overview of Grace's Kitchen
for our impromptu program.
Please "Like" us on Facebook.
LeRotary
Notes