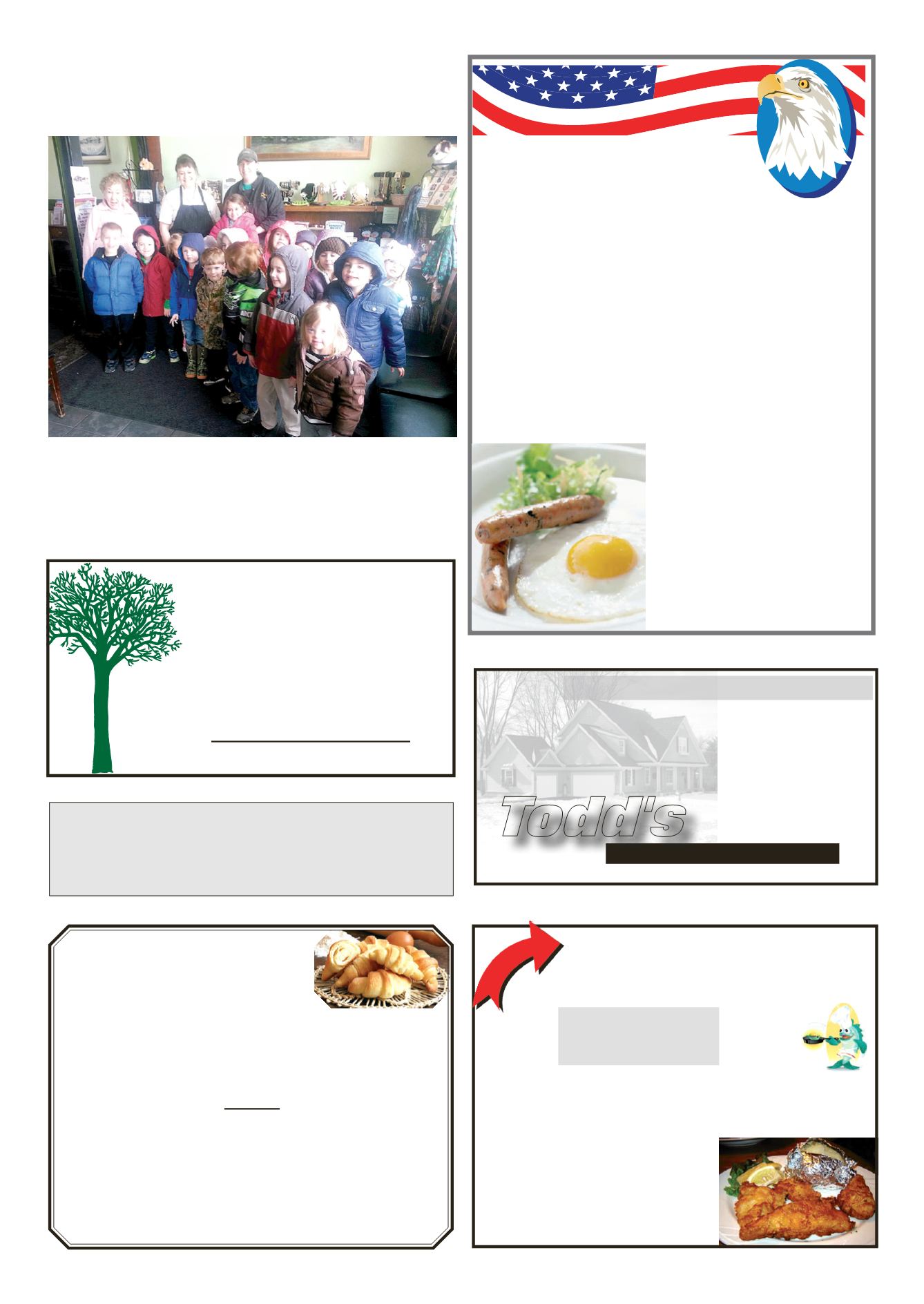 LE ROY PENNYSAVER & NEWS - MARCH 22, 2015
SUPPORT YOUR LOCAL ADVERTISERS!
They help sponsor the local news section of the Le Roy Pennysaver.
THANKS FOR YOUR SUPPORT!
New Homes • Additions • Garages • Pole Barns
Todd Carli • Phone 703-0964
Todd's
Decks • Windows • Doors
Kitchens • Baths
Ceramic Tile
Basement Finishing
Custom Shelves/Built-Ins
Siding • Remodeling
Roofing • Snow Plowing
FULLY INSURED
M
ALOVICH
E
NVIRONMENTAL
585.409.6509
Tree Service • Tree Trimming
Tree Removal • Tree Cabling
Stump Grinding
Full Insured • Free Estimates
We Now Accept All Major Credit Cards
Family
Owned &
Operated
Something Special For Your Dinners
Fundraiser for First Presbyterian Church, LeRoy.
Prepared and baked at the church.
To order: Phone 768-8553 or 506-2424 or
Available for pick up at Olmsted hall of Presbyterian Church
Thursday, March 26, 1-4 pm, Fri., March 27, 1-4 pm
or Saturday, March 28, 10 am to 2 pm
*recipe of Frances Cromwell (long-time LeRoy and church member,
d. 1982), these are a soft, rich-flavored crescent roll that freezes well.
Le Roy
Servicemen's Club
Sunday, March 29th, 2015
8:00 am – Noon
ALL YOU CAN EAT
American Legion Post, 576
53 West Main St., Le Roy, NY
Also serving a good time
with your local Veterans.
Dining Out at The
D&R Depot
The Preschool class from Love Bugs Preschool had a wonderful
time at the D&R Depot restaurant last week. Miss Jen, Miss
Nancy and Miss Tammy helped the children use proper table
manners, prepare a healthy snack and enjoy each other's com-
pany. Thank you D&R Depot for your hospitality.
585-502-5155
FISH FRY
4 pm til
Sold Out!
Fridays During Lent (including Good Friday)
Regular Fish Fry • Mini Fish Fry or Broiled Fish
Take Out Or Eat In