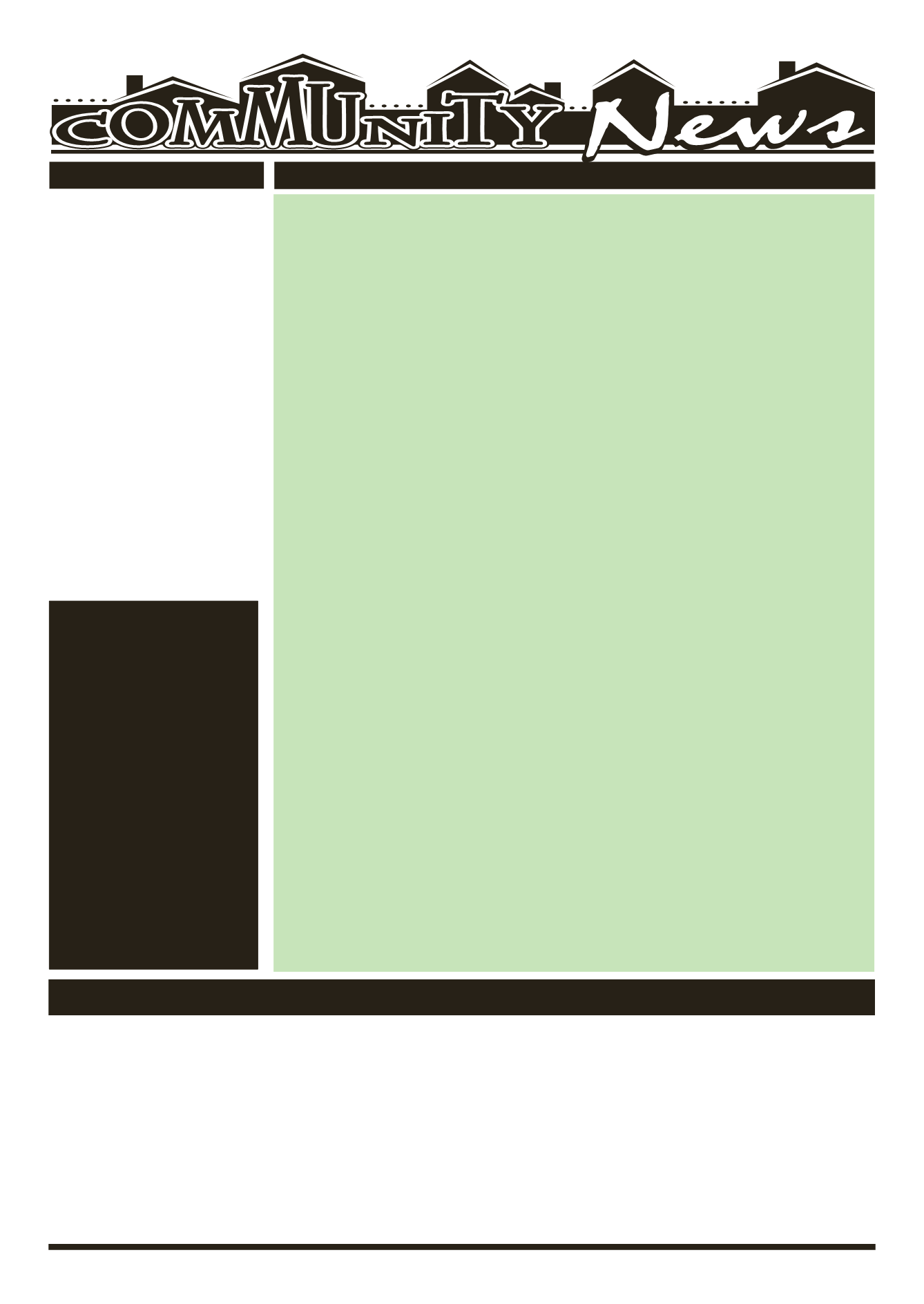 LE ROY PENNYSAVER & NEWS - MARCH 22, 2015
Le Roy
Pennysaver
All Genesee County residents, 60 and older, can take part in this week's activities at the Batavia Senior Center, 2 Bank St., Batavia. For more information, call 343-1611.
SENIOR CITIZENS ACTIVITIES
(March 23rd - March 27th)
WEEKLY EVENTS
OBITUARIES
Income Tax Preparation
by APPOINTMENT ONLY taking place between 9:00 am to 3:00 pm;
Arthritis Exercise
Cribbage
is scheduled to begin at 1:00 pm; Medicare 101 at 6:00 pm.
Income Tax Preparation
by APPOINTMENT ONLY taking place between 9:00 am to 3:00 pm;
Quilters Group
Euchre game
is scheduled to begin at 1:00 pm.
Tai Chi
is set to begin at 9:30 a.m. with
Gentle Fitness
Kimberly Meeting
Cribbage & Bridge
are scheduled to begin at 1:00 pm;
Univera Rep
Musical Keyboard Lessons
are scheduled for 2:30 pm.
Line Dancing and Art Class
is set to begin at 10:00 a.m.;
Euchre
is set to begin at 12:00 p.m.
SUNDAY, MARCH 22
AWANA Program at Penuel Christian Fellowship.
days 12:15 to 1:45 pm. Ages 5-17 broken into groups. Developing friendships.
Having fun. Learning about God. Safe environment.
Konnect Youth Group at Living Waters Church,
days from 6:30 to 8:30 pm for ages 12-18. "Bring Down all theWalls! Connect
with God and Connect with others." For more information, check us out online
at: livingwatersleroy.org/konnect-youth-ministry/
MONDAY, MARCH 23
TOPS (Take Off Pounds Sensibly)
meets Monday evenings at the LeRoy
Presbyterian Church, corner of Clay & Main Streets. Doors open at 6:00 pm
and meeting is from 6:30-7:15 pm.Visitors are always welcome. Call 585-768-
7103 for more information.
Weekly Storytime for two-year-olds at the Woodward Memorial
Library
on Mondays from 10:30-10:50 a.m. beginning January 12 through
March 9. Child must be two-years-old by the first session and accompanied
by an adult. Registration is required. Call 768-8300 or register online at
TUESDAY, MARCH 24
Preschool Storytime:
Every Tuesday at 11 am featuring stories, craft and
songs at Pavilion Public Library, 5Woodrow Dr., Pavilion. For info: 584-8843.
LCCP'sGRACE'SKITCHEN:
AFREEdinnereveryTuesdayevening,5-6:30pmat
theLeRoyUnitedMethodistChurch,10TrigonPark.ParkingavailableonTrigon
Park & the lots to the left and back of the Church. Handicapped Entrance in the
back of the Church. Takeout & delivery are available. For more info. contact
Selby Davis at 585-738-8882 or
Weekly Storytime for three, four and five-year-olds at theWoodward
Memorial Library
on Tuesdays from 6:30 to 7 p.m. beginning January 13
through March 3. Child must be three-years-old by the first session. Stories,
games,songs!Registration isrequired. Call768-8300orregisteronlineat
LeRoy Zoning Board of Appeals Meeting
(as necessary), 7:30 pm at the
Town Hall, 48 Main St. For further info. call 768-6910, Ext. 223.
WEDNESDAY, MARCH 25
Pavilion Baptist Church
youth programs
everyWednesdayevening.Allcommunitychildrenarewelcometoattend.AWA-
NA is a program for younger children Preschool (4 year old) through 6th grade.
It is a fun time of Bible Stories, games Bible memory and even refreshments.
WordofLife program is for teens7ththrough 12thgrade.We areeasily located
at10956SLakeRoad inPavilion.Call585-584-3179ext.#12 foranyquestions.
The Genesee Valley Civil War Roundtable
presents R.L. Murray on "Re-
demption of harper's Ferry Cowards". The meeting will take place onWednes-
day, April 15th at 7 pm at LeRoy United Methodist Church, 3rd floor on right
end of long sidewalk, 10 Trigon Park, LeRoy, NY. Discussion period will follow
program. New members are welcome.
Village of LeRoy Board Meeting
, 7 pm at theVillage Hall, 3West Main St.
LEGO & Game Club at the Woodward Memorial Library
grades K-6 from 3:15 - 4:15 p.m. Build with Legos, play board games with
your friends, or jam out on Guitar Hero. There is something for everyone.
Registration is NOT required.
Movie Showing of Unbroken
for adults at 5:30 p.m. at the Woodward
Memorial Library. 137 minutes. Registration is required. Call 768-8300 or
THURSDAY, MARCH 26
Genesee Veterans Support Network
(GVSN) supports the development
of Veterans focused AA meetings every Thursday, 6-7 pm at the First Baptist
Church, 306 E. Main St., Batavia. Meetings led by Mike W. & are open to
non-veterans as well. Handicap accessible. For additional information call
GRACE'S CLOSET: A clothing giveaway program
United Methodist Church, 10 Trigon Park, Le Roy, 9:30 am to 11:30 am every
Thursday. We have clothing for all ages. FALL & WINTER clothing now being
put in place. We are in need of WARMER clothing especially coats, jackets
boots, pajamas. We need bedding of all kinds especially blankets. We accept
donations be dropped off at the house next to the church. Please put all bags
INSIDE on the back porch. NO ELECTRONICS, COMPUTERS,DISHES, etc. Any
questions call the office 768-8980.
Town of LeRoy Board Meeting,
7 pm at the Town Hall Board Room, 48
FRIDAY,MARCH 27
Penuel Christian Fellowship,
One Step to Freedom addictions ministry, a
Christ Centered Addictions program, a weekly meeting every Friday at 7 pm.
Call the Church for more information at 768-6901 or 406-3863.
SATURDAY, MARCH 28
Spring Craft Fair,
from 10-2 pm at Riga Church, 7057 Chili-Riga Cntr. Rd.,
Churchville (Rt.33A@36). Multi-vendor and crafters to help you shop for
Easter or just to get you a "Spring" in your step ! Chinese auction to benefit
UPCOMING EVENTS
LCCP's Mommy & Me Playgroup: Every 2nd & 4th Friday,
Le Roy Physical Therapy (in the back gym). Any moms and their birth-kin-
dergarten children are welcome to come enjoy socialization, lunch, coffee,
structured games & free play.
Foodlink Free Mobile Food Pantry:
Morganville United Church of Christ
is partnering with Foodlink of Rochester to host a free mobile food pantry,
Tuesday,March31,4:30-6:30pmatMorganvilleUnitedChurchofChrist,8466
Morganville Road (off Rt 237, 1 mile north of Stafford). The exact food items
andquantityavailablearenotknown,butfreshproducewillbeavailable. Must
be 18 years of age, no income requirement or ID required. Must provide own
bags/vehicle to transport items to your home. Food provided on a first come,
first serve basis while supplies last.
Free Prom Dresses
- Girls from all surrounding areas are welcome to look
through the Hundreds of dresses on display. All dresses are FREE. Donations,
however, can be made for the girls at Tanzania's House of Hope. Monday and
Tuesday, March 30th and 31st from 6:30 p.m. to 8 p.m. LivingWaters Church,
30 Main St., LeRoy. For more information, please call 585-768-7570.
Community Calendar Submissions should be sent to:
BERGEN — Sandra Joan Bunnell, 72,
went to be with the Lord on Nov. 24,
2014, at her home surrounded by her
loving family. Family and friends are
invited to attend a Celebration of Life
event from 1 to 6 p.m. March 22 at the
Loyal Order of the Moose, 21 Bank
LE ROY — Robert J. Bump, 33, of Le
Roy died Friday afternoon (March 13,
2015) at his home. Memorials in his
memory are requested to the family.
LE ROY — Allan Lange Kinsley, 86, of
Palm City, FL. passed away Monday
(March 16, 2015) at Martin Memorial
Medical Center in Stuart. He was born
in Yonkers, moved to Le Roy. Memorial
contributions may be made to St. Vin-
cent de Paul Society, inAllan's memory.