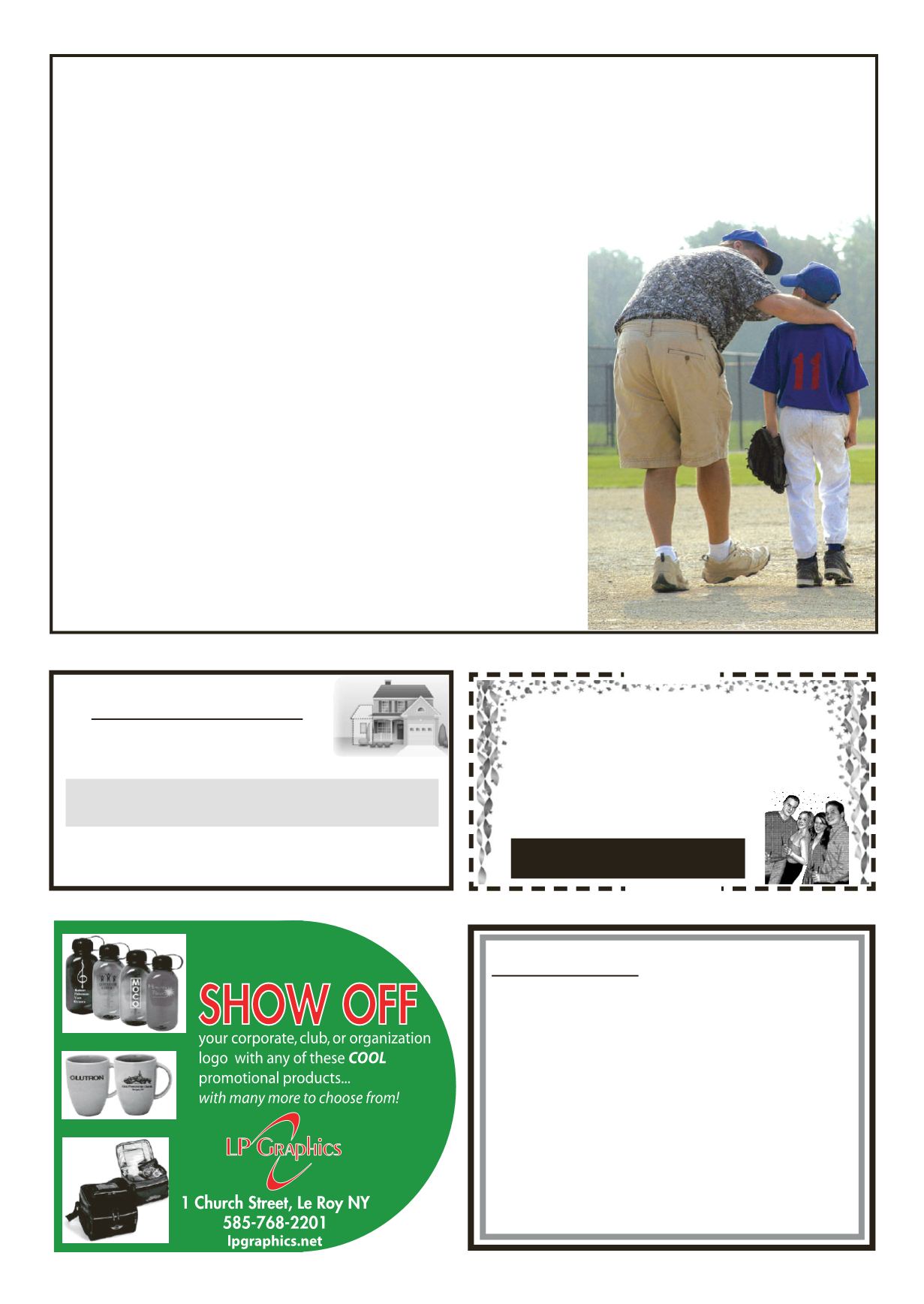 LEROYPENNYSAVER&NEWS -MARCH 1, 2015
"CompleteCarpentry Service"
M
ILLER
B
ROTHERS
B
UILDERS
CustomHomes •Remodeling•Additions
Roofing• Siding
DANIEL
MICHAEL
American Legion
Post 576
585-768-2090
CLIP&SAVE
CLIP&SAVE
Inside - 2RoomsAvailable
Outside - LargePavilion
DidYouMiss Instructional Baseball Registration?
DoNotWorry, You Still Have Time!!!
What is Instructional Baseball?:
Instructional baseball is an introductory baseball league run through LeRoy Little League.
Playersparticipate in theOpeningDayParadeandCeremonyonApril 25th. The rest of the season isafter theparadeevery
Tuesdayand Thursday (from6PM to7PM) behindWolcott Street School through theendof June. Players areprovidedwith
practices in which skill development, rules, teamwork, sportsmanship are of
utmost focus,with theultimategoal of having fun. Teamswill have "games"as
well,where theyare introduced to theactualgameofbaseball. Coacheswork
withplayersonall aspectsof thegame. Abatting tee isused inall practices for
swingdevelopment. Ingames, playerswill have theopportunity tohit off of a
coachpitching fromhisknee fromcloseproximity. However thereareno"outs"
and theplayermayhit off of the tee if theyneed to.
Who is Eligible?:
Any boy or girl who turns age 4, 5, or 6 duringCalendar year
2015. So thatmeans if your child is currently 3, but turns 4 later this year… they
Howdowe Register?:
LeRoy Little Leaguehas decided toextend instructional
registration throughMarch15thwithno late fee. To register,pleasevisit theweb-
the "Handouts" tabon the left sideof thepage. Thenpleasecontact Helene
Beswickat746-9480orviaemailat
you in turning innecessarypaperworkandpayment. First timeplayersmustbring
aCOPYof theplayers' birthcertificate
What is theCost?:
Registration fee is$50. Amandatorycandy fund
(sincenocandy leftafter first 2 registration sessions)of $25 isdueaswell
as part of our organization's fundraisingefforts. The late feehas been
waived throughMarch 15th.
Thank you for your interest… see you out at the ballpark soon!
foodlink
Grace's Kitchen
Tuesday,March 3rd
at 4:00pm
PleaseuseHandicap EntranceAt TheRearOfChurch