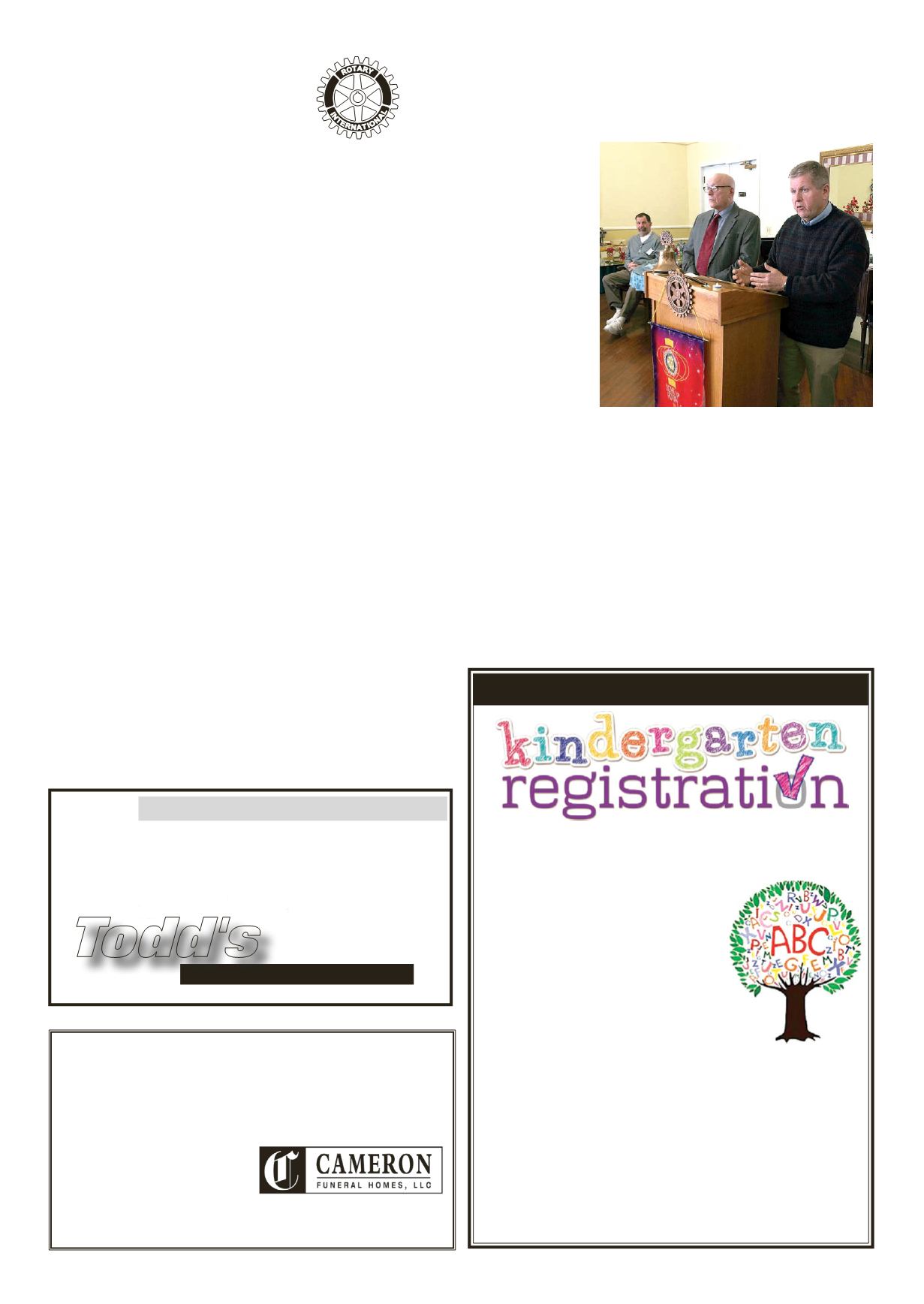 LEROYPENNYSAVER&NEWS -MARCH 1, 2015
HelpingFamiliesCelebrateaLifeLived
"Our FamilyServingYours Since 1907"
Trusted•Honest •Proven
Cameron, Brady&Steuber
FuneralHome
111Wolcott Street
LeRoy,NY14482
(585) 768-6800 •
Likeus onFacebook
NewHomes •Additions •Garages •PoleBarns
ToddCarli • Phone 703-0964
Todd's
Decks •Windows •Doors
Kitchens •Baths
CeramicTile
Basement Finishing
CustomShelves/Built-Ins
Siding •Remodeling
Roofing • SnowPlowing
FULLY INSURED
LeRotary
Notes
As winter's grip on Western
NewYork tightened, the Rotary
ClubofLeRoyenjoyedahotAsh
Wednesday lunch at TheGreens
of LeRoy. The sub freezing
temperatures couldn't chill the
warmth of our great Club and
thesunevenbroke throughas the
President Randy brought the
meeting to order promptly at
12:15 (or close enough). Fol-
Pledge ofAllegiance,
Prayer
Rotary 4-Way
Test
, President Randy asked for
recognition of today's guests.
Visitingus todayarePhilWeiss's
wifeLindseyandMaryMargaret
Ripley's son. Also joining us
today are Dane Spague and Jeff
Smith from the Victor L. and
Maudaline L. Blood Charitable
Foundation, who will be giving
The afternoon's announce-
mentswerehighlightedbyCarol
Baker receivingapin inacknowl-
edgement of being one "new
member" short of the bronze
level.Great job,Carol. Addition-
ally, LaurenHumphrey reported
that the LCCP has set the date
for this year's Dodgeball Tour-
nament,April18th. BobBennett
reminded us of the upcoming
LeRoy Ambulance Forum to be
held on March 7th at the Ma-
sonic Community Center. Sam
Vagg let us know that planning
for the "Graze to Raise" is well
underwaywith thenextplanning
The missed meetings roster
wasupdatedbyPresidentRandy.
Leading the list, PresidentRandy
cited himself, and then excused
the absents because of medical
reasons. Lynne Belluscio, Tony
Gugino. Sam Vagg, and Bob
Carlsen rounded out the list. All
hadmake ups or green cards.
The fining session began with
Lynne Belluscio calling for the
services of past president Bob
Bennett. Lynne brought to the
Club's attention that the Ameri-
can Flagwas in an improper po-
sition. PastPresidentBobswiftly
fined Randy $5.00 for poor flag
oversight. Jim Ellison was fined
$5.00 for his appearance on the
TheBatavianwebsite,promoting
the Genesee Chorale and there
upcomingperformance.Christine
Gephart was fined $5.00 for not
rewarding the "good samari-
dation"as it iscommonlyknown.
Dane Spague and Jeff Smith are
currently serving as boardmem-
bers for the foundation.Theyhad
askedsome time today, todiscuss
some recent events and changes
the foundation is experiencing.
Giving a brief history of Vic
Blood's charitable donations to
thecommunityofLeRoy. Tender
LovingFamilyCarehas recently
purchased the Blood home to
continue senior care in the com-
munity. This purchase has given
the foundation theopportunity to
giveout grants tocommunityor-
ganization.Groupsmustbeanot-
for-profitorganization, approved
501(c)(3) serving the residents
of LeRoy to apply. Maximum
grant $5,000. Applicationsmust
be submitted between Novem-
ber 1 and December 1, 2015.
Applications can be filed at the
at
Wolcott Street School
Wednesday,March 4, 2015
10:00 a.m. - 2:00p.m.
AND
6:00p.m. – 7:30p.m.
Thursday,March 5, 2015
10:00 a.m. – 2:00p.m.
• Your childmust be 5 years old byDecember 1, 2015.
• Youwill need your child's original BirthCertificate
Please visit ourwebsite at:
formore information on the registrationprocess
or call
(585) 768-7115 and speak toMrs.KarenVanAlst.
LeRoyCentral School District