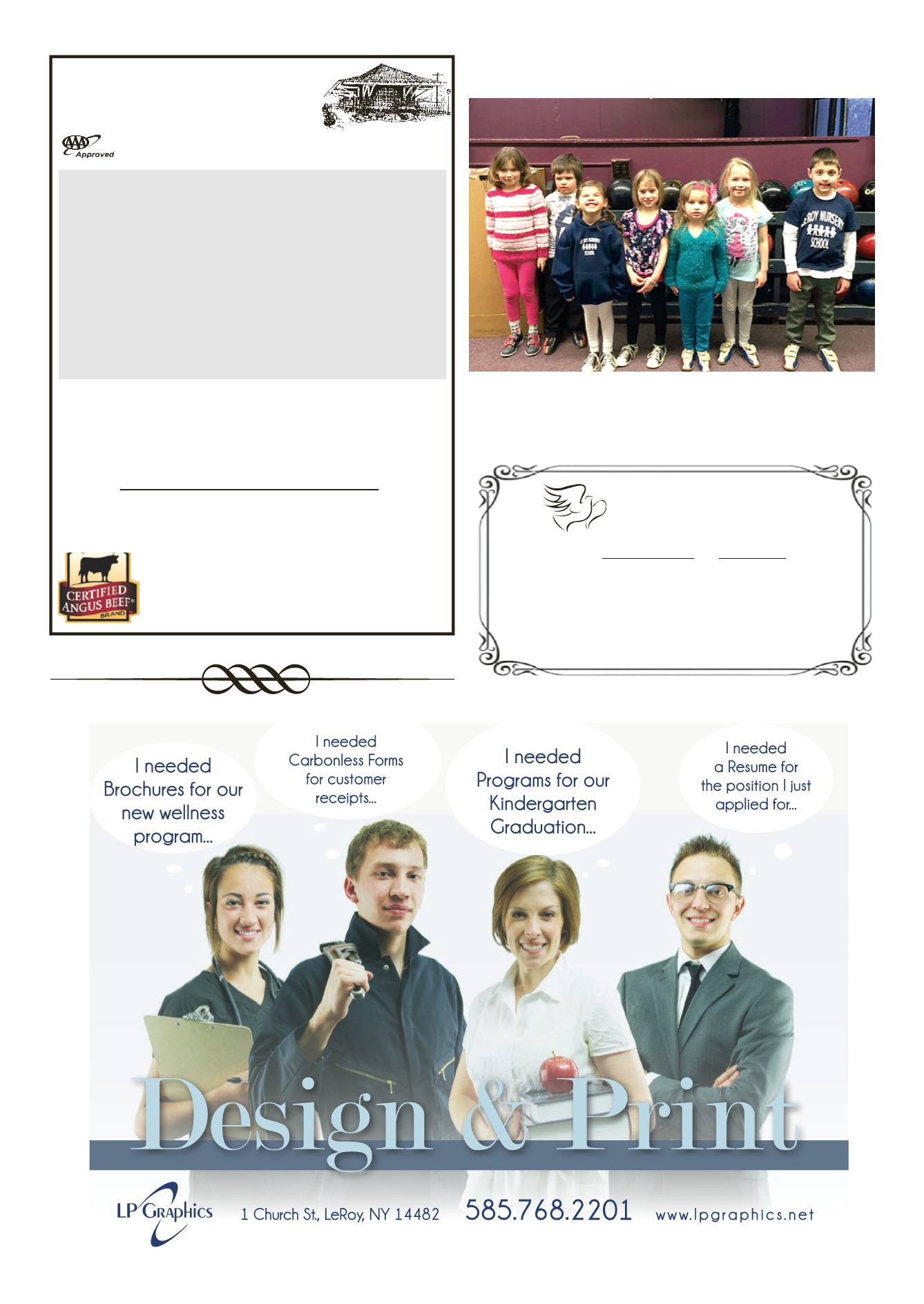 LEROYPENNYSAVER&NEWS -MARCH 1, 2015
D&RDepot
63LakeSt. (Rt. 19), LeRoy• 768-6270
Let'sMeetAt The ...
OpenForBreakfast, Lunch&Dinner - 7DaysAWeek 7am-9pm
Director /Owner
FuneralDirector
F
ALCONE
F
AMILY
Funeral&Cremation Service, Inc.
Director/Owner
"ALOCALFAMILY
CARINGFORLOCALFAMILIES"
LeRoyNurserySchool hada family& communityBowlingDay
at theAmericanLegion inLeRoy.Theyallbowled twogamesand
hadpizza. Itwasa funout of school function tohelpwithwinter
cabin fever.Picturedherearesomeof thechildren thatattended.
LNSBowling
SUNDAY,MARCH 1stDINNERSPECIAL
ROASTCHICKEN
(withhomemadedressing)Dinner - $17.99
Includes soup or salad, realmashed potatoes, veggie,
rolls andmuffins (and a delicious dessert)
SUNDAY,MARCH 8thDINNERSPECIAL
VIRGINIABAKEDHAMDinnerwith scallopedpotatoes
Includes soup or salad, rolls andmuffins
and banana cream pie for dessert
Depot's new sister company, DoubleLRentals - offering tables,
chairs, heaters, bars, linens, dishes& catering supplies for your
Get a 10%discountwhen youuseboth the
D&RCateringServices andDoubleLRental for your event.
Visit doublelrental.com, or call us at (585) 344-0023
TheD&RDepot Restaurant is nowa
CertifiedAngus Beef Steakhouse!
If you'venever enjoyed theamazingquality,
flavor & tenderness of CAB, youwon't
believe thedifference.
Askyour server if youhave
anyquestions.