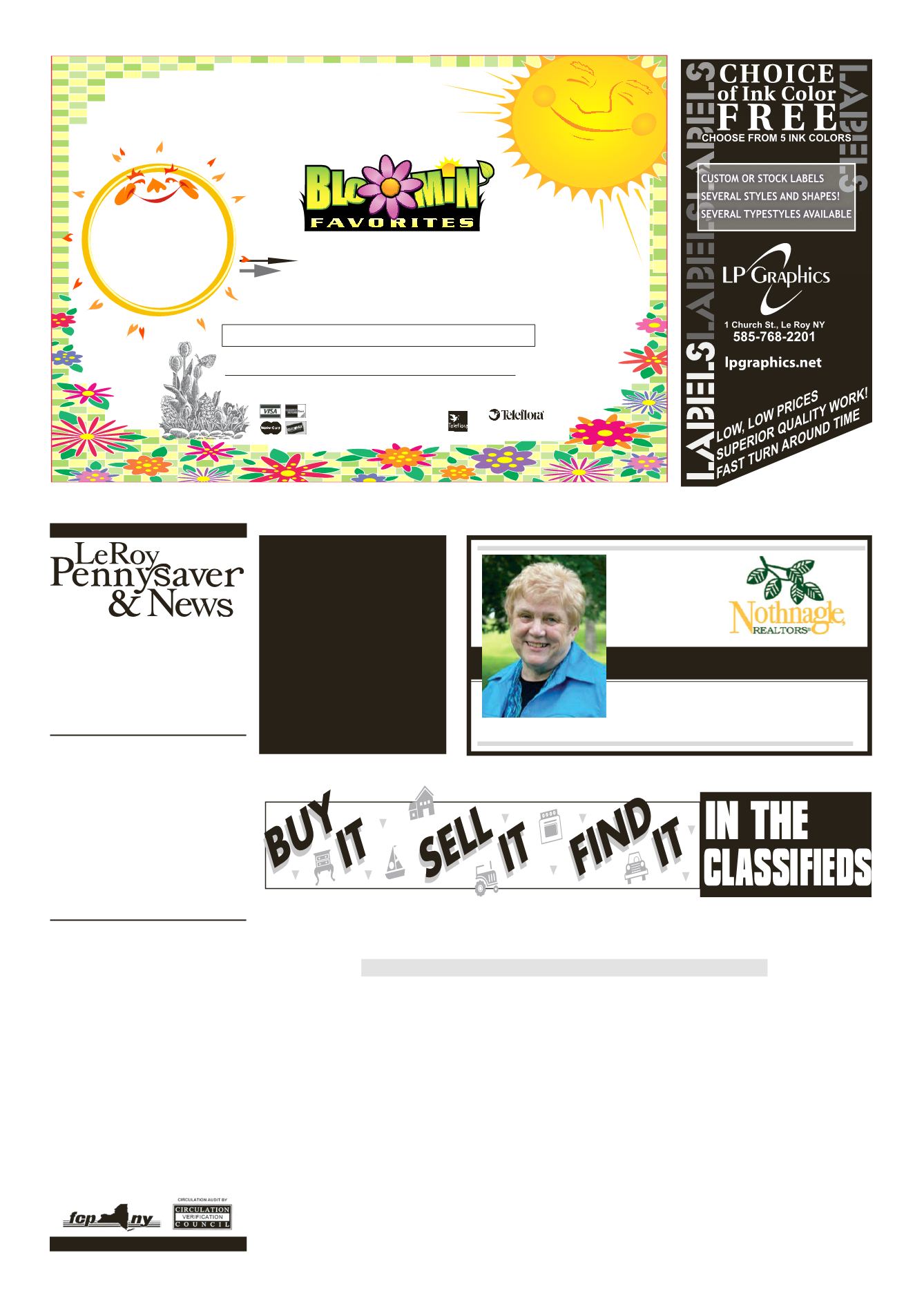 LEROYPENNYSAVER&NEWS -MARCH 1, 2015
LeRoy'sBestAdvertisingMedium
The Le Roy Pennysaver will not knowingly accept or
publish advertising which is fraudulent or misleading
in nature. The publisher reserves the right to reject or
cancel anyadvertising.TheLeRoyPennysaverassumes
no financial responsibility for typographical errors in
advertisements, but if at fault, will reprint the portion of
the ad in which the error appears. Style, size of type
and locationof advertisement are left to thediscretionof
the publisher. The opinions expressed in this publication
are not necessarily those of the publisher. We cannot
guarantee the returnof photographs.
CALL
768-2201
NANCYCROCKER
LicensedReal EstateSalesperson
570EastMainStreet •Batavia, NewYork 14020
Cell: 585.314.7982 • Fax 585.343.8502
Multi-MillionDollar
Producer
Notes From TheMayor's Office
byGreg "Porp"Rogers
Mayor
Well it has definitely been a
recordsettingwinter.Alongwith
thecold, thesnow fallhasposeda
significantproblemwithplowing
and where to put the snow. It is
still thepropertyowner's respon-
sibility to keep the sidewalks
clear.Whileyes, theVillagedoes
sendaroundasidewalkplow, that
service is strictly a courtesy, in
an effort to enhance the quality
of life. Unfortunately with the
amountofsnow, theplowhashad
a hard time getting through, so
any help you can give is greatly
Take heart, signs of spring is
here, theshamrockshake isavail-
ableatMcDonald's,andSaturday
is try outs for Little League, the
numbers are up to the point a
team or twomay be added. It is
great to see this kind of activity.
Genesee County sales tax is
down thisyear. Oneof thefactors
is gas prices; while it's great to
get the relief at the pump it hurts
theoverall sales tax in theCoun-
ty. 20% of the County's sales
tax comes from the purchase of
gas. This is important because
theCounty sendsaportionof the
sales tax revenue to theTownand
Villages tohelpwith theirbudget.
So please try to shop locally and
ifyoucan'tbuy ithere, try tokeep
"Never lookdownonsomeone,
unless you're helping him up"
MakeADull Day For Someone
Tulips, Iris, Mini Carnations
BB&Greens
(in a vase) $35.00
Lakestreet Florist&Gift Shoppe
WeDeliver To: LEROY, Byron, Bergen, Caledonia,Mumford, Pavilion,Wyoming, Stafford&Batavia
TelefloraWireServiceForFamily&FriendsOut of Town
768-7720
110LakeSt., LeRoy
HOURS:
M-T 9-5:30
F 9-6:00
Sat. 9-4:00
LookatourWEBSITE for lotsof ideas