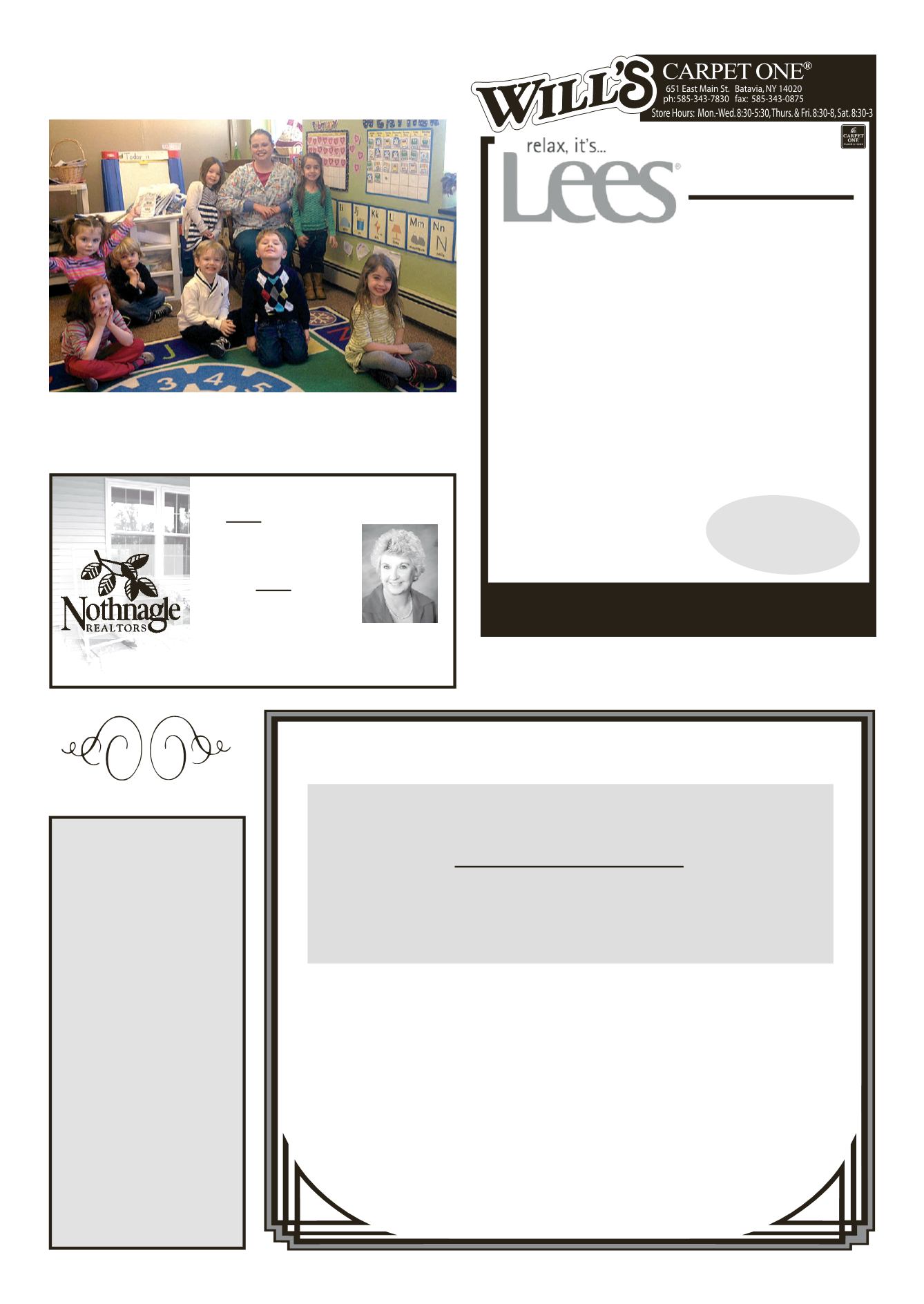 LEROYPENNYSAVER&NEWS -MARCH 1, 2015
Batavia
585-343-6750
NOW is theBEST time
toBUYwith the interest rates
at their lowest!
Don't wait
toBUY -
call
LindaBeaumont
for all your real
estateneeds.
LindaBeaumont
Home (585) 768-6315
LicensedReal Estate
Salesperson
Multi-MillionDollar Producer
TheONE store for your perfect floor.
FLOOR
&HOME
LeRoyBusinessCouncil
Community Educational Forumon
The LeRoyAmbulance Service
Saturday,March7th
9:00am
MasonicCommunityCenter
Public is encouraged toattend.
The Townof LeRoycurrentlyprovides a subsidy to
Therehas beenaneed to increase the subsidy
to keep the serviceoperational.
Pleasecomeand listen toall the facts regarding the future
of the LeRoyAmbulance Service,
This effectsALL taxpayers in LeRoy.
• Lifetime - Stain& SoilWarranty
• 25Year TextureRetentionWarranty
• FreeEstimates
• FinancingAvailableTo
QualifiedBuyers
Hurry
LimitedTime!
CARPET
InstalledWith a 6#Pad
Special
PlotOwners'
Meeting
ForTrustee
Election
Thursday,
March19, 2015
SunshineNurserySchool'sPre-Kchildren learnedaboutdental
hygiene through scienceexperimentsand lessons fromavisiting
hygienist.Sunshine friendsgiveeachother lotsofreasons toshow
off theirbeautiful smiles!
SNSCelebratedNat. Children's
DentalHealthMonth