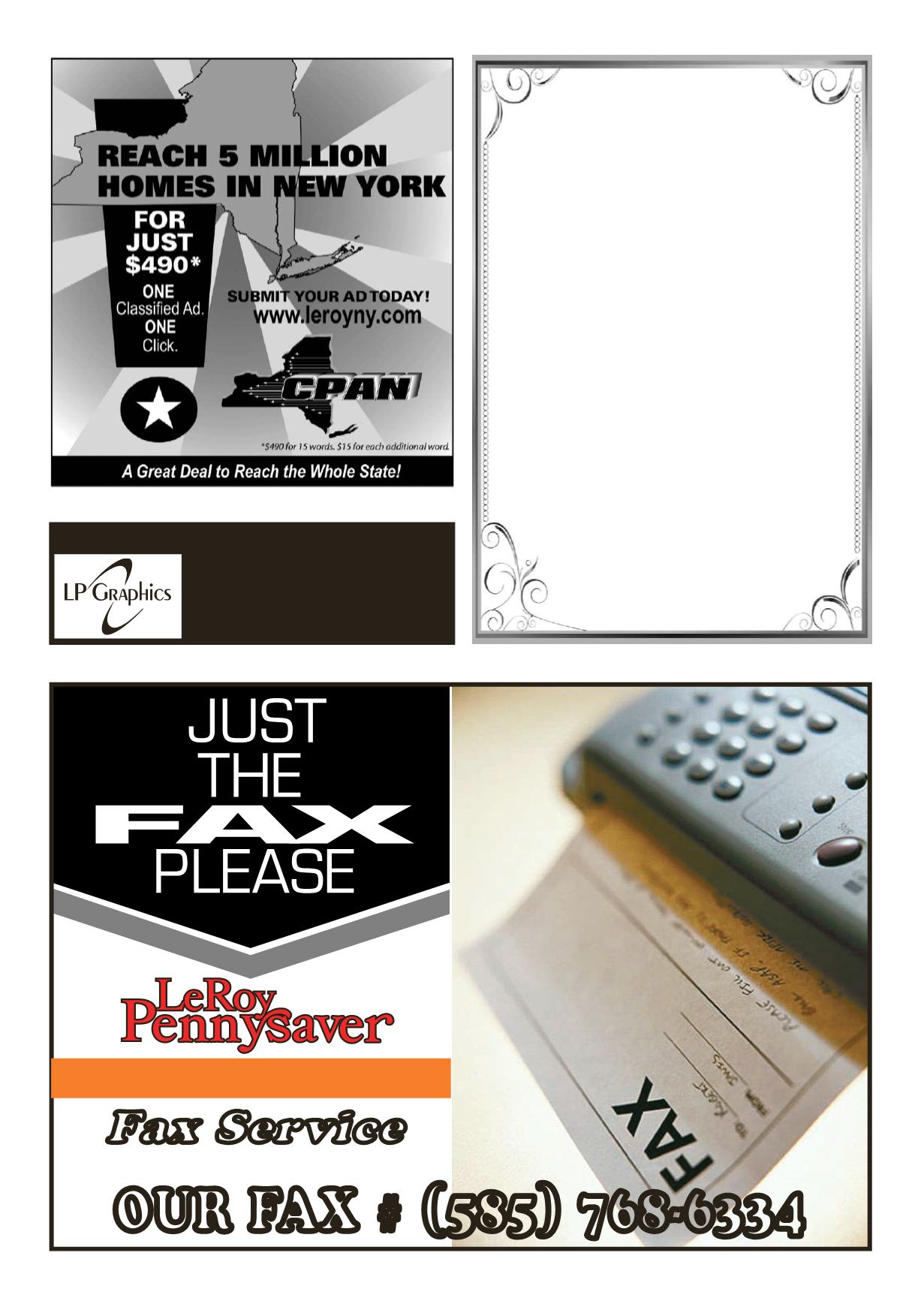 LEROYPENNYSAVER&NEWS -MARCH 1, 2015
1ChurchSt., LeRoy, NY14482
585-768-2201
FAX 585-768-6334
WeDo
JohnW.Metzler, age 66, of LeRoy,
passed away onFebruary22, 2015 at theWilmotCancerCenter
of StrongMemorialHospital, inRochester.
Hewas born inBatavia,NewYork andwas predeceased
by his parents, Fred andDorothyMetzler of LeRoy
and infant twin sisters.
Hewas a self-employedmason prior to his retirement
and livedmost of his life inLeRoy.
He is survived by a son,Michael (Lisa)Metzler of Rochester
and grandchildren, Alyse andMichael, Jr.
He is also survived by a brother,David (Mary)Metzler and
nieces, Elizabeth (Marcus)Gallo of BroadviewHeights,Ohio
andMeredithMetzler of LosAngeles, California andnephew,
Peter (Katie)Metzler of Batavia.
There are no prior visiting hours. Amemorial servicewill an-
nounced at a later date. In lieu of flowers,memorials in John's
namemay bemade toGeneseeCancerAssistance,
16Bank Street, Batavia,NewYork 14020 or to theWilmot Cancer
Center of StrongMemorialHospital, Attn:Office ofGift and
DonorRecords, P.O. Box 270032, Rochester,NewYork 14627.
Burialwill be inStaffordRural Cemetery, Stafford.
To leave a condolence, share a story or light a candle,
please visit
Arrangements are being completed by the
H.E. Turner&Co. FuneralHome
403EastMainStreet, Batavia.
1ChurchSt., LeRoy, NY • (585) 768-2201