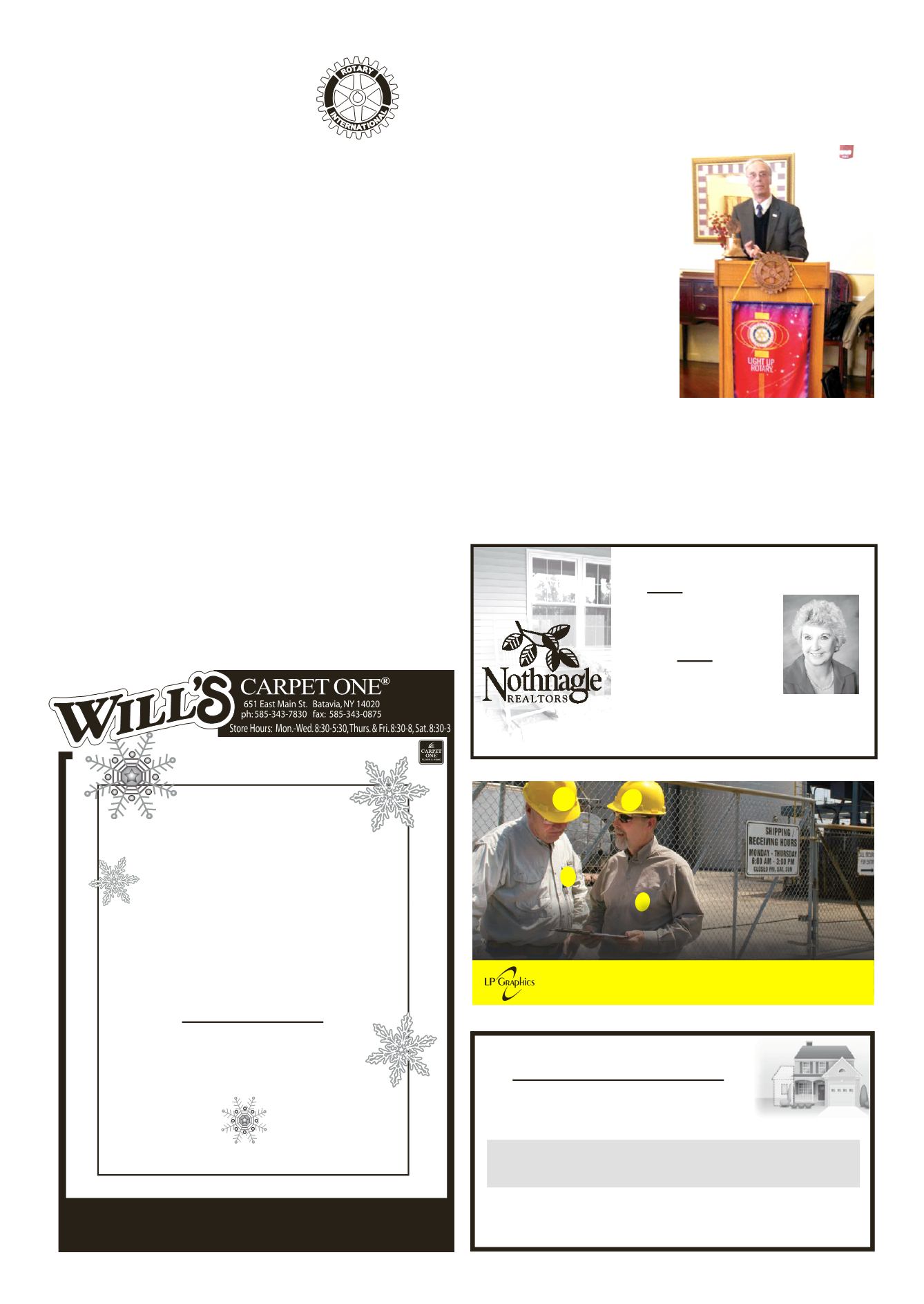 LEROYPENNYSAVER&NEWS - FEBRUARY 15, 2015
"CompleteCarpentry Service"
M
ILLER
B
ROTHERS
B
UILDERS
CustomHomes •Remodeling•Additions
Roofing• Siding
DANIEL
MICHAEL
Batavia
585-343-6750
NOW is theBEST time
toBUYwith the interest rates
at their lowest!
Don't wait
toBUY -
call
LindaBeaumont
for all your real
estate needs.
LindaBeaumont
Home (585) 768-6315
LicensedReal Estate
Salesperson
Multi-MillionDollar Producer
LeRotary
Notes
TheONE store for your perfect floor.
FLOOR
&HOME
Remnants!
Remnants!
Remnants!
LargeSelection ofCarpet Remnants
Small andLargeSizesAvailable.
Remnants6'WideandUnder -25¢sq. ft.
We canmake area rugs to your size.
Binding available orwe can installwall-to-wall.
"ODDLOT"
$
1.00
Cash&CarryOnly
SaleEnds Feb. 28th
FREE
(Limit 6)
Great forDogBeds,
Boots orCarMats
Another harsh winter day got
the best of theClub as President
Randycalled themeeting toorder
to a much smaller crowd than
typically attends theWednesday
afternoonmeeting at theGreens
of LeRoy. Those who braved
the weather proudly stood for
the Pledge, Prayer, and Four
Ourguests,LeRoyHighSchool
SeniorsHaleyStein andVictoria
Peete, received awarmwelcome
from our members. They were
joined by our program speaker,
RickEnsman, theDirectorofDe-
velopment and External Affairs
at GeneseeCommunityCollege.
It was declared that the 1st
prize winner of the Super Bowl
the55"TVand2ndprizewent to
TamiTorreywinning theTailgate
Package.BobBennettannounced
the rescheduling of the LeRoy
Business Council meeting from
February 2 to February 9 and
will beheldatTheMoosebegin-
ning at 5:30 pm. Martha Bailey
announced that the "Love Our
Veterans" event being held at
Castilone Chrysler Dodge Jeep
Ram in Batavia, will be hosting
a live broadcast by WBTA on
February 21 from11am to1pm.
For more information, visit the
station's website at wbta1490.
com. Reminder that the Valen-
tine's Day Tea and Dance will
be held at the American Legion
inLeRoyonFebruary14th from
1-4 pm. President Randy is still
looking for historical items from
MarthaBaily,TamiTorrey, and
Randy Vink avoided fines from
missedmeetings by announcing
alternatemeetingsattended. Bob
Bennett was fined for his 29th
Anniversary with Rotary. Tom
McGinnis and Tracy Ford were
given steep fines for posing to-
gether for a picture at the Super
Bowl raffle. Christine Gephart
was happy to accept a fine for
receiving a reprieve from jury
duty. Lastly,TomCox reluctant-
lyacceptedafineonbehalfofhis
wife, (RotarymemberKimCox),
for her purchase of a new car.
lightened his audience with his
presentation on the twelve facts
that we might not know about
the college. A few of the high-
lights include the fact that GCC
isoneof the fewcitizen-founded
colleges in the country, boasting
many "Academic Firsts" includ-
ing the invention of Network
Classrooms. They offer a long
list of valuableprograms such as
GeneseePromise Plus,whichof-
fersup to two freecollegecourses
to first-time college bound indi-
viduals as a way to further the
prospectofattendingcollege.We
heard about the college's nation-
ally recognizedofferingofonline
coursesand theirpartnershipwith
Erie Community College in a
Remember to "like" Rotary
Dress Shirts, Polos, Vests, Hats, Jackets, Etc.
1ChurchSt.
LeRoy, NY14482
585.768.2201