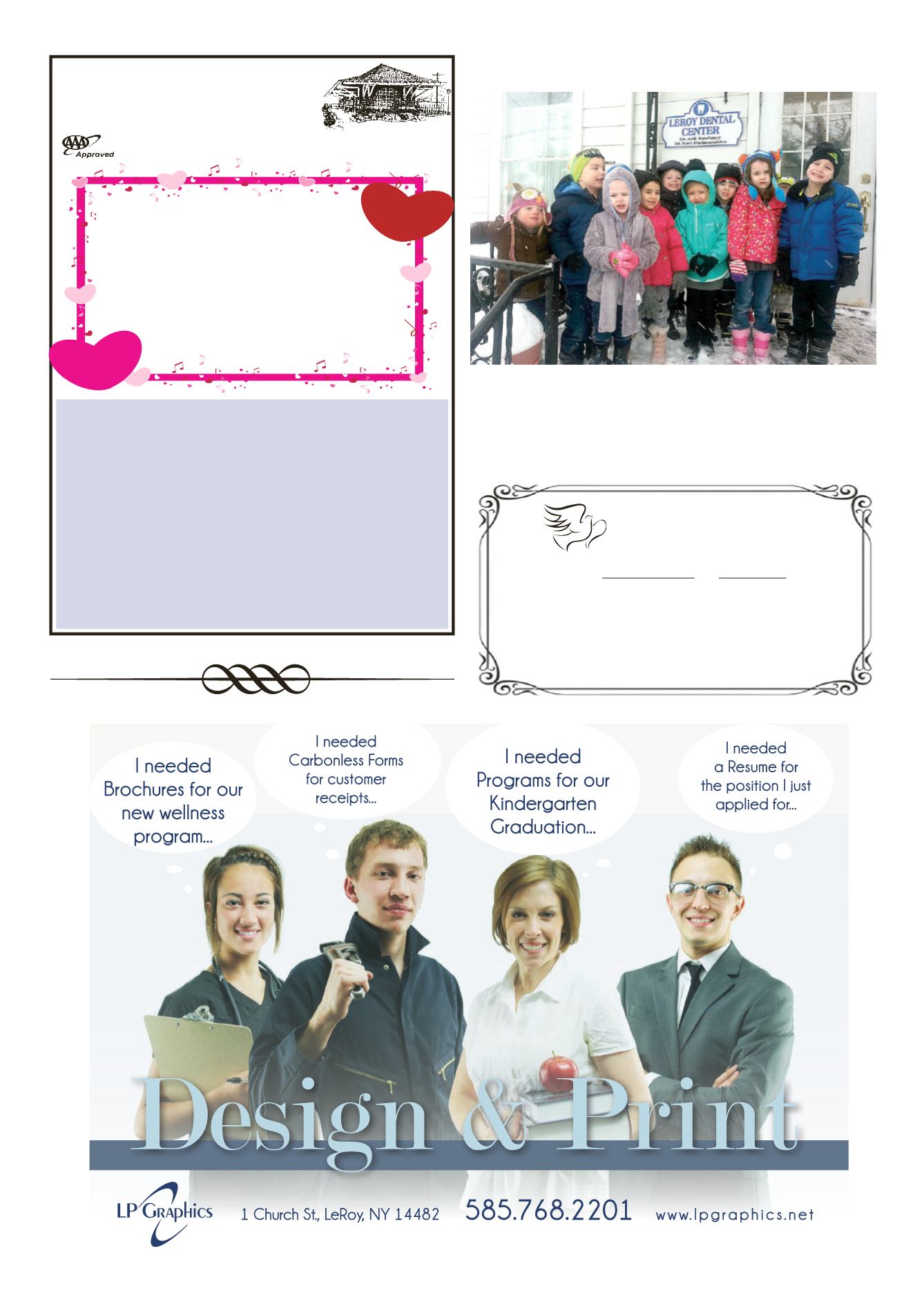 LEROYPENNYSAVER&NEWS - FEBRUARY 15, 2015
D&RDepot
63LakeSt. (Rt. 19), LeRoy• 768-6270
Let'sMeetAt The ...
OpenForBreakfast, Lunch&Dinner - 7DaysAWeek 7am-9pm
Director /Owner
FuneralDirector
F
ALCONE
F
AMILY
Funeral&Cremation Service, Inc.
Director/Owner
"ALOCALFAMILY
CARINGFORLOCALFAMILIES"
Thursday, Feb. 12th-Sunday, Feb. 15th
VALENTINE'SWeekendDinnerSpecial
FILET andSHRIMPLOVERS'DINNER
includes soup or salad, a tender baconwrapped
filetmignonwith shrimp scampi, coconut shrimp
and deep fried shrimp, potato, beverage
and our decadent delight dessert for $26.99
Our regulardinnermenu
will alsobe available.
SUNDAY, FEBRUARY 22ndDINNERSPECIAL
ROASTPORKDinner
withhomemadedressing - $17.99
Includes soup or salad, potato, rolls andmuffins
and apple crisp for dessert.
Andat 5pmwe have the secondappearance of our
ol' timemusicians
JerryCurry, AlMastrolio, DaveSantaMaria, joined by
Doug andEricKelly (fromKelley'sOldTimers).
Reservations are necessary for this show and there is a
$5.00 cover charge for the benefit of themusicians.
Here is the Love Bugs 3Day Pre-K class at the Le RoyDental
Center. The children learned all about cleaning their teeth and
makinghealthy choices.Theyalsohada chance to seewhat the
dental hygienist does duringa cleaning.Thisweek in the class-
roomwedidseveral funandeducationalprojectswhile learning
all about dental health.
DentalHealthMonth