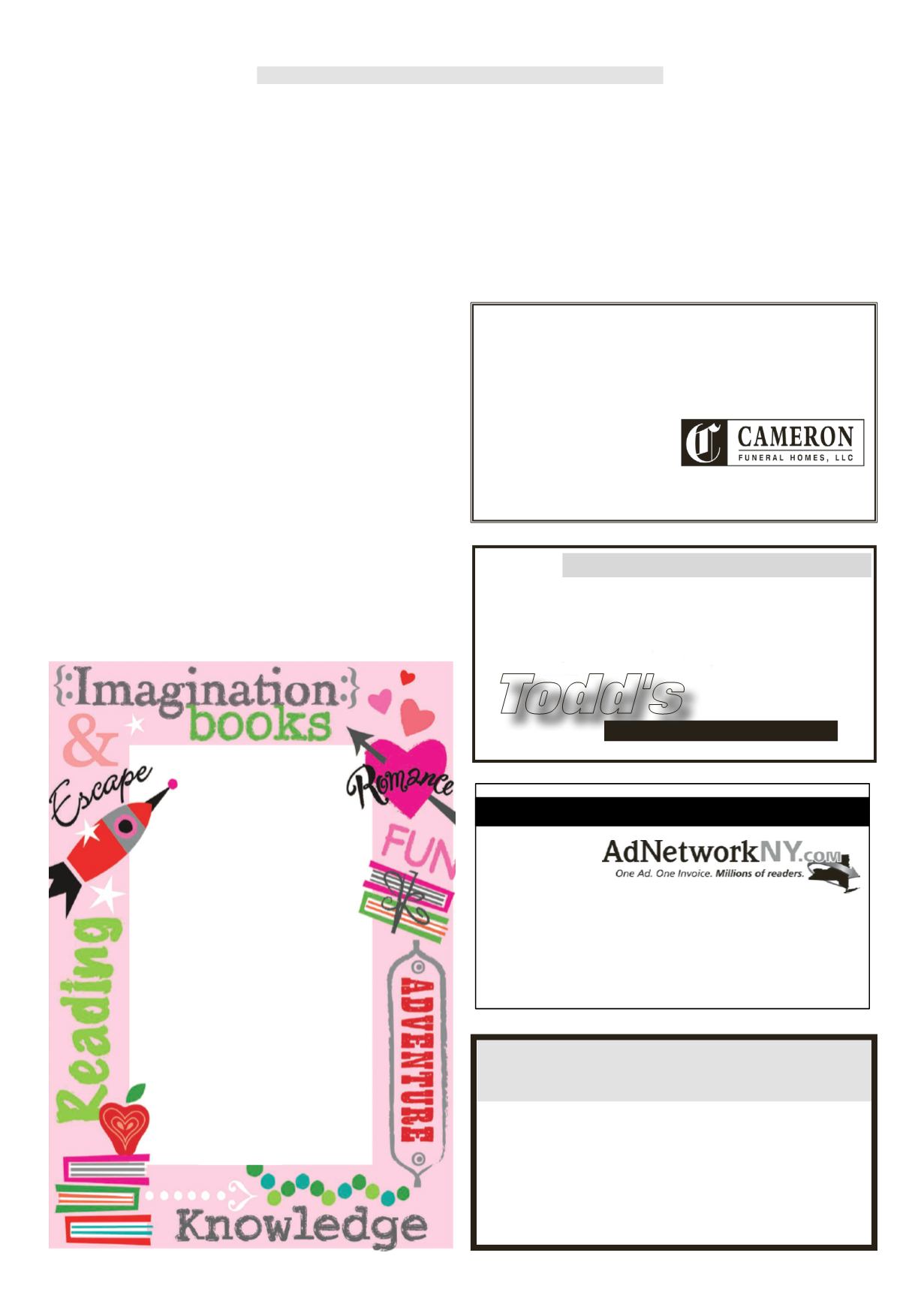 LEROYPENNYSAVER&NEWS - FEBRUARY 15, 2015
HelpingFamiliesCelebrateaLifeLived
"Our FamilyServingYours Since 1907"
Trusted•Honest •Proven
Cameron, Brady&Steuber
FuneralHome
111Wolcott Street
LeRoy,NY 14482
(585) 768-6800 •
Likeus onFacebook
NewHomes •Additions •Garages •PoleBarns
ToddCarli • Phone 703-0964
Todd's
Decks •Windows •Doors
Kitchens •Baths
CeramicTile
Basement Finishing
CustomShelves/Built-Ins
Siding •Remodeling
Roofing • SnowPlowing
FULLY INSURED
ALLWORKMANSHIP GUARANTEED • INSURED
297-9097 • 768-7737
• InteriorPainting
• Plaster/LathRestoration
•Drywall&Drywall Repair
•TextureRemoval
• Floors Stripped
&Refinished
•OldCeilings&Walls
MadeLikeNew!
MikeDarby'sPatch&Paint
UsedBook Sale
Saturday, February 14 -
Saturday, February21at Noon
Paperbacks&Children'sBooks: 50 cents each
SaleHours
Saturday, Feb. 14 - 10 a.m. to 4 p.m.
Monday, Feb. 16 –Closed for Presidents' Day
Tuesday-Thursday, Feb. 17, 18& 19
Friday, Feb. 20 - 9 a.m. to 5 p.m.
Saturday, Feb. 21 - 10 a.m. to 12Noon
(BagSale – a bag of books for $1.00)
Friends of theWoodwardMemorial Library
may purchase items early on
Friday, February 13 from 3:30 to 5:00 p.m.
Friendsmemberships are available theday
of the sale for only $5.00!
byKimCox
Superintendent of Schools
With the frosty cold days of
winter upon us, we have turned
our thoughts towardplanning for
the 2015-16 school year. One of
themost difficult jobs is creating
Our school year is developed
withavarietyofstakeholdersand
needs tomeetavarietyofcriteria.
The most important aspect of
the calendar is insuring 181 in-
structional days for our students.
These days include testing days
and parent teacher conferences.
Another constraint is that we
need tomirror theGVEPBOCES
calendar. It is important that our
students attending the programs
at BOCES have the maximum
amountof instructionaspossible.
Next, youneed to look at holi-
days, staffdevelopmentdays,and
most importantly, theopportunity
for continuous learning time. As
we look ahead to the 2015-16
calendar, we see some struggles
right away. Labor Day is the
latest that it can be on Monday
the 7th of September, almost a
week later than our start with
students this year. To remedy
this, we will begin the 2015-16
school year with students on
Wednesday,September2,2015,
before the LaborDay holiday
WewillhaveschoolWednesday,
September 2nd and Thursday,
September3rdand thenhaveFri-
day,September4thandMonday,
September7thoffso familiescan
still have the long weekend. It
mightnot seem that twodayscan
make much of a difference, but
when you look at all the factors
that need tobeconsidered in this
These two days will allow for
teachers and students to develop
their classroom routines and re-
lationships.WhenSeptember 8th
comes around, the new school
year jitters will be a thing of the
past andstudentsandstaffwillhit
theground running.Thisstartdate
alsopreservessomeotherdaysoff
in the year, such as the February
breakand thedaybeforeThanks-
giving that our families and staff
have toldus they reallyappreciate.
This is abit of achange for the
Le Roy Central School District,
but it has become a common
practice in many other school
districts.TheBoardofEducation
will adopt the calendar at the
February 26th Board meeting.
Ensuring that the 181 student
instructional days are the most
productive theycanbe,willbetter
allow us to achieve our mission
world-class edu-
cation, where all children are
empowered to succeed.
Thank you for your continued
support of our students and our
How farwill yougo todobusiness?
Cover all or
regionsof
NewYorkState
One call
OneClick
Oneorder
ClassifiedAds -­‐DisplayAds -­‐ FlyerDelivery
Visit adnetworkny.comor
Call this paper or 1-­‐877-­‐275-­‐2726