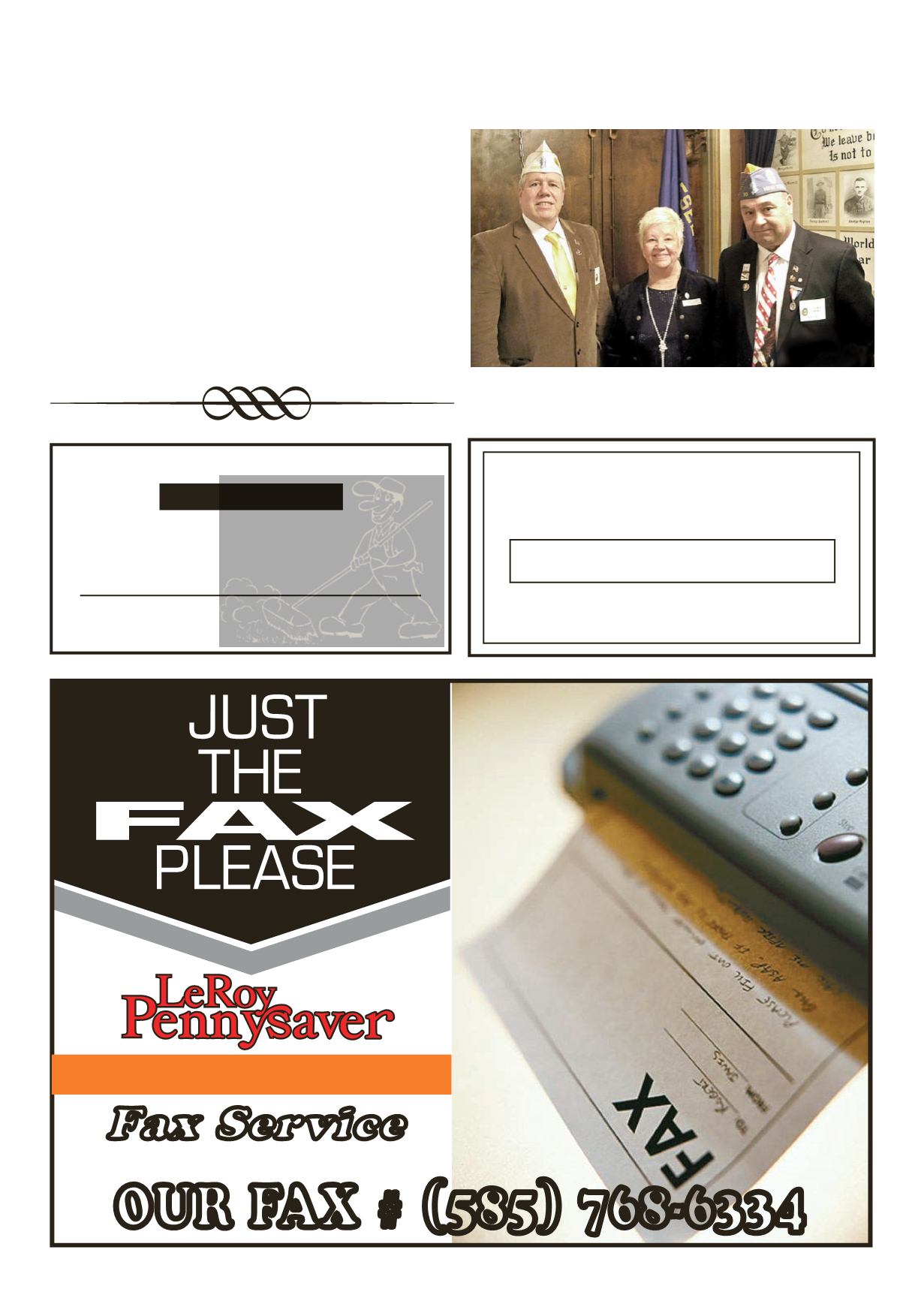 LEROYPENNYSAVER&NEWS - FEBRUARY 15, 2015
1ChurchSt., LeRoy, NY • (585) 768-2201
Plumbing • Heating
Installation&Repair Service
For All Residential &Commercial Work
CleaningService
•Carpet &UpholsteryCleaning
•Spot Cleaning&Odor Removal
•Tile&WoodFloor Cleaning&Waxing
•Complete Janitorial Services
On Monday evening February
9, 2015, Botts-Fiorito American
Legion Post #576 Command-
er Donald Shafer and Auxilia-
ry President Regina Diskin in
conjunction with the Genesee
County American Legion and
Sackett-Merrill-White Post 575,
Bergen; Glenn S. Loomis Post
332, Batavia, andHiramG. Luh-
manPost 626,Oakfield/Alabama
hosted the NYS Commander's
NYSAmericanLegionGeneseeCo. Commander's
Visit andDinner
Left to right -FrankJ. Peters,NYSLegionCommander;Diane
Gerber, NYSAuxiliary President; and CharlesM. Depo, NYS
Sons of theAmericanLegionDetachmentCommander.)
Frank J. Peters, Commander,
ican Legion; Diane Gerber,
President, Department of New
YorkAuxiliary; andCharlesM.
Depo, Detachment Command-
er, Department of New York
Sons of the American Legion
visited theBataviaVAMedical
Center and NY State Veterans
Home in the afternoon prior to
attending and speaking at the