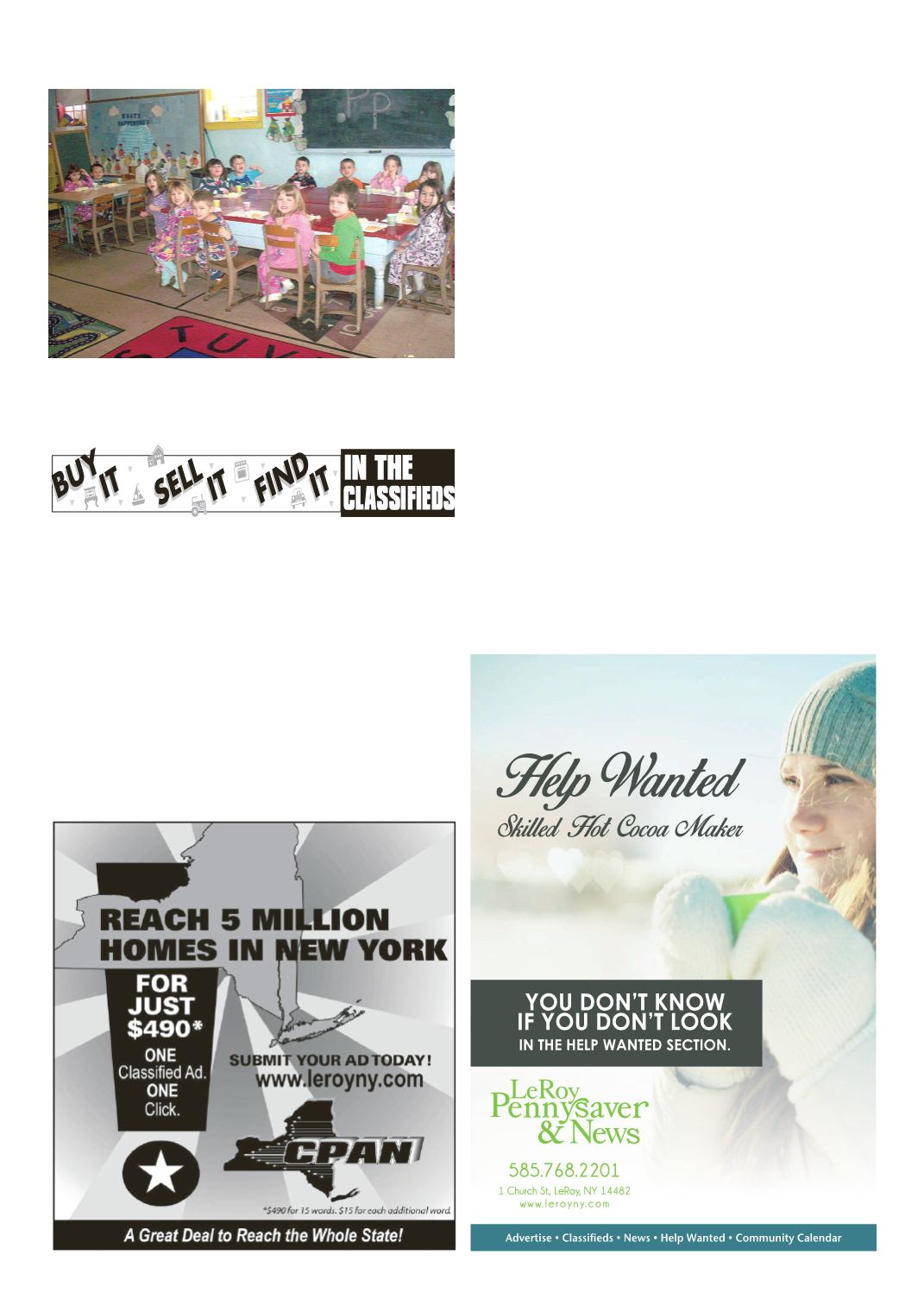 LEROYPENNYSAVER&NEWS - FEBRUARY 15, 2015
KatherineE.Patton
has been named to the Dean's
List at Daemen College for the
Fall 2014 semester. Matriculat-
ed, undergraduate students who
attain a grade point average of
3.30orbetter inasemesterareel-
igible for thisstatus.Katherine is
a freshmanandstudyingnursing.
Jake M. Whiting
was admitted to practice law in
NewYork State on January 14,
LeRoyNurserySchool is learning the letterP.The childrendid
projects thatstartedwith the letterPandatesnacks likepretzels,
popcorn & peanuts. They concluded the week with a pajama
party. Picturedhere is the 3DayPre-K class at snack time.
LetterP
Ranzenhofer and Assembly-
man Stephen Hawley have in-
troduced special legislation,
S.1292/A.4367, in theNewYork
StateLegislature toallow theuse
of rifles for big game hunting in
"In several areas of NewYork
State, sportsmen are allowed
to hunt deer with rifles and this
change in law would allow the
useof rifles inGeneseeCounty,"
said Ranzenhofer. "As the this
year's session progresses, As-
semblymanHawleyand Iwillbe
working together to get this bill
is sponsoring thebill in theState
"Hunting is very popular in
Western New York, and this
legislation is being requested on
behalf of the Genesee County
Legislature. I am pleased to
address concerns of local gov-
erning bodies from my district
and will work with members of
the Assembly's Environmental
ConservationCommittee tobring
this bill to the floor for a vote,"
Last fall, the Genesee County
Legislature and the Genesee
CountyFederationof Sportsman
Club requested the special leg-
islation to be introduced at the
beginningof the2015Legislative
Existingenvironmentalconser-
vation lawonlyauthorizes theuse
of pistols, shotguns, crossbows,
muzzle loading firearms or long
bows when hunting deer from
thefirstSaturdayafterNovember
15 through the first Sunday after
Thebillhasbeen referred to the
StandingCommitteeonEnviron-
mental Conservation in the Sen-
ate. If enacted into law, the bill
would take effect immediately.
LegislationWouldAllowRifles
ForHunting InGeneseeCo.
2015. Jake is the sonofReidand
Jackie Whiting of LeRoy. Jake
passed the July 2014 NewYork
State Bar Exam after graduating
fromMichigan State University
College of Law. Prior to law
school, Jake worked three years
at J.P. Morgan Chase in New
York City, is a 2008 Summa
CumLaudegraduateofSyracuse
Universityanda2004graduateof