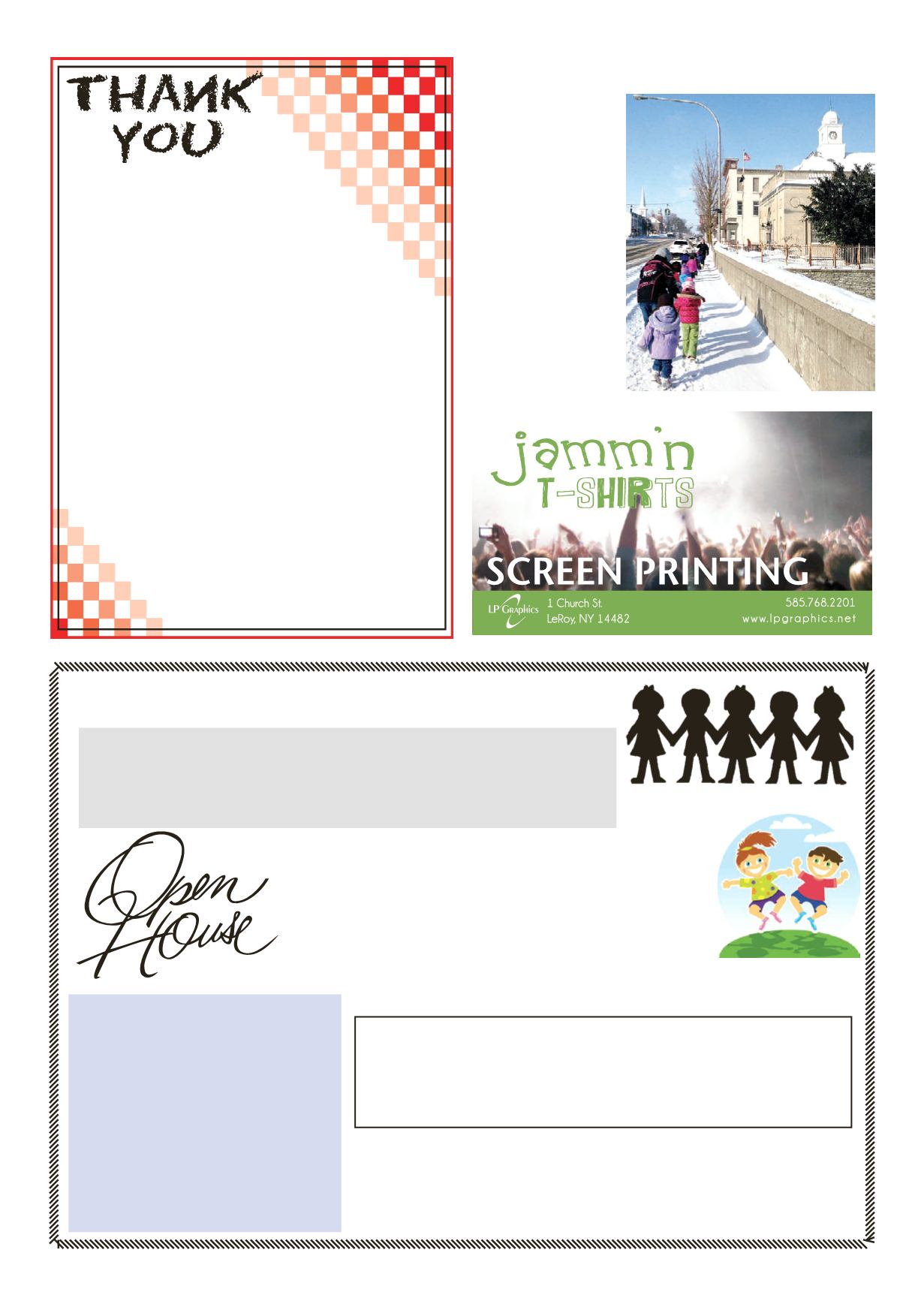 LEROYPENNYSAVER&NEWS - FEBRUARY 15, 2015
to theRestaurants,
Caterers andBakeries
whodonated toDessert in theStacks 2015
WoodwardMemorial Library
D&RDepotRestaurant, LeRoy
GuinnessChocolate&BlondeCheesecakes
Mooney'sBarandGrill, LeRoy
FAT-MAN-DUBBQ, LeRoy
Sweet Pea'sCupcakery, Batavia
Peanut ButterMousse&ChocolateLushPies
RedOsierLandmarkRestaurant, Stafford
LeRoyCountryClub
Bohn'sRestaurant, Batavia
ChocolateChip&CranberryWalnut Scones -
SusanPresher, LeRoy
UltimateWhiteCake, KeyLimePie&BlackForest Cheesecake
Wegmans ofBrockport
Fruit Tart Pie&Carrot Cake -
TopsMarkets, LeRoy
Village Inn, Caledonia
Oliver'sCandies, Batavia
BergenSwamp&ChocolateChess Pies -
Greg'ry'sBakery, Bergen
BostonCreamCake&SaltedCaramel Cake
BJ'sWholesaleClub, Batavia
THANKSTOVOLUNTEERS:
Larry andPatAllen, SandyBrady, Kori Cigno,
MarnyCleere, BetsyCollins,
John andLisaCompton andCindyFrisch.
Sunshine Nursery
School's Pre-K class
bundled up& braved
the weather! Nothing
could stop them from
completing their Val-
entine's mission! The
childrenstamped their
envelopes, trudged
through the snow and
slipped their Valen-
tines into the post of-
ficemail slot. The stu-
dentswere then taken
on an exciting tour of
the post office!
Destination ... PostOffice
LeRoyNurserySchool
REGISTRATION
We offer:
- FlexibleHours that coincidewithLeRoySchools
- Fun activities for thewhole family throughout the year
CLASSESOFFERED:
5-DayExtendedPre-K
ProgramAvailable
•Mon./Wed./Fri. - Pre-K
•Tues./Thurs. -NurseryProgram
Registration is based on afirst comefirst serve basis.
RegistrationPacket can be found on ourwebsite,
Questions?Call Crissy 703-2765
Fun&LearningGoHand InHand
Thurs., February 26
from 6pm - 7pm
7ClaySt., LeRoyNY 14482, 585-768-7700
•All forms canbedownloaded from ourwebsite:
for the 2015-2016 school year.