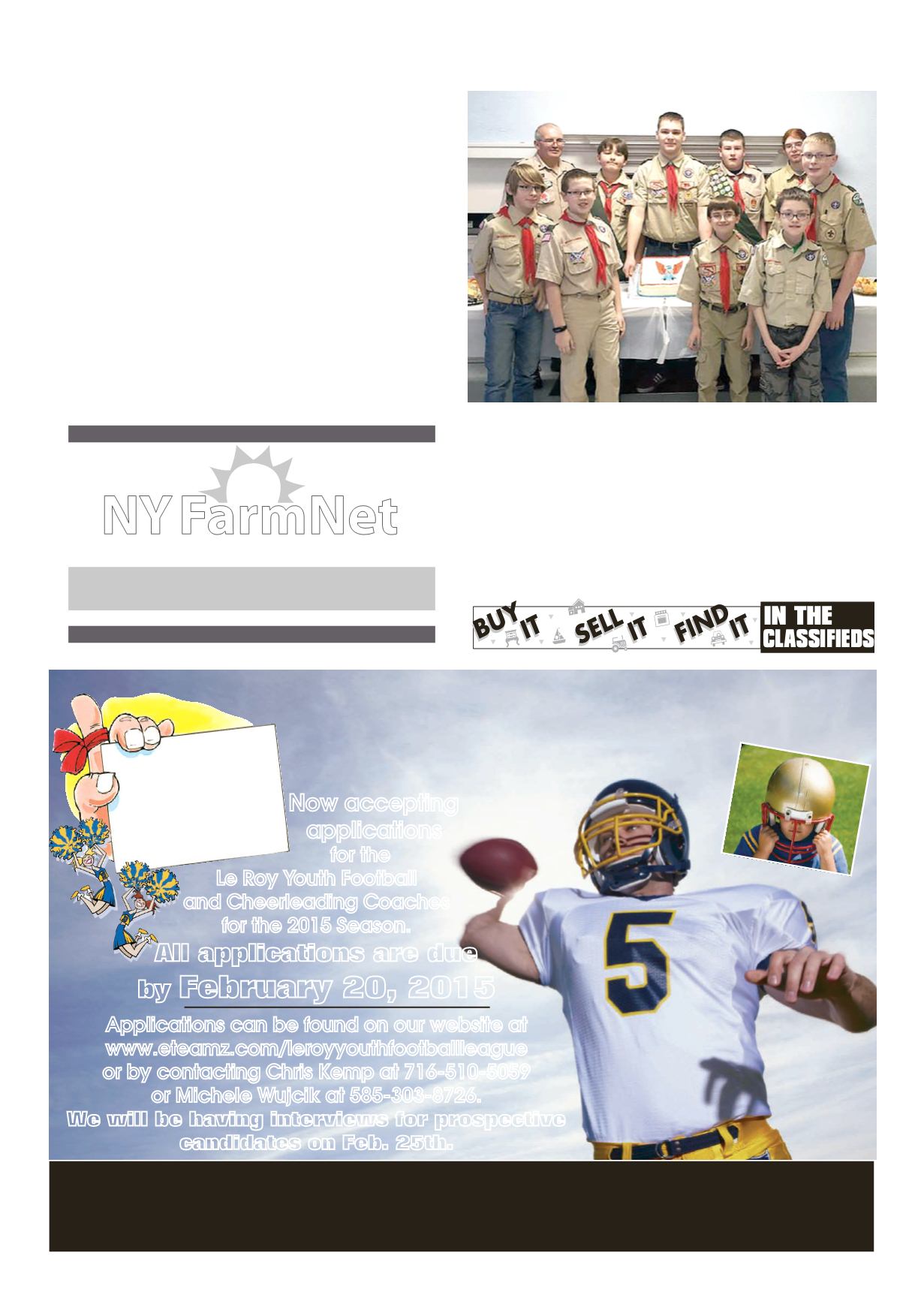 LEROYPENNYSAVER&NEWS - FEBRUARY 15, 2015
The traditionofScoutSunday,a
Sunday that has been set aside to
celebrate thecloseconnectionbe-
tween the idealsof thechurchand
the goals of Boy Scouting, goes
back to the fourth anniversaryof
the founding of the Boy Scouts
ofAmerica onFebruary8, 1914.
Eachyearsince,BoyScouts from
around thecountryhavegathered
on thesecondSunday inFebruary
to worship God together. This
year, Troop#6021and its charter
organization, the First Baptist
ChurchofLeRoy, joined together
to mark the 101st Anniversary
of Scout Sunday with a special
worship service and reception
Pastor John Partise, himself
an Eagle Scout, led a worship
service entitled "Fly Like An
Eagle" that focused on reverent
as the most important of the
twelve points of the Scout Law.
Togetherwith trustworthy, loyal,
helpful, friendly, courteous,kind,
obedient, cheerful, thrifty, brave,
and clean, the Scout Law estab-
lishes the high ideals that every
scoutmust do their best to aspire
to. "Ifind it interesting that those
same twelve ideals are alsowhat
every follower of Christ should
aspire tobe," saidPastor John in
During the service, both the
2015charterandasurpriseaward
for Highest Percent Attendance
at CampDittmer, theBoy Scout
Resident Camp, were presented
toScoutmasterBryanColtonand
CommitteeChairCarolColtonby
PastorJohnandadelegation from
Following the service, the
ObservingScout SundayAt FirstBaptistChurchOfLeRoy
churchhosted a reception for the
boys and their family members
that included a hand assembled
display of fifty years' worth of
Boy Scout memorabilia. "We
really appreciate our charter
organization. IbelieveFirstBap-
tist Church is a great fit for our
troop," saidCarol Colton during
NYFarm
Net
Brightening the futureofNYagriculture since1986
BusinessPlanning •Retirement&EstatePlanning
FinancialAnalysis •StressManagement
PersonalWellbeing •BusinessTransfers
1.800.547.FARM • NYFarmNet.org
100%FREE&CONFIDENTIAL
All applications are due
by
February 20, 2015
Applications canbe foundonour websiteat
or bycontactingChris Kempat 716-510-5059
orMicheleWujcikat 585-303-8726.
Wewill be having interviews for prospective
candidates on Feb. 25th.
Registration for playerswill beon
. Registration for all players from 9am-1pm
LeRoy Youth Football
and Cheerleading