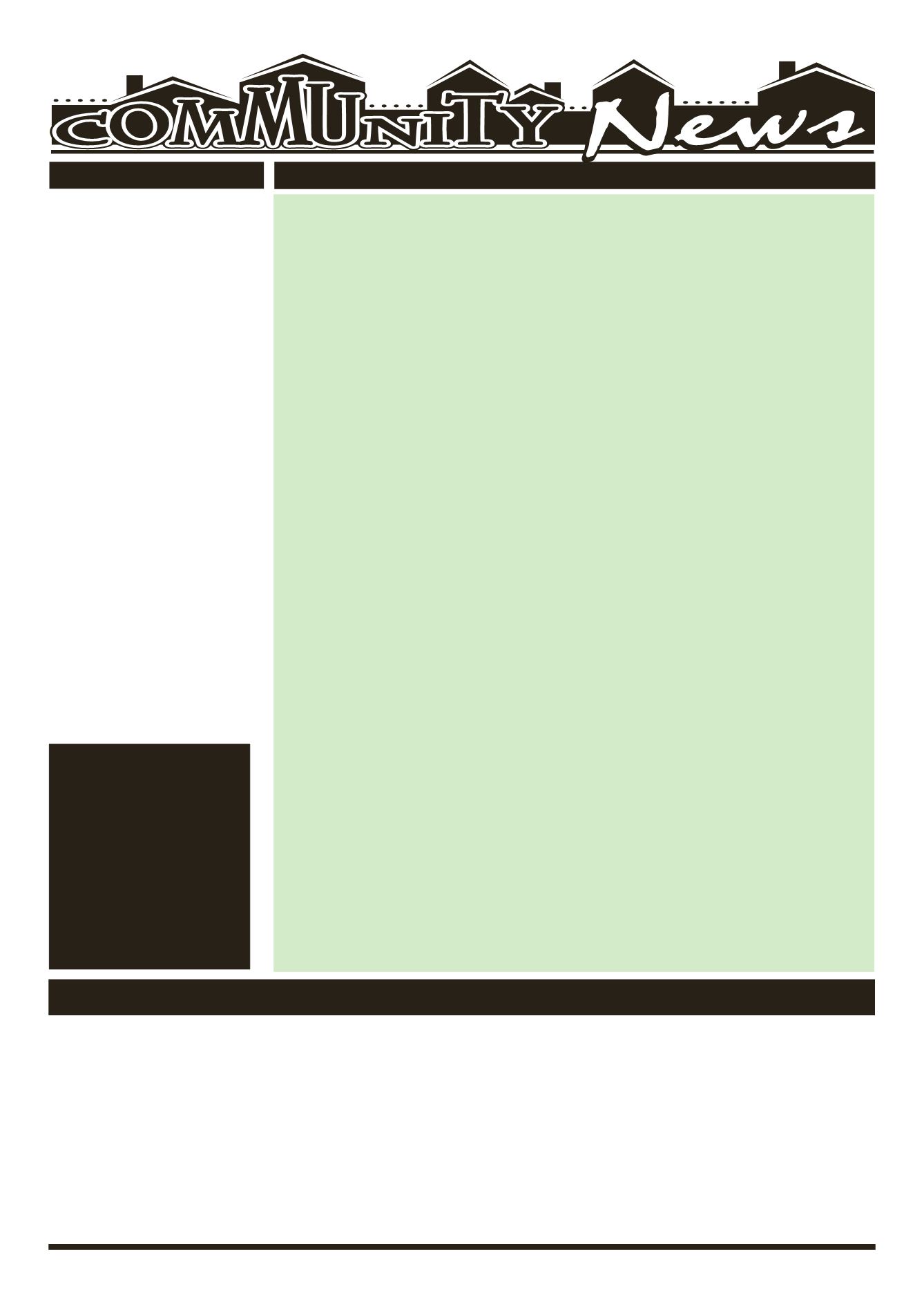 LEROYPENNYSAVER&NEWS - FEBRUARY 15, 2015
Le Roy
Pennysaver
All GeneseeCounty residents, 60andolder, can takepart in thisweek'sactivitiesat theBataviaSenior Center, 2BankSt., Batavia. Formore information, call 343-1611.
(February 16th - February 20th)
WEEKLYEVENTS
OBITUARIES
PRESIDENT'SDAYHOLIDAY -SENIORCENTERCLOSED.
NewsletterAssembly
is scheduled tobeginat 8:45a.m.;
Cribbage
is scheduled tobeginat 1:00p.m.
Income Tax Preparation by APPOINTMENT ONLY
taking place between 9:00 a.m. to 3:00 p.m.;
Quilters Group
scheduled tomeet at 9:00a.m.;
Euchregame
is scheduled tobeginat 1:00p.m.
TaiChi
isset tobeginat9:30a.m.with
GentleFitness
Cribbage&Bridge
MusicalKeyboardLessons
are scheduled for 2:30p.m.
LineDancingandArtClass
is set tobeginat 10:00a.m.;
Euchre
is set tobeginat 12:00p.m.
SATURDAY, FEBRUARY14
Dessert Sale Fund-raiser for theAmericanCancer Society'sRelay For Life
chapter inLeRoy. Itwillbeheld from10a.m.until3p.m. (orwheneverwesellout)
at theMoose Lodgeat 21BankSt. in LeRoy. Itemswill include cookies, cupcakes,
cheesecakes, pies, cannoli, cake, dessert bars, etc. Therewill also be amonetary
donationbox forpeoplewhowant tosupport itbutcan'thaveordon't likedesserts.
Please call 585-727-6133 formore information.
SUNDAY, FEBRUARY15
AWANA Program at Penuel Christian Fellowship.
12:15 to 1:45 pm. Ages 5-17 broken into groups. Developing friendships. Having
fun. LearningaboutGod. Safeenvironment.
Konnect YouthGroup at LivingWaters Church,
onMain St. LeRoy. Sundays
from6:30 to8:30pm forages12-18. "BringDownall theWalls! ConnectwithGod
andConnectwithothers." Formore information, checkus out onlineat: livingwa-
tersleroy.org/konnect-youth-ministry/
AllYouCanEatBreakfast,WyomingHook&Ladder,
MONDAY, FEBRUARY16
TOPS (TakeOffPoundsSensibly)
meetsMondayevenings at the LeRoyPresby-
terian Church, corner of Clay&Main Streets. Doors open at 6:00 pm andmeeting
is from 6:30-7:15 pm. Visitors are always welcome. Call 585-768-7103 for more
Weeklystorytimefortwo-year-oldsattheWoodwardMemorialLibrary
Mondays from10:30-10:50a.m.beginningJanuary12throughMarch9. Childmust
be two-years-oldby thefirst sessionandaccompaniedbyanadult. Registration is
required. Call 768-8300or registeronlineat
TUESDAY, FEBRUARY17
PreschoolStorytime:
EveryTuesdayat11am featuringstories, craftandsongsat
PavilionPublicLibrary, 5WoodrowDr., Pavilion. For info: 584-8843.
LCCP'sGRACE'SKITCHEN:
(willbeCLOSEDFeb.17th&Feb.24th.Wewillreopen
March3rd)
A FREE dinner everyTuesday evening, 5-6:30pm at the LeRoyUnited
Methodist Church, 10 Trigon Park. Parking available on Trigon Park & the lots to
the left and back of the Church. Handicapped Entrance in the back of the Church.
Takeout&deliveryareavailable.Formore info.contactSelbyDavisat585-738-8882
Weekly Storytime for three, four and five-year-olds at theWoodward
MemorialLibrary
onTuesdays from6:30 to7p.m. beginning January13 through
March3. Childmust be three-years-oldby thefirst session. Stories, games, songs!
Town of LeRoy PlanningBoardMeeting
(as necessary) 7:30 pm at the Town
Hall, 48MainSt. For further info. call 768-6910, Ext. 223.
WEDNESDAY, FEBRUARY18
PavilionBaptistChurch
youthprograms
Wednesday evening. All community children arewelcome to attend. AWANA is a
program for younger childrenPreschool (4 year old) through6thgrade. It is a fun
time of Bible Stories, games Biblememory and even refreshments.Word of Life
program is for teens7th through12thgrade.Weareeasily locatedat10956SLake
Road inPavilion. Call 585-584-3179ext. #12 for anyquestions.
TheBookof Life -Movie Showingat theWoodwardMemorial Library
children ingradesK-6,at2:00p.m. RatedPG;95minutes.Registrationrequired! Call
768-8300or registeronlineat
The senior citizensof LeRoyandStafford
meet the thirdWednesday of each
month for a pot luck dinner and a planned program. Wemeet at the Knights
of Columbus Hall located behind Save-A-Lot onWest Main Street. Each person
attending brings a generous dish to pass or contributes $4.00 For a nice buffet
meal and social. Please bring your own place setting and beverage. Coffee and
teaareprovided.Dinner isservedat6:00pmandaprogram follows.Please joinus
for anenjoyableevening. Anyquestions, please contact JudyRidley at 768-2001
or Sharon frost at768-6846.
THURSDAY, FEBRUARY19
Genesee Veterans Support Network
(GVSN) supports the development of
Veterans focusedAAmeetings everyThursday, 6-7pmat theFirst Baptist Church,
306E.MainSt.,Batavia.Meetings ledbyMikeW.&areopentonon-veteransaswell.
Handicapaccessible. For additional information call 585-302-0825.
GRACE'S CLOSET: A clothinggiveaway program
sponsored by Le Roy United
MethodistChurch, 10TrigonPark, LeRoy, 9:30am to11:30ameveryThursday.We
haveclothing forallages. FALL&WINTERclothingnowbeingput inplace.Weare in
needofWARMERclothingespeciallycoats, jacketsboots,pajamas.Weneedbedding
of all kinds especially blankets.We accept donations be droppedoff at thehouse
next to thechurch.Pleaseputallbags INSIDEon thebackporch. NOELECTRONICS,
COMPUTERS,DISHES, etc. Anyquestions call theoffice768-8980.
FRIDAY,FEBRUARY20
PenuelChristianFellowship,
OneStep toFreedomaddictionsministry, aChrist
CenteredAddictionsprogram,aweeklymeetingeveryFridayat7pm.CalltheChurch
formore informationat768-6901or406-3863.
SATURDAY, FEBRUARY21
YummyTurkeyDinner,
startingat4:30pm, FirstCongregational ChurchofRiga,
7057Chili-RigaCenterRd. (Rt.36@33A). Roast turkeywithALL the trimmings.
UPCOMINGEVENTS
LCCP'sMommy&MePlaygroup: Every2nd&4thFriday,
Physical Therapy (in thebackgym). Anymoms and their birth-kindergarten chil-
dren arewelcome to come enjoy socialization, lunch, coffee, structuredgames &
UsedBookSaleattheWoodwardMemorialLibrary
14 throughnoononSaturday, February21. The sale runs during regular business
hours. Hardcoverbooksare$1.00andpaperbacksare50 cents. Abag salewill be
heldonSaturday, February21 from10a.m. tonoon–abagof books for$1.00.
Veterans Only Social Club -
Genesee Veterans Support Network announces a
newmeeting locationatScooter'sFamilyRestaurant,3711WestMainStreetRoad,
Batavia, NY - for the once amonthVeterans Only Social Club. Meetings are held
the secondSaturdayof eachmonth from7:00 to8:30PM.Veterans of all eras are
invited toattend. GVSN is locatedat 3837WestMainStreet Road, Batavia, NY. For
more information, contact GVSN, POBox 541, Batavia, NY14021-0541Director@
CommunityCalendar Submissions shouldbe sent to:
LEROY—MarionDonnaSpoon,84,ofKeeney
RoadpassedawayWednesdayevening (Feb.
4, 2015) at theHildebrandtHospiceCareCen-
ter inRochester. In lieuof flowers, donations in
hermemorymaybemade toeitherCrossroads
House, Hildebrandt Hospice Care Center or
STAFFORD—Richard H. ''Grump'' Godlove,
78, of Stafford died peacefully Saturday after-
noon (Feb.7,2015)atUnitedMemorialMedical
Center.Memorials inhismemorycanbemade
to HomeCare & Hospice, Inc. 29 Liberty St.,
LEROY—Carol A. Hanley, 75, of ErieStreet
passed away Sunday evening (Feb. 8, 2015)
atStrongMemorialHospital,Rochester. In lieu
of flowers,memorialsmaybeoffered toLeRoy
BYRON—LorettaGlazier,81,ofByronpassed
awayonTuesday (Feb. 10, 2015) at her home
under thecareofHomeCare&Hospice. In lieu
of flowers, please considermemorialsmay be
made to St. Brigid's Church, PO. Box 219,
Bergen,NY14416, ByronRescueSquad, PO.
Box 210, Byron, NY 14422 or to theARC, 64
Walnut St., Batavia, NY14020.
Le Roy— Francis (Frank) Mangefrida, 78, of
West Main Street, passed away Wednesday
afternoon (Feb.11,2015)atRochesterGeneral
Hospital. Mr. Mangefrida and his family are
being cared for by theFalconeFamilyFuneral